Link to Sign Ups

...

"Gotham City... now that shit hole is 'ardly a tourist trap. Can't take a quick jog without some loon pulling you to the side an' asking for your wallet. Kinda place where you'll get shot for sayin' 'please'. Are you sure we're talkin' about the same Gotham?"
"I am quite certain, Byzantium, I am quite certain"
"And of all the cities in all the worlds, you still want this one?"
"Were my instructions not clear?"
"As clear as a threat on my life can be. I'm just sayin' that I don't see why you want it so badly. I mean, there's gotta be somewhere else-"
"Remember our deal, Conman! Remember our Bargain! The City for the Girl! Unless you want her to end up like another one of your little ghost stories?"
"No... No, I won't forget. Gotham City on a platter, 'sir'. I just don't plan on enjoin' it, that's all. Don't have your taste when it comes to shit like this... And what about the Outsiders? This hasn't been a clean job so far... we have witnessed"

"Oh, they won't be causing any trouble I'm sure... Before they know it, they'll be calling Gotham home too... And if there is one thing I'm certain of, its that Gotham City is no place for Heroes"
________________________________________________________________________

Gotham City Police Headquarters

'Just another day in the war on Crime. Just another battle in the good fight... But the day I put on that badge for the first time, I never thought that the could fight would end up becoming the Endless Fight. We put one sorry Bastard behind bars and two come to take his place. We're cleaning up Gotham with a dirty sponge, and any good we do just seems to make things worse...'
A summer storm roared its usual wake up call across the streets of Gotham, bringing yet another wall of rain upon the sleepless city. A season without Sun had left the streets wetter than the walls of the floor of the Iceberg of a Friday night, a mighty wind casting a wave of dark slush across the pavement like a fishing line. Not a shoe was safe from its black wrath. But it places such as Gotham, anyone passing through would come to find its people too impatient to wait for brighter skies and too stubborn to change their clothes to fit the storm. A sea of jaded faces and sinking hats was enough to confirm any suspicions.
Only 2 sounds could drown out the screaming elements: the crackling of camera flares and the croaky call of an old bird. Scrawny, featherless this bird wore a sly grin across his beak and a fine suit around his breast in a futile attempt to masquerade as a man. He had even stolen a human name for himself: Mr.Oswald Cobberpot. The Penguin.
"Today!"
He let his breath beat against the wind, his words distorted by his excited smile
"Today marks a new Era for Gotham City! Gone are her days cowering in the shadows! Gone are the days she has spent hiding in the shade, too scared to be seen in the sun! From this day forward, we clean up Gotham!"
A wave of applause screamed from the steps below him, dozens of microphones and lenses staring up their mother-bird. The Gotham City Press- the vultures picking through the trash of the streets- had taken a particular liking to the City's latest mayor. Mayor Penguin: 'Hero'! Mayor Penguin: 'Our Saviour'! He could see the headlines even now. All he had to do was feed them a little lie here, feed them a little controversy there, and soon they too would be domesticated, trained to eat from his palm and his palm alone. Soon the City's journalists would be in the same pocket as its gangs, each criminal in their own right.

"For too long the GCPD has sat on its thumbs, biding time until its next budget cut" He shot a razor's glances towards the sea of blue coats at his right, the wet uniforms of the GCPD's finest glistening with each camera flash. "Their arrest records may be high, but their convictions are low. Too many good men are being thrown behind bars by our brash, hamfisted officers, too busy thinking about where to cash their next check to check the facts!"
Oswald waved a raised finger, waving it through the air like a conductor's baton, commanding the song of his audience. Triumphantly, he held it above his head, calling for every eye in the crowd to follow it.
"But no more! Today, I pledge to be the change I want to see in this city, starting with a total reform of the GCPD! Gotham will see a revolution she has been longing for for years! And the first step towards her liberation--"
A sly grin curled his cheeks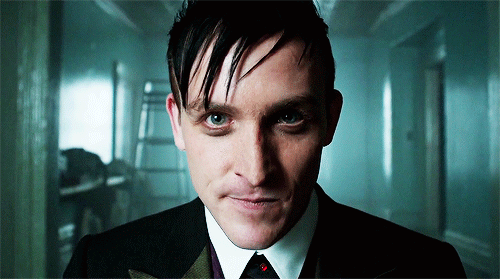 "Starting with the pardoning of a few good citizens..."
From behind the great wooden doors of the Department, a caravan of prisoners emerged, lead by a bedraggled old cop. With a boisterous tug, he yacked up on the handcuffs of the leader of the chain gang, pulling him from the lips of the doorway and onto the ivory stairs. He tensed his brow. It killed him to put scum back onto the streets, no matter who's tongue the order leapt from. He didn't care if the president himself called for him to release a guilty pickpocket; he would do it, of course, but he could never enjoy it. He threw a glare towards the mayor.
"Gentle now, Mr.Bullock. We don't want these upstanding citizens to get hurt now, do we?"
Bullock simply growled in response, any words he had wanted to say rendered sacrifices to his resolve. Penguin would get his just deserts one day... he'd make sure that old bird would spend his twilight years behind bars, even if it killed him. But for now, he'd have to play ball. Bide his time. He would watch and wait, and soon enough, Cobblepot would show his true feathers. It was a matter of time before the scumbag screwed up, and when he did, Harvey wanted to be there to read him his Miranda Rights...
"Now... On to the formalities" Oswald removed a crumpled sheet of paper from his blazer pocket, straighted it out the best he could with his thumbs, and placed it upon his lecturn. He cleared his throat and read. "As Mayor of Gotham City, I hereby use the rights invested in be by our great United States, God, the People...

exetera exetera

to pardon the following citizens:

A Mr.Charlie Chaplin Scotts, and upstanding programmer who was merely in the wrong place at the wrong time
A Mr.Eugene 'Gene' Terry, a former citizen of Mississippi falsely accused of a murder without evidence
And a Ms.Rhea Kanaba, a patriotic Gothamite caught up in a case of mistaken identity!"
The press ate it up, showing the same reverence the killers and crooks as they had done the ringleader himself. They were kings now! The new poster boys of a Free Gotham City, drinking up the bulb flashes as the
Captain himself
released their chains.

"They are liberated men in a liberated city! The first of a new age of Heroes, ready to show Gotham the power of a little moxie!"
Removing himself from the stage, a fuming Harvey Bullock sought to place as much distance between himself and the Mayor as he could, lest he found his first edging closer and closer to his face. Through the fog and rain, he gestured for a handful of his finest to follow him through the crowd. As his voice faded into a void of questions, Harvey threw his body up against his car door, lighting up the cigarette that sat between his teeth. The taste of wet tobacco made his tongue crawl.
"Lemme tell ya..."
He snapped, his thumb fumbling over the fuel lever "
Someday soon, someone's gonna try to cook that bird. Someone's gonna shove a rod up his ass and roast him real slow, and there ain't a fancy title in Hell that'll save him from that
" In a couple more desperate flicks, Harvey finally struck gold, sparks flickering from the lighter's cheap, plastic cap. By the time his own had caught fire, Harvey had already offered his pack and light around to all but Makoto, a jaded look in his eyes
"They'll take the edge off all the shit that goes on nowadays. They kill ya slowly... which is more than can be said for half the shits that came rolled into town this morning... An apparently Birdbrain up there seems content with making things worse..."
A stream of water licked the light from his lips, sending mashed ash spitting across his shirt and tie. With gritted teeth, he forced the paper from his lips and threw open the door of his Dodger Diplomat. He thrust his legs onto the peddles and his key into the ignition, letting the engine screech to life. With one hand on the wheel and the other on his forehead, Harvey tilted his brow towards his fellow officers.
"I don't normally do shit like this, but get in. We're going for a drive. We're gonna go on patrol, we're gonna find some smart-ass tryin' to pull a fast one and we're gonna nab him the old-fashioned way. We're gonna nab him and charge him before that freak can stick his nose it. You with m-"
Harvey's words were cut short by the roar of an even louder engine roaring into across the street, shattering the thin yellow barricade marking off the press zone. The scream came from what appeared to be a modified hearse, its black husk repainted with thin red streaks and the teeth of a Frankenstein engine piercing its bonnet. The cockroaches with cameras were well away from its path as it charged forward, having scurried up the ivory steps to get a better angle on their sacred mayor, but even distance couldn't protect them from the men inside the rolling tank. A tall large, mountain of a man leaned out of the boot of the car, one arm firmly wrapped around the door handle and the other around a crudely modified Tommy gun. Across his face, he wore a thick red mask, as did his two accomplices in the front seat.
"Good morning, Gotham!"
He cried over the engine
"Quite the turnout today! Good show, Oswald!" He lowered his barrel "Good. Show"
With a flex of his finger, a sea of lead roared across the crowd, narrowly missing a majority of the reporters. Some cried out in fear, others out of the pain caused by the instinctive dives. One officer clutched his chest, a red stream pouring down the steps. In his hand, he held a bullet made for the Penguin.
"GCPD!"
Bullock cried from behind his wheel, a wave of purpose having washed his self-pity away
"Put the gun down!"
As quickly as he had arrived, the 3 Red Hood burned off down the street, the gunman pulling himself back inside the vehicle as it soared around the corner and through the second blocked.
"All units mobilise!"
Harvey screamed into his radio "
I repeat, all units! Gunman heading down 25th! We've got Red Hoods! I repeat I have a visual on the Red Hoods! Send all available units!"
As quickly as he had grabbed it, Bullock tossed it aside, wrapping his free fingers around the leather of his wheel. He turned to his brightest best, gesturing for them to join him.
"I said all units! You guys, get in here! No feet on the seats, guns at the ready! We gotta slow the Hoods down while the boys get the barricade in place! We won't get another shot at this!!"
@Alex Azure
@Lucky
@MelodyMeister
@Jeremi
@Lucky
@Crow
________________________________________________________________________
A screaming pulp on the ground, Mayor Cobblepot was soon swarmed by a sea of security guards and medics, scanning him for injuries all the while stepping over the bleeding officer. Frantically checking to see is all his parts were still attached to his torso, Cobblepot screamed for space, sending his cronies away.
"You!"
He threw a dagger of a finger towards his 3 newly free associates "
You're supposed to be my best! Why aren't you getting after them!!"
His screaming continued, a greasy fist pounding the puddles at this side.
"Why!? Why?! Why!? What the Hell are you waiting for!?"
With a wave of will, Oswald did all he could to compose himself, his pale face turning a burning red under the strain.
"There are bikes waiting for you in the Alley. The keys are inside. Find. Them"
His eyes became two black scars on his face, thinned with all the fury that rested within him. He would not allow the Hoods to make a mockery of them. He would not let them overshadow his crowning glory.
"Because if you don't... the GCPD will be the least of your worries!!"

@Crow
@Takumi
@Yun Lee
________________________________________________________________________
From within the hearse, the gunman ripped his mask from his face, throwing the rag into the corner of the boot. He breathed. He snarled. He gathered his senses. In a calm, focused voice, he spoke directly to Wilder
"Did you see what happened back there? I couldn't tell through this damn mask... is he dead? Did I shoot the damn bird?"
@York
________________________________________________________________________
Cast List
@Crow
as Charlie Chaplin Scotts
@Alex Azure
as Shirley Homestead
@Lucky
as Liam Anderson
@MelodyMeister
as Harry Thomas Edwards
@Yun Lee
as Eugene "Gene" Terry
@Jeremi
as Clara Clover
@Takumi
as Rhea Kanaba
@Lucky
as Aurora Diaz
@Crow
as Makoto Koichi/Kid Question
@York
as Kidd Wilder
________________________________________________________________________
​
Last edited: