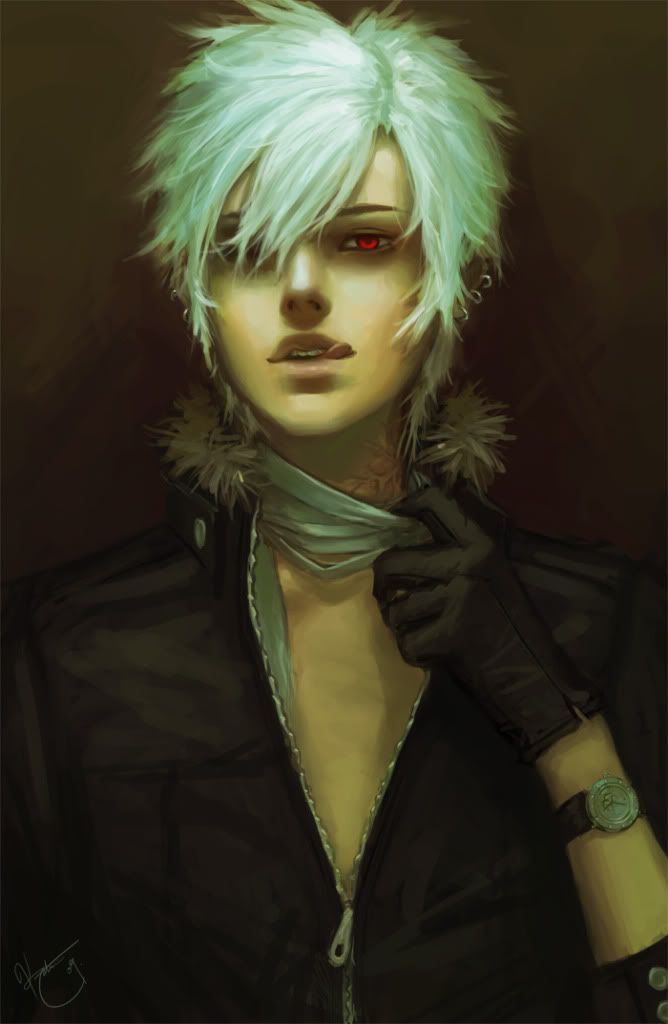 Irie lay on the thin mattress on the little twin bed in the back bedroom on the second story of the silent, empty house. He stared up at the cobwebbed ceiling, painting, gripping his stomach hard. Hungry... so very hungry! He rolled onto his side and half curled, whimpering softly. If only he could just sleep through the pain, but he couldn't. He couldn't sleep, he couldn't eat, he couldn't
leave!
Was this his curse? For not being a better son to his dead parents? For not being a friend? For that one time when he kicked a dog when he was six years old?
Why?!
His throat was still sore from screaming that very question into the darkness.
Noise from outside. A voice, soft and distant.
Irie rolled off the bed and almost collapsed. Legs shaking, he staggered to the window and peered out, trying to avoid the dim light of the moon, but even with his care, a single beam brushed across his cheek, and he drew back, hissing in pain. He'd caught a glimpse of someone, but not enough to tell who or what. They were close to the house and bent over. Maybe they'd lost something. What did it matter? Nothing at all, but he wished they'd come inside. Maybe save him. Maybe kill him. He wasn't quite suicidal yet, but each agonizing hour that passed made death look less and less terrifying. Could it really be as bad as what he was existing with?
He dragged himself back to bed and flopped down again. The sun would be coming up soon. When that happened, he would be forced to sleep. Some experimentation had shown him he could resist the sleep, but it was nearly impossible and felt worse than being awake, so he curled in a tight ball and waited. Just before sunrise, he'd put himself in his little "coffin bed" he'd made for himself in a hidden compartment under the kitchen table. No one else knew about it, not even his mother, only himself and his father. Now... only him. It would keep him safe in case of intruders until he could wake again. Maybe he'd find another rat. That would help.
For now... All he could do was what he'd done every day for nearly three weeks: wait in misery for death to finally take him.
Last edited: