Synopsis
It was another day in Silson, Nevada where the landmarks were indistinguishable and you were an hour car ride from anything resembling a city. Whether you were taking a test, driving to work, or cutting class, the humdrum of every day life came to a halt with the sound of an airplane. Circling overhead, the plane unloaded flyers upon flyers, descending like rain upon desert soil.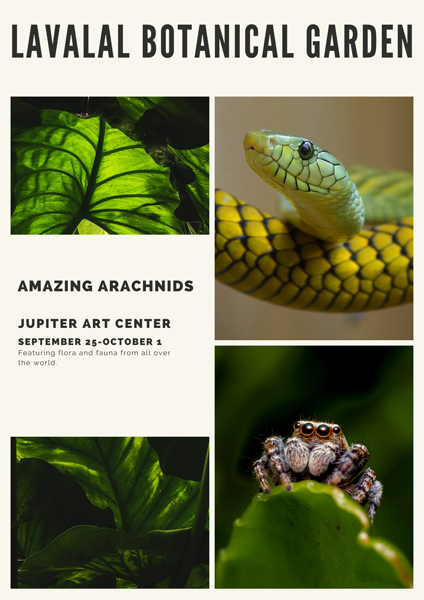 It seemed too good to be true. How could a project that big pop up over night? Nonetheless, there was little else to do in Silson so you journey to the edge of town on opening night. After you pay and enter the building, you are greeted with plants ranging from typical desert marigold to the rarest saplings known to man. The botanical garden has no shortage of wondrous species, but nothing compared to Lavalal's featured exhibit:
Amazing Arachnids.
It was everything that the flyer advertised and
more
! So why couldn't you remember a thing? Was it something in the air or were you simply too tired? You think little of it, but the next day you notice a small bump on your body. A spider bite. The day after, you break out into a fever. On the seventh day, your sickness finally subsides and your bite has bloomed into an intricate pattern. By the time you reach the Jupiter Art Center, Lavalal has already packed up and left, leaving you with nothing but your newfound powers.
Yes, this is everyone's story. The powers you gained could have been anything. You either told only the one's closest to you, or hid it from everyone. A year has passed and corpses begin showing up on the news, though the only link between the victims is their cause of death: spider bites. You receive an email an experience similar to yours and a proposal to meet.
Lavalal is returning this year. Will you seek the truth or stay in hiding?
---​
Right! Basically this is a reboot/test run of an old RP I was in many years ago. In essence, we will be playing a group people who have all gained powers due to a spider bite from the year prior. Aside from finding the origin of their powers, our heroes will have to face wannabe villains, government interference, and the sad reality that being a hero doesn't pay the bills.
So if you're interested in would-be superheroes, small town mysteries, and some light roleplay then boy do I have the thing for you! Also feel free to ask any questions that aren't covered in this post/thread!
IC Thread:
Here
OOC Thread:
Here
Character Index:
Here
Last edited: