In the world of Dragon Ball Z, at least in this timeline, a great evil was about to awaken.
Broly. The Legendary Super Saiyan. A unstoppable force. A killing machine!
At this point in time, the entire cast was on the *new* Planet Vegeta, and just as things were about to go bad, it starts to get even worse, when Goku turned up.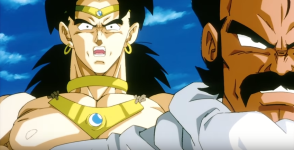 "Aghhhh... aghhh.... aghhh... Kak arot!" "
Broly... Broly no, do not waste your time on him.
" But Broly didn't listen as he continued to walk towards Goku and even powered up into a blue haired Super Saiyan. "Kakarot!" "
Oh no you don't, this Saiyan is mine! Haaaaah!
" Vegeta yelled as he too powered up and charged a kick towards Broly which unfortunately did not even flinch him as he continued his slow advance. "Kakarot!!" "
Woah... Vegeta's attack was like nothing to him.
" Goku exclaimed as he jumped backwards and got into a fighting pose. "
Let's get this straight. Some people call me Kakarot but I'm Goku and you're not my friend!
" "
Hahahahaha! Seems like I won't have to wait for the comet to hit to see you die, as Broly has other plans for you. Broly attack! Gaahhh...
" Paragus exclaimed as all of a sudden, the power restrictors he had on Broly were starting to malfunction!
Broly's footsteps started getting louder, and his power kept growing and growing. This angered Vegeta and caused him to fly up and throw a Ki Blast at Broly. "
No, wait!
" "
Haaaah!
" The blast landed and still did not flinch Broly. Once the smoke cleared however, something else happened...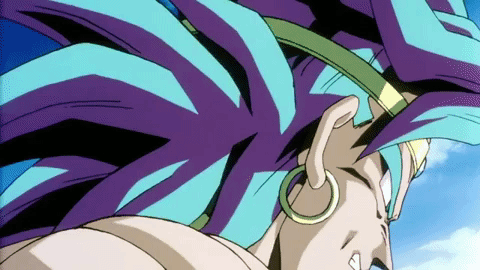 He got angry instead! "AAAAAAAAAAAAAAA! OAAAAAAAAAAAAAAAAAA!" "
Broly! That's enough! That's enough Broly you'll destroy the planet! I said stop!
" "AAAAAAAAA! AAAAAAAAAAAAAAAAA! HAHAHAHAHAHAHA!" And after a period of more screaming, he finally stopped. Until...
He screamed again, and this time, he exploded in Green Energy! He then spawned an orb around him which pulsated every few seconds of incredible power, energy, and terror. Until he finally changed appearance. And that's when he was born... Broly. The Legendary Super Saiyan.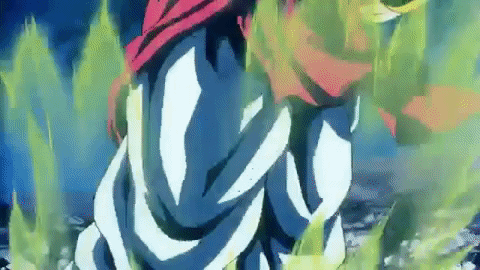 "
He's... The one... The Saiyan of Legend...
" "
You, Kakarot! I choose you to be the first of my Victims!
"
Meanwhile all of this was taking place, a certain time travelling character happened to stumble upon this event. Who could they be, and could they possibly do anything against this unstoppable machine?
@Gummi Bunnies
​