The Sculptor
Administrator
The Convergence Series GM
Staff Member on Hiatus
(Sign-ups/OOC Thread
here
!)
---
Day One
"Reawakening"
​
---
It comes for you without warning. You're perhaps out with friends, or home alone, possibly in the middle of a fight, or even asleep. It doesn't care. It still comes to you, no matter what you're doing. And the second it arrives, you're helpless to it.​
It starts with mild annoyance. You remember something you dislike, and it puts you into a bad mood. A smell that makes you nauseous, an animal that you find obnoxious, a food that didn't taste good…it popped into your head and wouldn't leave. That doesn't seem odd at all, everyone gets intrusive thoughts from time to time. But then, it starts to expand and fester. Other things come to mind-people who rubbed you the wrong way, a bad experience you've been unable to move on from, a nightmare that still haunts you to this day. Your heart beats faster. Your breath gets heavier. You feel more than annoyed now; you may feel sad, ashamed, frightened, angry, or some other negative emotion. But whatever you feel, it's strong. It won't go away. But you don't care. You can't! Your feelings have taken you over, pushing all rational thought aside.​
And then...then it gets worse. You remember something that you hate, more than anything in the World. What is it? What do you hate? Do you have an arch nemesis that drives you to the brink of madness? Does the injustice and cruelty of the world make you sick to your stomach? Everyone hates something, no matter how good a person they are. There is always hatred to be exploited and shaped into a lethal weapon, one that can turn the most well-intentioned into a complete monster. And that is it: hatred found you, and it came for you, and you were now at its complete mercy. Hatred fills your mind, your body, your soul. Hatred for this one thing grows into hatred for many things, then hatred for everything...and then it becomes nothing but pure hatred. You can't hate anything in particular now, because all you can do it hate. Hate indiscriminately, hate irrationally, no other emotion exists but hatred. All you want to do is destroy what you hate. Maybe you lash out at someone nearby, or try to destroy the room you're in, or toss violently in your sleep. Whatever it is you do, though, it doesn't last long. In a matter of seconds, your vision goes black, and you lose consciousness. All that hatred is far too much for you to handle.​
To an outsider, they see something you do not. A toxic vortex of black and pink sludge spirals around you like a tornado, trapping you into an orb and closing in on itself. It takes less than half a minute for this to happen, and then...you're gone.​
Knock, knock.​
The door opens, and she smiles at her visitor.
"Good morning! How are you today?"
​
She's so sunny and bright, it's impossible to tell how she really feels, but he has a keen eye. The bags under her eyes are visible underneath the makeup. He knows she probably isn't really all that happy. How could she be? She's probably nervous, afraid that everything will go wrong. Considering the situation they're in, though...that doesn't surprise him. Hell, he's a little nervous, too. But he's better at hiding it.​
"Mornin'. Sleep well?"
He knows the truth, and he knows she's going to lie.​
She nods, smile not leaving her face.
"Uh-huh! All rested up for the big day!"
​
He still can't believe what an amazing liar she is. Smiling in the face of everything going wrong, that's an art form she's perfected better than anyone, even the people he knew. And considering the people he knew, that said something. But considering who she was, it made sense that she would be good at that.​
"I'd ask you if you slept well, but...you know."
​
He nods, giving her a small smile to help her feel at ease.
"Yeah. I know. But enough chit chat."
He steps to the side, as if to escort her outside.
"You ready?"
​
Eh?
"Oh. Well, uh…"
Shit, that threw him off. She usually wasn't honest like that, even alone.
"I mean…"
He rubs the back of his neck. Comfort was NOT his strong suit.
"If you feel, I dunno, weird about all this, I, uh, am here and, uh-"
​
"Oh! No no, you misunderstand, dear."
She blushes in embarrassment, and he gets a bit flustered. He's not attracted to her at all in that way...but damn, she's beautiful.
"I'm not going to meet them."
​
Her smile falters ever so slightly, and she shifts her weight awkwardly, fiddling with the hem of her dress.
"I...I had a dream, last night. There's something I need to do...alone."
​
He raises his eyebrows, but says nothing. He gets it. She has to be vague, or
he'll
listen in and ruin everything. His spies are everywhere, as persistent as flies and every bit as obnoxious.
"...Sure thing. You sure you'll be fine on your own?"
​
She smiles, a genuine one, and that alone reassures him before her words do.
"We both know I've handled far worse,"
she replies.​
He nods.
"'Kay, then. Take care. ....and, uh, stay safe, too, yeah? Last thing we need is you dying on us."
​
She giggles. That's fine by him; he doesn't want her to know he's being serious.
"I'll be fine. I promise! Keep everybody safe for me until I get back, okay?"
​
"Yeah."
He takes a deep breath, though he doesn't need it. Turning his heel, he heads off, down the road to his destination. He doesn't know where she's going, but he hopes she stays safe. To lose her now, after everything they'd worked for...it could ruin jeopardize it all. But he put his concern out of his mind for now. There was something far greater on his mind.​
Something that was happening right this second.​
---​
…​
……………..​
Hello? Please, I need you to hear me.
​
…………………………..​
Wake up. Please, wake up. We don't have much time.
​
...huh?​
You open your eyes, and see nothing but blue. Your eyes adjust within the next few seconds, though, and you realize you're staring up at a square ceiling, with blue lights shining down on you.
You're not exhausted or groggy; in fact, it feels as though you've just woken up from a refreshing night of sleep.​
Good, you're awake. I was getting a little worried there…
What is this…? There's a voice in your head, talking to you as if it's your conscience. You can't make out anything discernable about it; it feels otherworldly. Divine, even. And try as you may (if you try at all that is),
you can't talk with it
. It seems this little conversation is one-sided.
Go ahead and get up...but try not to get up too fast.
​
It's not like you can just lay here forever, right? You sit up, but as you do, you feel a dull pain somewhere in your body. Perhaps on your shoulder, your neck, your back...possibly even in multiple places at once. But that pain, wherever it is, vanishes in an instant, and touching or inspecting the area reveals no wounds or scars. In fact, you feel energized! I mean, you did just wake up from a nap, right?

...right?​
But wait...you're not in your bed. Where are you? Well, a quick scan on your surroundings reveals that you're sitting on a square made of some sort of beige marble. Surrounding the square are four blue walls of some sort of...you're not sure. Energy, maybe? It's somewhat see-through, though, so you can see you're in some sort of larger room...
alone
.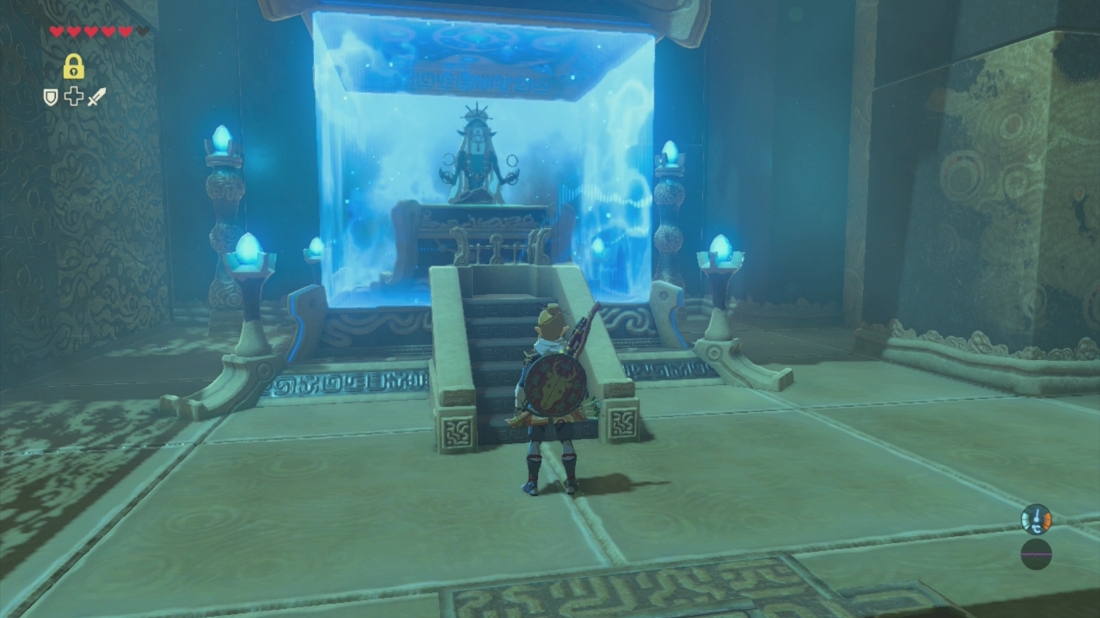 Don't be afraid to touch that energy wall.
The voice that's been talking to you pops into your head again, as if knowing what you may be thinking.
It's harmless, and honestly? It's getting in your way.
​
Maybe you hesitate, or maybe you eagerly touch the wall. No matter when or how you do it, the second your fingertip touches the wall, it breaks away all around you, becoming floating shards of energy that fly outwards before vanishing into thin air.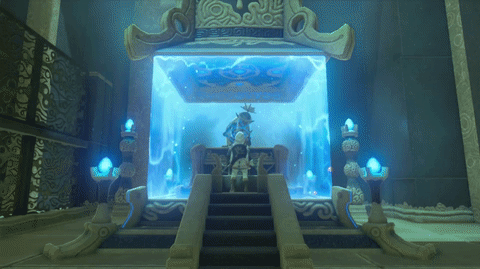 Now you can get a better look at this place you're in.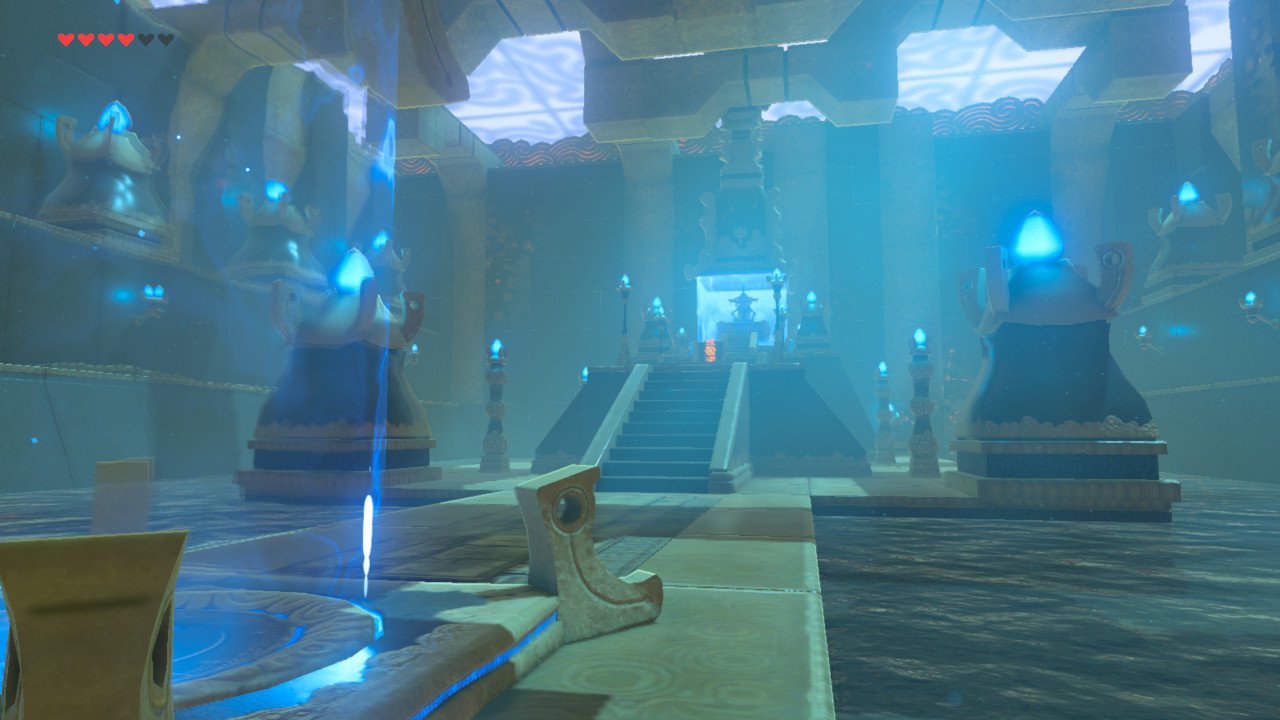 It's a rather large room, surrounded by a pool of clear water on both sides, with marble walls adorned with glowing blue constellations. Down the steps in front of you is a platform with a
treasure chest
, and even further down is a strange
cylinder
.​
Last edited: