Multiverse RP'er
Benefactor
Villain Submission
"
My name is Sturm. Hear it and tremble.
"
Name
: Sturm
Series
:
Canon
: Before his defeat in
Advance Wars 2 - Black Hole Rising
.
Description
:​
The famed Commander of the
Black Hole
faction, Sturm is a mysterious invader from another world, not at all related to anyone in
Cosmo Land
or
Macro Land
.​
Hit: Invasion.​

Miss: Peace.​
Not much is known about him other than that he is an alien who enjoys war and hates peace. He is pure evil, bent on conquering the world, and lacks any respect for his enemies, constantly calling them "worms". He lacks compassion and does not value life, even willing to destroy
Wars World
rather than be defeated. In Advance Wars 1, he worked alone and cloned one of the Orange Star CO's:
Andy
, in order to cause all four nations in Cosmo Land to go to war with each other, and then he'd conquer the weakened nations after a period of fighting. In Advance Wars 2 however, he was assisted by four CO's known as
Flak
,
Lash
,
Adder
and
Hawke
, which allowed him to start conquering each of the four nations in Macro Land using Lash's inventions; the
Black Cannon
, the
Laser Cannon
and the
Factory
which helped them manufacture many new troops and tanks on each island.​
Abilities
(This includes the character's skills):
CO Power Meter
:

​
In Black Hole Rising, his normal CO power from the first game is modified to be a Super CO Power, and takes much longer to charge with a Power Meter of 10 Large Stars.
In his Advance Wars 2 state, all the Units under his command have a 20% increase in Firepower and Defence, making them harder to destroy and making them more deadly. Alongside this, his units suffer no movement loss in difficult terrain like Forests and Mountains (Only Infantry and Mechs receive this in the Mountains) but his troops struggle to move in the
Snow
like normal. His
Special Power
is known as
Meteor Strike
, which drops a large meteor from space onto a group of enemies, severely damaging them on impact. On top of this, Sturm's units has their firepower boosted from 20% Offence and 20% Defence to 40% Offence and 50% Defence, making them even harder to eliminate and even more deadly when attacking. This Meteor however can damage his own forces if they are caught in the blast.​
Black Hole
:
In the Advance Wars Universe, the Black Hole Faction is the main enemy of the Orange Star, Blue Moon, Green Earth and Yellow Comet countries. They are a aggressive force that sought to conquer all of Wars World. Their CO's are of evil intent and do not care about any casualties so long as they are able to achieve their objective. While their vehicles appear to be floating in design, they still operate like normal vehicles.

Land Units:​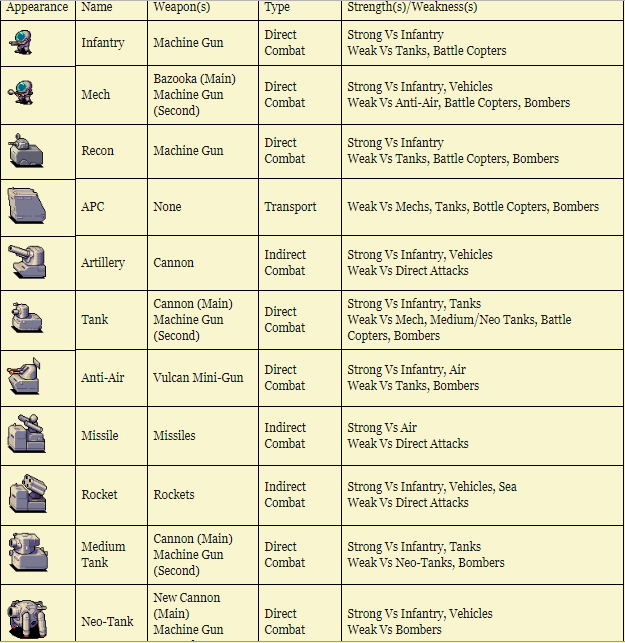 The APC Unit can only transport one Infantry / Mech Unit at a time. Can also Refuel nearby units of any type.
Air Units:​
Appearance
Name
Type
Strength(s)/Weakness(s)

T-Copter
Transport
Weak Vs Anti-Air, Missile, Fighters, Cruisers

B-Copter
Direct Combat
Strong Vs Infantry, Tanks, Landers
Weak Vs Anti-Air, Missile, Fighters, Cruisers

Fighter
Direct Combat
Strong Vs Air
Weak Vs Anti-Air Missile, Cruisers

Bomber
Direct Combat
Strong Vs Infantry, Vehicles, Sea
Weak Vs Anti-Air, Missile, Fighter, Cruisers
[TBODY] [/TBODY]
The T-Copter can only transport one Infantry / Mech Unit at a time.
Sea Units:​
Appearance
Name
Type
Strength(s)/Weakness(s)

Lander
Transport
Weak Vs Subs, Bombers

Cruiser
Direct Combat
Strong Vs Subs, Air Units
Weak Vs Bombers

Sub
Direct Combat
Strong Vs Landers, Battleships
Weak Vs Cruisers

Battleship
Indirect Combat
Strong Vs Infantry, Vehicles, Most Sea Units
Weak Vs Bombers, Subs
[TBODY] [/TBODY]
The Lander can transport up to two Land Units at a time and can only unload at beaches.
Equipment
:
Since at the time of Advance Wars 2, the CO's were never in the combat area themselves (In the games anyways, pretty sure in their Universe they would be in the field in a mini HQ like thing.) I will be taking a page out of
Advance Wars - Days of Ruin
's book and allow for Sturm to pilot a Neo-Tank to allow him to command his main force on the field. In the Days of Ruin system, the CO was able to pilot any unit and boost their attack and defence by a small margin. I will use this method to allow Sturm to lead his forces on the field while being able to fight like any other Villain.​