Prologue - A call to heroes, a great evil has risen!
In the world of Dragon Ball, everything was in perfect harmony. After the defeat of the notorious Perfect Cell several years ago, everyone went back to their normal lives while Goku unfortunately remained dead due to his noble sacrifice. Everyone started to have their normal lives back. Krillin married Android 18 and had a kid called Marron, and he operates now as a Police Officer with a high reputation for his successes and greatness at the job. Gohan started to have a normal life for once and went to school, meeting Videl and starting to go out with her. Vegeta did his usual thing of training inside of the Capsule Corporation Gravity Chamber with Kid Trunks, while Goten stayed at home with Chi-Chi.
Everything was perfect. Until a year later, where a great evil had risen from the depths of HFIL . . . .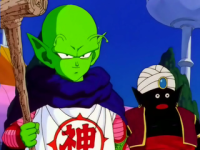 Dende, the new Namekian Guardian of Earth, taken over from Kami who had fused with Piccolo, was on his Lookout feeling out the world, sensing energy. That was, when he detected a incredible surge of energy, one that was easily recognisable. "
Mmm!
" "
What is it, Dende?
" "
Mr Popo, I sense a incredible power-level on Earth. One that we had assumed was destroyed several years ago. It's Cell... He's returned, stronger than ever.
" "
Then what are we to do? Last time, it was Gohan who had dealt with him, and Goku sacrificed himself for naught.
" "
We have to call everyone to the lookout and inform them of Cell's return... I may have to stretch out to other Universes however... Something tells me that Cell has taken powers beyond that of our world.
" "
Be careful, Dende... You're still new to the job despite several years passing.
"
Meanwhile in another plain of existence, the Time Nest in Conton City:
"
Supreme Kai, Pomada. I've called you here because I found another distortion in History.
" "
What did you discover, Trunks? She's only just come back from dealing with Cell.
" "
He was one tough opponent... I was lucky to survive, like with Frieza...
" "
Cell is the subject. He's somehow been revived and then taken out of our Universe, then returning a year before Majin Buu's arrival, and restarted his Cell Games. Only this time, he's pulling from power outside of known space in our Universe.
" "
What's the plan?
" "
Me and Pomada are to go into this scroll and find out why this part of History has occurred, and put an end to it before Cell destroys the Planet.
" "
Understood, Trunks. I'll do my best!
"
Back at Dende's Lookout . . . . .
"
Have you done it?
" "
Yes. I made a call to everyone I could, including our friends. A portal somehow appeared just before the entrance to the Hyperbolic Time Chamber, the ones we called from outside our world should be arriving any second now...
"
In your respective Universes, you were following your usual daily routines, whatever they may be. Everything in your world was how it was supposed to go, until all of a sudden, a portal would appear with an image of a floating platform with a unique structure in the middle, with some trees in front of it. Calling your curiosities, you walked into the Portal and arrived at it's destination, with it closing behind you: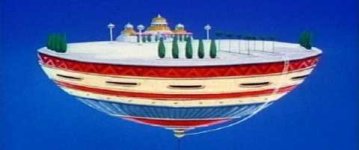 Arriving at the destination, you would discover two people waiting for you; one who wore an unique set of clothing and holding a staff, while the other work some kind of clothing and was entirely black skinned. Just on the edge of the platform was a makeshift TV with an Antenna next to it, fixed on the news channel.
"
Thank you for answering my call. Our world is in great danger and we require your help. Our heroes are on the way as well but we need assistance from outside our world. It will be some time before our Z Warriors arrive so please if you have any questions or need some time to take this in, please do.
"
---
Cast:
@Crow
As
Benjamin Kirby "Ben" Tennyson
(Ben 10) and
Kusunoki Asuha
(Battle Girl High School)
@Hahli Nuva
As
Wilhelmina "Will" Vandom
(W.I.T.C.H) and
Gully
(Battle Chasers: Night War)
@Gummi Bunnies
As
Sakata Kintoki
and
Mordred
(Fate/Grand Order)
@Donder172
As
Maria
(Fallout 3) and
Kratos
(God of War)
@Yun Lee
As
Beowolf
(Fate/Grand Order) and
Eliza
(Skullgirls)
@Takumi
As
Lukas
(Fire Emblem Echoes: Shadows of Valentia) and
Lumine
(Lumine)
@CrunchyCHEEZIT
As
Specter Knight
(Shovel Knight)
@York
As
Annie Leonhart
(Attack on Titan) and
Sandalphon
(Granblue Fantasy)
@Minerva
As
Aigis
(Persona 3)
@Jeremi
As
Big Barda
(DC Comics)
@Alex Azure
As
Mason Moretti
(Original Character)
@Kaykay
As
Shiori Kujou
(Kajiri Kamui Kagura)
@Ver
As
Saitama
(One Punch Man)
@Lucky
As
Stiles Stilinski
(Teen Wolf) and
Cerin Corine
(Original Character)
@Cromartous
As
Cole "The Demon of Empire City" MacGrath
(InFamous 2) and
Senator Steven Armstrong
(Metal Gear Rising: Revengence)​