Day 1-- 6:05am
Prologue: The Dice are Rolling
You wake up.
Your eyelids are heavy. Your cheeks are numb.
You wish to scream, but every word you cry simply crackles away into silence.
You gasp for air, your skin burning under the heat of the magma bellow.
You want to survey your surroundings, but your neck is bound.
All you can see is an endless sky.
Truly, you are a captive audience.
"Goooooooooood Morning Campers!!!!!"

A voice tears through the silence, echoing like a a thunder crack.The Man's voice is shrill, like listening to nails grind along a chalk board. It seemed to fill the clearing with noise, its source undetectable.
"Hope you're all rested up after that little nap of yours; I mean, we've got a ton of fun activities lined up this week... well, they'll be fun for me, at least...
"...Me and our audience, of course. Say hi to fans now, Champions. They'll be with you all the way, I'm sure. But try not to let that get to your head now; you'll need all your wits about you if you're gonna live long enough to sign their autographs. Let me worry about my micro cameras capturing your good side. You worry about keeping your good side attached to your... not so good side"
With a rumble and a bubble, the heat along your backs seemed to dissipate. A cool wind caressed your skin. It was as if the lava that had once warmed your skin had been parted, allowing the cool morning air to rush into its vacant lot. A chilling bite replaced the burning sting. Now, the only warmth in the air came from the distant rising sun that hung in the corner of your eye.
"Now, you're probably thinking to yourselves 'What's the name of this Badass Boogeyman with a lava elevator?' I've got a crisp hundred dollar bill for anyone who guessed... Arcade"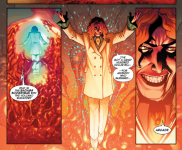 "Let me cut to the chase, Champs. I like watching people die. I'm a bit screwed in the head. Sue me. I used to rule the Deathtrap scene, but my Deathtrap-to-dead-superhero-ratio blew. Like, really blew. Turns out sticking the X-Men in a giant pinball machine isn't the most efficient way to snuff out a bunch of teens. Who knew?"

"So a few weeks ago, I start feeling sorry for myself. I consider throwing in the towel and hanging up the flamethrowers. But fate has a funny way of lighting up your dark days. This idea just hits me. Maybe I try something different. Because madness is doing the same thing over and over and over and expecting a different result, isn't it?"

"So here's what's gonna happen:

"All of you are going to do the work for me. You're gonna kill each other. Got the idea from some kids books I read in the pen. A teen Death-Match. Kill or be killed. It'll be great"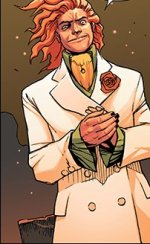 "Everything you'll need to start squeezing the life out of each other is here, on my lovely little private island. Weapons, shelter, food, medicine. The whole kit and caboodle. Oh, and don't worry about trying to escape or anything. I mean, I'd hate to have to step in myself and brutally eviscerate you all. Where's the fun in that?"
"But I'm not a total heartless Badass Boogeyman. Only mostly heartless. You'll have your powers and your equipment and the like. Everything you need to have your fun. And a team. That's right. Its gonna be like the second of those kids books I read in the pen. You'll be just like the New York Jets... if the Jets started killing Eagles"

"I think its time we introduced you- and our viewers- to your lovely new allies and victims! Drum roll please..."
"Oh, I've got goosebumps already. I could scream right now, and I'm sure a lot of you're feeling the same way! And I suppose there are those among you who are... excited by the whole thing. Those of your who are itching to come out as brutal, relentless murders? You'll get far in this competition. Those who don't adapt? Those who don't kill? Enjoy dying... Enjoy being forgotten"

"By everyone. Your friends. Your loved ones. Everyone you met on your pitiful home worlds. I've pulled some strings. Made some deals. They've forgotten about you already. Unless you make it out alive... well... I guess they'll die ignorant. You'll have no legacy here. Now legend. Only a shallow grave... if your team is courteous enough to dig you one, that is. Courteous enough or stupid enough..."

"Because Time is of the Essence. In 6 days... Let me say that again. 6 Days, this whole island goes boom. I'll sink the thing. The kids at home will love it. A big ol' fireworks show to end the series. Because at the end of these 6 Days, only One soul will be leaving my island. One. El Uno. Der Ein"
"In the mean time, you'll have... about 20 minutes to get your bearings. 20 minutes to get your head around your impending doom. After that... the kiddie gloves come off... and the killing starts. And oh my, there will be some killings. Let's get this show on the road..."
At the sound of Arcade's clapping hands, the Champions began to drift back down to solid ground, fluttering onto the earth surrounding the magma pool. Their Grace Period had begun and the dumbness was starting to fade from their bodies, but the clock was ticking down,.
It was time for them to get acquainted with their teams, and start planning as to how they were going to make it to Day 6.

---------------------------
Cast List
Last edited: