Name(IRL)
: [Ryanne Cora]
Name of Character
: [Corigan]
Nickname
: [Cor]
Age
: [14]
Gender
: [Female]
Race of Character
: [Human]
Appearance
: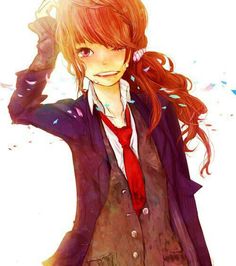 In real life, Ryanne is an auburn-haired girl with hazel eyes and a lithe figure, she's not commonly seen without her school uniform consisting of a brown jacket and vest, red tie, and dress shirt, but despite school dress codes, they are often worn quite loosely and occasionally will have patches on them, usually American fighter pilot badges.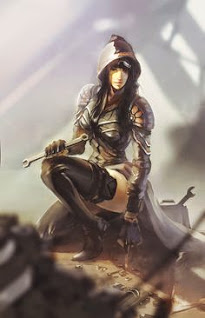 Still sporting a light, lithe frame, Corigan has raven black hair, dark brown eyes and an innocent face. Typically she is seen wearing a hood, a plate chest-piece, gloves, arm-guards, a light cloth worn around her belt, shorts, black thigh-high socks, and flexible boots.
Class
: [Assassin]
Other Class
: [Under Lvl 53]
Class Abilities
:
Shadow Blade - By masking herself, and her sounds briefly, Ryanna is able to become invisible for a few seconds, allowing her to relocate before striking. She is immediately revealed as soon as she moves to strike or comes into contact with any enemy. During her stealth, she is able to suppress most sounds, allowing her to move quicker without revealing her position. If attacking from behind without any successful evasion/parry, the strike does increased damage depending on time spent invisible. (Longer=Less damage)
Resonation - Ryanna allows herself to lose focus, broadening her scope of perception. By doing so, she is able to listen for the heartbeats of opponents, which points her in their direction and their approximate distance. During the momentary activation, she is not able to attack nor defend with accuracy. A deeper stage of immersion allows her to sense the chaotic actions of her opponent's mind which allows her to predict their coming movements. However, this stage of immersion immobilizes her in addition to the previous effects for a second or two upon activation before regaining control at which point she is able to conduct combat normally until disengaged or if the target moves out of range (10 meters) at which point, she will again experience the same effects as the activation with double the duration.
Festering Blow - Ryanna is able to strike with immense might momentarily, allowing her to paralyze a single limb for approximately 5 seconds depending on which limb she strikes by sending shock-waves through the affected appendage, disabling their nervous system's control on the arm or leg.
Debilitating Strikes - Ryanna's weapons may be coated with a thin layer of neurotoxins which is designed to leave minuscule amounts behind with each wound her weapons inflict. The toxins initially reduce the target's reaction speed slightly upon the first strike, subsequent strikes add more neurotoxin, increasing the range of effects and the severity. Effects following the first wound can include increasing difficulty controlling extremities, blurring vision, disrupted balance, etc. However, severity begins very low and ramps up as more of the toxins are introduced into the system. Amount of toxins introduced depends on the depth, type, and time spent in contact with the weapon of the wound. A solid stab with her full knife can lead to multiple effects of medium severity.
Level of Character(0-122)
: [20]
What is your Magic?
: [Stealth]
Weapons
:
Throwing daggers
Hand axe
Blowpipe & darts, may be tipped with chemicals.
Arming sword
Spiked brass knuckles
Smoke bomb
Height
: [5'0"]
Weight
: [101 lb]
Personality
:
Ryanne is a wild-card. Irresistibly drawn to action and excitement, she enjoys improvising rather than fully planning out anything which often leads to her more rebellious side, trusting herself more than others, especially when it comes to elders while acting specifically to defy them in some cases. Due to her deviant nature, she's often called stubborn and annoying, but beneath her usual care-free and self-assured nature, she harbors doubt, often struggling to trust others' strength and wit as well as her own in some instances. She puts up a strong, iron front in order to protect those around her, even if it means delving into the depths of the enemy.
Sexuality
: [Heterosexual]
Biography
: Very similar to Auden's
Ryanne was born with a twin brother just ahead of her by a few minutes. For as long as she could remember, she and her brother were inseparable, seen as odd ones out from the rest of the class from their near-identical appearance and strange deep bond. Although they had few friends, Ryanne and Auden learned to enjoy life as a pair, leaning on each other whenever they needed while paying no heed to the other children. While Auden and her were occasionally "bullied," they always came out on top with Ryanne taking the initiative, proving to be the more headstrong of the twins, protecting her brother from more than a few threats. An unstoppable duo, strong together, flimsy alone. It was sudden and nonnegotiable. The divorce tore them apart. Ryanne and their mother would move to Calgary while Auden and their father would stay in Edmonton. While their parents would not talk for months at a time, they would be talking and gaming until the sun rose, missing each other. Living in Calgary changed Ryanne. The friends she ended up with were rebels, constantly berated and punished, just as she would be. While she was still a sweet young woman on the inside, her outside hardened with confidence and conviction.
Real World Information
Motto
: ["United in soul, divided in life."]
Where do you live?
: [Calgary, Canada]
What is your occupation?
: [Student]
Familial Relationships?
:
Twin Brother: [Auden Cora]
Father: [Alec Cora] (Divorced)
Mother: [Lilia Cora] (Divorced)
Any relationships with the players outside the game?
: [None aside from brother]
What drew you to the game?
: [Brother/Sister gaming duo, MMO enthusiast]
Birthday?
: [4/9/2003]
Zodiac Sign?
: [Aries]