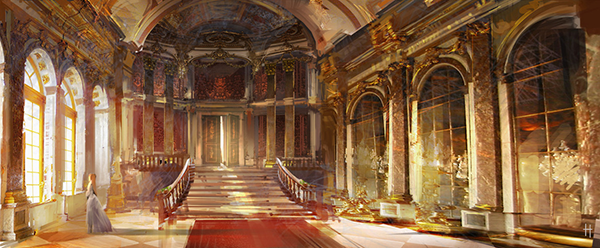 Lined with gilded windows and great parapets of stone, Correa Castle is a bastion of light and holiness. Upon entering the great hall, one is greeted by the intricate paintings along the walls and the domed ceiling, depicting a great battle being won by the Order as evil is sealed away by their long-dead Emperor. Further down in the paintings, a warrior is seen threading through the evil creatures as though they were paper before finally succumbing to his wounds and being laid to rest within the Red Coffin, clutching a shining sword to his chest.
A table is laid out in the middle of the great hall, oblong, with a dozen polished chairs around it. Marquess Augusti Correa and his two grandchildren are seated there, waiting for their guests to arrive, lead by one of the servants.
The path to the castle is covered in trimmed hedges and a walloping variety of flowers, most of which are new and very much insisted upon by Mariona to make the castle look a little less like an "old man's fort."
Last edited: