Soaring White Dragon
Administrator
The Convergence Series GM
When all dials added up to thirteen, the television crackled to life.
BOOM!
At the exact same time, a bright green flash of lightning flooded the room, leaving the entire area in darkness right after, save for the glow of the television, which then began to play.
You unlock this door with the key of imagination. Beyond it is another dimension—a dimension of sound, a dimension of sight, a dimension of mind. You're moving into a land of both shadow and substance, of things and ideas. You've just crossed over into the Twilight Zone.

The opening narration switched then, to a black-and-white shot of an imposing building.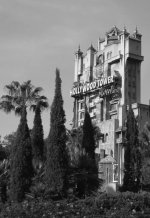 The Hollywood Hotel. Built with the hopes and dreams of the silver screen elites, this stately tower was to serve as a beacon of glamor to the masses. But tragedy struck one night...

The sky darkens, clouds forming, and the sound of a violent storm plays. Another flash of lightning strikes, this time onscreen, hitting the hotel. The light envelopes the entire screen.
...and now that beacon has become nothing more than a Tower of Babel.

The sceen changes once more, to the hotel lobby you had all just exited. The camera makes a slow pan over the area, picking up the cobwebs and abandoned belongings, until landing on an elevator.
It is here where your journey begins...

There's a cut to the top of the elevator, where the dial slowly goes from 12 to the lobby.
Ding! The doors open, and within lies the duck from earlier. His back turned, he groans, uneasily getting to his feet and shaking his head. "Ugh...what?" Looking over his shoulder, he gasps. "I gotta get out of here!!" He makes a mad dash for the lobby, only for the elevator doors to slam shut in his face. Muffled pounding and screams can be heard as the camera pans to the side, where standing on the consierge desk is none other than Shiriki Utundu.
And it is here where your journey ends! Fools! Do you think you have what it takes to defeat me? You will never find your book, and you will never find the duck! I hope you all enjoy your permanent stay here...in the Twilight Zone!

He laughs maniacally as the elevator starts going up, reaching the ninth floor just as the TV set explodes in a brilliant flash of light. From there, you are all left in darkness...save for the sound of rainfall from outside.
@Jeremi
@Lucky
@Takumi
@Sark
@Raynar Saassin
@Donder172
@Crow
@York
@dark
​