Bear With Me
The Convergence Series GM
For OOC talk, please see the group
Discord server
or the sign-up thread. Please avoid OOC talk in the IC.
A link to sign-up thread is
here
.
---
The multiverse theory is a hypothetical group of multiple separate universes including the universe in which humans live. Together, these universes comprise everything that exists: the entirety of space, time, matter, energy, the physical laws and the constants that describe them. The different universes within the multiverse are called the "parallel universes," "other universes" or "alternative universes."
It is believed that the possibility of a new world is either created when any given choice is made in one universe. Mundane choices like what to eat, to world-shaking ones like the decision to incite war. If there is believed to be such an amount of worlds, it would be filled to the brim with just as many worlds of mundane difference as those of radical difference. Or perhaps, those worlds were created beforehand, pre-destined to diverge from another.

One could say that this is one such world.

But then, who is to say what world is "supposed to happen," and what world is just diverged from that?

Even in the 2200s, this multiverse theory is not taken so seriously. Despite the massive leaps and advances that humanity has enjoyed, between space travel, replication of matter, and so on, the idea of tapping into another dimension beyond our own is an idea that some in this age find too abstract to be able to apply. Though there were oft rumors and murmurs that Jonathan Archer, some hundred years ago, and the crew of the Enterprise NX-01 had encountered something of a different world, cosmology continued to be something that very few took seriously.

However, if no one else, the remaining crew of the USS Discovery, here and now, could confirm the existence of such a greater multiverse. Their newfound method of travel, across a system they called the "mycelial network," was intended to do away with warp drives. Instead of traveling at light speed, ships would have been able to teleport across incredible spaces of time. However, such is oft the case with astronomical and abstract physics, this was an unstable practice, bending their own existence within space-time.

However, that was only just the beginning of their experiences with playing with space and time.

---
Chapter One
"Into the Stars"
"All systems checking out nominal so far, barring the warp drive,"
Acting Captain Saru of the Discovery said, after running a brief diagnostic on the ship via a handheld panel.
With the Federation-Klingon War finally put to an end thanks to their efforts (one could only hope that this would be the last time the Federation would come into great conflict with the Klingon Empire), the ship was free and on their way to pick up their new commanding officer, currently stationed on another planet and awaiting pickup. Everything was going relatively fine, and one could only hope that from here, it would be smooth sailing.
But of course, a voyage through the stars often yielded the strangest findings.
Michael Burnham waited anxiously for the ship to proceed, stealing glances at the Vulcan Ambassador, Sarek, occasionally. It had been some time since she had been on Vulcan. Far too long, really. Not since everything that had happened. Burnham worried that it would feel different now stepping on the planet she had called home and hoped desperately that it would not be so.
"Be ready on my command,"
Saru said to Helmsman Detmer, who gave him a soft "Aye, sir" in response.
Tapping into his comm link from there, directing it to Engineering, he spoke again.
"Acting Captain to Engineering, is the mycelial drive ready?"
Despite knowing how unstable the mycelial drive was, all things considered, it was their best bet to meeting the new captain in a timely manner, considering the strange malfunction within the warp drive that they'd encountered shortly after leaving Earth. And if nothing else, it would have proven to be an enlightening demonstration of what it was capable of, considering legendary ambassador Sarek was on board.
"Ready as ever,"
Paul Stamets responded, already strapped into the spore chamber and set to go. He held off on making comment on the fact that, at this point, the whole process could be done in his sleep. After all the USS Discovery had gone through, Stamets believed his understanding of the spore drive and the mycelial network could not be matched by any other sapient being. Though making new jumps were possibly still dangerous to Stamets, he took a large amount of pride in being the one to pilot them.
Even if Starfleet was committed to finding a non-human interface for the spore drive, they had allowed the Discovery to continue making jumps while the issue with the warp drive could be resolved. Time was not necessarily of the essence, but with such an esteemed individual as Sarek aboard, getting to Vulcan sooner, rather than later, was preferred.
"God, this is all so exciting!"
Ensign Sylvia Tilly exclaimed excitedly, grinning like a giddy schoolgirl,
"Never thought I'd even be on the same ship as Ambassador Sarek! You never told me you were raised by him, Michael!"
She called back to the comm,
"Or... did you? I... I guess you could have and I just forgot. Or you didn't think it was that important either, no big deal. I mean, it kind of is a big deal, but... Oh, sorry. I'm rambling -- I'm doing that thing again."
Burnham exhaled sharply, holding back a more open remark over the comm. Tilly might have thought she was annoyed, but she couldn't see the corner of Burnham's mouth curl into a smile.
"If we have time later, I'll go into more detail. Maybe show you around Vulcan, if you're up for it."
She then cleared her throat.
"Stamets, you were saying?"
"Yes-- We're ready to go. The sooner the better."
"Excellent. Now, then..."
Saru said, sitting in the captain's chair in the center of the bridge,
"Engage."
And with that, the Discovery prepared to make the jump across the mycelial network.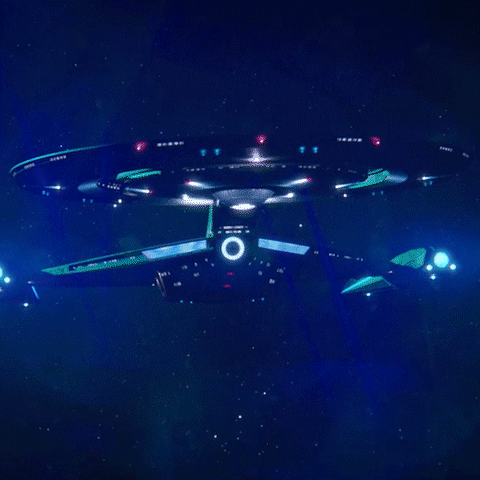 VWOOSH!
As the space around the ship crackled with pure energy, the ship prepared to make its jump to its designated location across the galaxy, spinning in place, and then disappearing in the middle of space without a trace.
However, as it was said, a voyage like this rarely saw smooth sailings, and just because the war was over, didn't mean that their worries were over.
If only they were aware of what came later and what would happen after all this, perhaps they could have dared to imagine that their misadventures were only just beginning.
For everyone, everything went black for a few moments, unable to feel, think, or even comprehend everything as their very existences were bent and undone, before rematerializing in an entirely different location.
However, when everyone
did
come to, they were hardly at the intended destination.
In fact, wherever they were, there wasn't even a single planet in sight at all.
"Ngh... Status report, helmsman? Where are we? This doesn't look like--"
Saru inquired, rubbing his head.
"I... I can't say, captain,"
the helmsman responded with concern,
"It... It's like before. I can't... read anything."
Saru stepped to the front, gazing out into the stars and the nothingness beyond.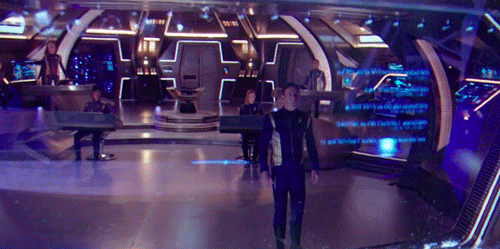 He remained silent for a moment, contemplating their situation. While the helmsman said it was "like before," Saru was inclined to agree in part, but deep down, he could feel that something was different. Something felt...
wrong.
Like there was something missing suddenly, but he couldn't quite put his finger on it.
"Perform a scan of the ship's interior to see if there's anything out of place,"
Saru said to the helmsman, before turning to Michael,
"Burnham, what can you make of this? Something like this happening again was certainly always a possibility, but... I don't think we're... quite exactly in the same place like before. That is... on the other side, but rather... Somewhere in between?"
Burnham was inclined to voice her confusion at whatever Saru was getting at, but as she took a few cautious steps toward the view of the outside, she found herself quieted. Whatever they were looking at, it was different than before.
"... Last time, we were sent on specific coordinates. Assuming this isn't the cause of further malicious intent..."
Burnham turned around and moved back to her station.
"Whatever the case, all things considered, we are likely not in our native universe once again. Science Officer Burnham to Engineering, is everything all right down there?"
In Engineering, Stamets was vacating the spore chamber, his head in pain but otherwise in the man was in physically good shape.
"I-I don't know... I mean, yes, we are all right, but I could not tell you what just happened."
With the ship going offline, so did the spore drive. Engineering went deathly quiet in the wake of this current incident.
"I could see the network and all its paths. I know the network. I knew where to go, but something pushed us off course."
Stamets shook his head and shot Tilly a defeated glance.
"And where it pushed us, I don't think there was anything there that I could see."
Suddenly, a soft beep was heard from the ship's computer, before the helmsman spoke up.
"Sir, our systems appear to be offline for the time being. Rebooting it now, though it might take a small while."
"Whatever it takes, helmsman,"
he spoke, attempting to keep calm through his voice, though if he wasn't careful, his ganglia would threaten to betray that facade, as he continued to feel uneasy about their current position.
With systems offline, Burnham knew there was work to do.
"Captain, I will take a look around,"
she said to Saru.
"To make sure everything is in order. If this is as unprecedented as we think, who knows what could have happened."
---
For many others across space and time, this was the beginning of everything.
Whatever malfunction occurred aboard the ship, it had great ramifications across dimensional barriers. Somehow, the USS Discovery had become a singularity, where beings had been pulled rapidly to this one position, stuck aboard a vessel they had no knowledge of.
When they came to, they found themselves in an unfamiliar environment. A quiet room where the only sounds were the low hum of unknown machinery (possibly just the lights, everything else seemed dead and cold for the time being) and the confusion of the others beside them, all looking equally confused and discombobulated.
One could assume that they were located on some strange military base, or if their imaginations dared to guess, some type of ship, considering the smaller ships or shuttles in front of them. Other than some colorful barrels and metal boxes lying around, there wasn't much to see in this room. If not for the act of suddenly appearing inside the room and not knowing anything about it, one could almost describe it as rather plain.
If anyone were to try to approach the doors in the front, they would find that nothing they could do would be able to open it. The panel next to it appeared to be completely unresponsive, just like every other machine in it that wasn't the lights, and the door itself was far too heavy and tough to be pried open, despite anyone's best efforts.
For all intents and purposes, it looked as though they were stuck here.
May as well make the best of it.
Continued here.
---
Chapter Two
Chapter Three
Chapter Four
Final Chapter
Epilogue
---
@ThatAverageGuy
as
Chibi-Robo
(Chibi-Robo!)
@Jeremi
as
Darth Vader
(Star Wars)
@Josh
as
Doctor Mrs. The Monarch
(The Venture Brothers)
@York
as
Emily Hayes
(Amulet)
@Gummi Bunnies
as
Flower
(Vocaloid)
@Yun Lee
as
Gumi Megpoid and Gakupo Kamui
(Vocaloid)
@Alex Azure
as
Kirby
(Kirby)
@Siege
as
Krystal
(Star Fox)
@dark
as
Maya Visari
(Killzone)
@Donder172
as
Meceliss and Mizelia
(Star Wars OC)
@Takumi
as
Meiji Gahata and Stardust
(Vocaloid)
@Kaykay
as
Misogi Kumagawa
(Medaka Box)
@Space_Candy
as
Nathan Prescott
(Life Is Strange)
@Lucky
as
Peter Quill
(Marvel Comics)
@MelodyMeister
as
Rin Kagamine
(Vocaloid)
@Archmage Jeremiah
as
Samus Aran
(Metroid)
@Raptor Jesus
as
Sarge and Grif
(Red vs. Blue)
@Crow
as
Starscream
(Transformers)
@CrunchyCHEEZIT
as
Titus
(Warhammer 40,000)
@Raynar Saassin
as
Vert
(Hyperdimension Neptunia)
@Otto
as
Viktor and Blitzcrank
(League of Legends)
@Minerva
as
Zero Two
(Darling in the Franxx)​
Last edited: