Self-proclaimed everything expert.
Name: Refcaskha, the Everburning.
Domain: Vengeance/Justice, Resilience, Determination and Perseverance.
Abilities: Is almost impervious to any sort of physical attack, relentless in his actions. Can control anything or anyone that has been used for acts of betrayal or harming others. He has control over stone and flame.
Flaws: Unless during acts of creation, is generally unable to act upon the mortal world without a mortal with a great need for vengeance burning through them to act as a focus. Refcaskha carries a great hatred for gods of darkness or deceit.
Strengths: [Not sure what the difference between here and Abilities is]
Weaknesses: Refcaskha can get caught up in a tunnel visioned focus, unable to see past his target goal. They say justice is blind and revenge is deaf, and this appears in him. Once he is convinced of something, there is very little that can persuade him to reconsider.
[Once again, what's the difference?]
Appearance: Refcaskha appears in two forms at all times. To the mortals who have a great need of vengeance in their heart, should he deign to appear he would appear as this: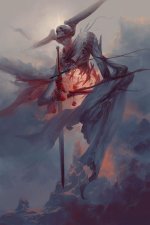 To those who believe in Justice, who believe that there is a proper way to punish indivicuals that extends to be larger than that of one person's joy, he appears as this:
These forms also apply to other Deities, with him appearing in these two different manners dependent upon which aspect they value higher.
Should a being value both traits exactly equally, somehow, then Refcaskha will be forced appear in his true form.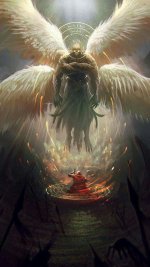 Motivations: Refcaskha's ultimate goal is to see the mortals developed into a culture where no bad deed go unpunished and, in doing so, create a peace through mutual destruction. Every wrongdoing shall be met with an equally devastating act by those who wish justice, or simply vengeance, upon those who wrong them.
Last edited: