A 1x1 Slice of Life(ish) Sidestory with
@Gummi Bunnies
This takes place almost immediately after
House of M
, serving as both an Epilogue and "addendum" as to the whereabouts and the adventures of Reiner Braun and Kiyohime after Wanda brought them "home".
---
❝ Where I'm from? Well... we can make it work. Even with the steps we have to take around there, I'm sure we'll be able to settle down once we get through those possible obstacles! ❞
Kiyohime wasn't too bothered by that thought. She knew that where she came from was supposed to be a historical singularity, which meant that it wouldn't be a permanent place to stay. However, she knew that she could get some assistance to a more stable location once they met up with the Chaldea Foundation people. That young Master and the Demi-Servant. She couldn't forget them along with other fellow Servants.
Set on what to do, the Heroic Spirit figured that it was time to go over to Wanda and state on where they both wanted to go. Kiyo gave a brief share of thanks and the best of luck to the Scarlet Witch, just before they could leave.
Before Reiner went with Kiyo to leave, he carefully sheathed his combat knife... The only weapon he really had left after his 3DMG had gone missing.
Giving Wanda one last wave, he decided to leave her with at least a few parting words;
"Mother won't be the last of her kind. There are always those that seek to use others... But stay strong, and keep fighting!... You're stronger than you know..."
He said, giving her a warm smile.
He did feel guilty that he couldn't offer too much more to Wanda, in return for the precious moments of solace she had given him in one of his most dire times, but... Perhaps the opportunity to repay her could come again, sometime, someplace.
But alas, that time, and that place... Wasn't right here, or right now. There was a whole new world awaiting him and Kiyo now... And while it wasn't home, it felt alot more welcoming than his own world right about now.
♢
♢
♢
♢
♢
Though by now, Reiner had come to expect the sudden flash of light, and a temporary loss of consciousness, it would be a long while before he could get used to getting moved from place to place.
The concept of "dimensions" or the "multiverse" was quite difficult for someone like him to grasp after all, however... He figured there would be plenty of time to learn about this in the future.
When Reiner regained consciousness, and opened his eyes, he soaked in the peacefull surroundings, at first believing this was Kiyo's home world.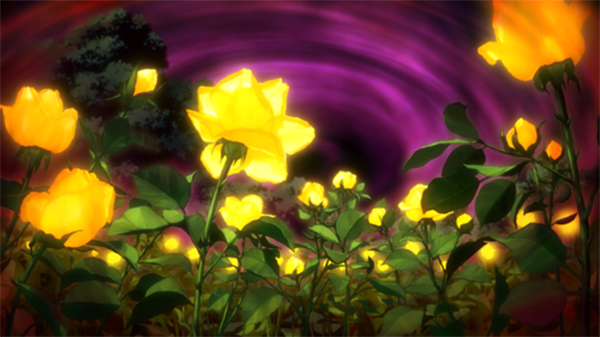 Nothing seemed to be at fault here. Other than the ominous purple mist that cloaked over an empty sky, the pair found themselves standing at an endless rose garden. Roses in the vibrant gold hue, everything around them was like a place described in a child's fantasy story.
It felt so serene and perfect, like a dream come true... And as he drew in his first breath in what he hoped would be a more permanent place both of them would stay at, he couldn't help but smile a little.
On the other hand, to Kiyohime, transportation through warping wasn't new, not at all. The intended location was supposed to be the singularity of France where the Berserker was located last before the incident occurred, but when she regained consciousness herself, she didn't recognize the surroundings to be even close to that.
❝ ... Reiner, this isn't where I thought we would be left here. Even if we saw... the real Wanda for a short time, I don't believe she'd throw us here on purpose... ❞
Kiyo was already on guard. Something of a greater power brought them here, there was no other way they could've been sent to somewhere unfamiliar.
❝ Don't let your guard down... I think some sort of powerful magus is responsible for this. ❞
And just like that the moment of peace for Reiner faded as quickly as it came; Kiyo's words quickly made him alot more cautious of his surroundings.
Gripping the hilt of his combat knife tightly, he surveyed the area, on the lookout for any potential threat.
"Magus? But... Why here? Why us?"
He asked, in quite a puzzled tone.
Now that he knew this wasn't the place Wanda had intended to send them... Reiner did not let his thoughts cloud his concentration too much; his harsh experiences outside the walls taught him very well to be as aware of his surroundings as possible. Especially in a place where almost anything could happen at any time...
❝ I... I don't know. Nothing about this isn't something that a Servant should know... ❞
Kiyo could repeat that over and over, because it was true. Her mind was filled with knowledge of her past life, her status as a Servant, and other minimal things provided by the Grail that summoned her in physical form. None of that could account for this place, or even the concept of it. The thought of endlessly wandering here promised nothing more than a lingering existence. At the very least, there had to be a way out, or some resolution.
Reiner just nodded, keeping the grip on his blade tight. As peacefull as the place looked, he had no idea what to expect, and for all he knew... Some other dark force intended to use them for their malicious means here.
That was when it appeared.
A pair of butterflies fluttering by, easy to track through their eyes alone by the radiant glow of gold. That wasn't natural either. So in conclusion, it was something else, something of the unknown.
The essence of gold was immediately replaced with the rapid burst of blue flames, seemingly scourging the strange insects. Kiyo had done this, directing these flames with the pointing motions of her closed fan. Such as this place was, Kiyohime didn't want to take a chance on letting something of power go as they please. But the flames soon died down to reveal that those two butterflies, were of two distinct individuals.
A woman donning an extravagant ballroom dress and a man who appeared to be an adventurer of sorts...
❝ My my, quick to burn what you don't find appealing, isn't that right? ❞
The woman gave a light tease aimed at Kiyo's actions, immediately putting the other in great tension.
Out of instinct, the Berserker stood in front of Reiner to while glaring at the woman, about to build up more flames to burn these people. An action that surprised the strange woman.
Reiner in the meantime, was caught off-guard, and perhaps a little entranced by the strange, ethereal aura these butterflies were giving off. However, Kiyo's sudden attempt to burn them startled him, but before he was able to react too much, the butterflies revealed themselves to be... Two people?
Well, specifically a man and a woman.
How did that even work?! They were even bigger than the butterflies themselves, so it couldn't possibly be like titan-shifting, at all...
❝ Now hold on there, little missy. We aren't here to be of harm to you and the lad. Though... you're more than welcome to try what you can, but we won't do as much as fight back. All it would do was prolong this sudden meet-and-greet... so, there you go. What will it be, hm? ❞
Something about those words irritated Kiyo, but there was a point to it. Nothing could come out of randomly attacking... until she has full reason to do so once those words came out of their mouths. So the Servant glanced back at Reiner, wondering on what he thought on this.
However, the young male had been standing there trying to process all of this for most of the exchange. However, the sudden, and steadily increase tension coming up between Kiyo, and the woman who had recently arrived spurred him into action. While the woman didn't seem to mean any harm, it certainly wasn't a good idea to provote Kiyo's ire, as he knew all too well how that would end.
Quickly stepping to her side, feeling a little strange about someone trying to protect him for once... Rather than the other way around, Reiner put a hand on her arm, attempting to ease the tension a little.
"Why did you bring us here?"
He asked, looking over the two... Er... Butterfly people, at least according to his line of thinking.
Despite the woman's words, and Reiner's gesture, Kiyo remained on edge, ready to summon a fireball to attack. But for now, she refrained from attacking just yet, better to hear what this woman had to say before she could attack. Speaking of this woman, she seemed to be the one doing the talking out of the strange pair, leaving the man with her to be silent.
❝ Well, that's bound for a dreadfully long answer, but I can summarize for clarity's sake and the short time we have before we're possibly interrupted. ❞
The woman casually mused on the matter before proceeding with this possibly lengthy answer.
❝ For starters, I'm known as Beatrice, the Endless Witch, and the young man with me is Crono, the Sorcerer of Life. He doesn't tend to talk too much, but he's quite expressive. Anyways, why we took you both here? It's more of "why we chose you two" specifically. After certain incidents, we decided to keep an eye on events like these, and somewhat assist those who don't know where to go from there. Both of you fit the criteria by chance, and here you are! ... Oh, and to explain where this is, it's a realm above every other world, dubbed as the Metaworld. To be exact, we're standing in the Metaworld's Golden Land, a place that's ruled specifically by me, the Endless and Golden Witch. I don't normally invite people over to my realm, but exceptions can be made~ ❞
After catching her breath from the drawn out exposition, the Golden Witch gestured towards them for an answer or some sort of comment.
And there sure was one. As when Reiner better look at the two that he noticed the man was a bit shorter than the woman to say the least... With a spiky head of orange hair as opposed to the woman, with a more regal, brownish hairdo.
However, something else caught his attention; two distinct glints, of a ring on both of their ring fingers... And a surprised look crossed his face as he blurted something out before he had much of a chance to even reflect on what he was saying.
"Wait... Are you two... Married?"
He asked suddenly.
Unfortunately, his surprise overtook whatever sense of caution he usually had...
Before they could say more... Beatrice immediately realized what Reiner asked other than why they were here, and became rather flustered.
❝ N-No no no, it's nothing like that! ... well, I am married, but to a different person. I suppose this Gamemaster ring I bear could be mistaken for a ring of matrimony... but besides that, does the offer to stay here in the Metaworld ring soundly to you both? ❞
While Crono, who had been remaining in the backdrop for the most part appeared to suddenly panic in response to Reiner's question as well, waving his hands to signal this was far from the case... To which the latter quickly realized his mistake, embarassed that he had blurted out that question without thinking things through too much.
Nonetheless, once Beatrice brought up the fact that they could stay here if they wanted to, Kiyohime could only show a tense expression on her face. She wasn't as tense as before, but she was weary on the deal being put out there. The Berserker couldn't exact trust this Beatrice and Crono yet, but it was true... she and Reiner didn't have much options for where to stay. As if she couldn't trust herself to make the decision, she looked over at Reiner to see what he thought about this. They had to make a decision here, Beatrice was waiting for their response after all.
Reiner in the meantime, considered the implications of what Beatrice had to say...
It looks like he and Kiyo had been chosen, as they didn't appear to have a place to go. Though what did that mean for Kiyo's world? She did mention that it wasn't certain if they could return there to begin with.
The entire thing was a little hard to take in, from the concept of being in some realm that lies above others... To the very existence of Witches and Sorcerors, which he had yet to grasp the concept of very well.
Nonetheless, Beatrice was offering them a place to stay here... In the "Metaworld", which didn't sound bad on the surface. However, Reiner knew he couldn't be carefull when dealing with the unknown...
"... Is there a catch... To staying here?"
Reiner asked.
Looks like he was really contemplating the prospect of staying in the meta-world, but... He didn't want to accept without knowing the risks...
❝ No, not at the moment. But with recent happenings... we may request assistance from people we can reach, such as you two. Hopefully it would turn out to be minor assistance that is needed, but you can interpret that as an equal exchange for staying here without any other worries from other places. ❞
Beatrice explained that very extent of what could be expected of them staying here. Nothing could be really done on "sugarcoating" on what was ahead, considering with the recent incidents throughout the multiverse.
With that in mind, Kiyo still had her doubts on the matter, but she did see the point in it. They were dragged into a dicey scenario in the Dark Place, and from Beatrice's words, similar situations in different realms were happening on a regular basis. She felt like the Witch was in part of this, but it could be the other way around where Beatrice could be trying to counteract these happenings. Though, Kiyohime couldn't exactly find herself going to a concrete answer, because she still couldn't grasp on the truth that could be there despite being able to understand what this means for them and anyone else.
Reiner rubbed his chin, looking to be deep in thought; as much as he would like to believe that Beatrice's intentions were good... And if he were to be called upon, he would be lending his aid for a good cause, there was of course a level of uncertainty.
It was hard to say if there would be any strings attached, or if he was being manipulated once again, but... All the same, he had to make a firm decision, here and now. After all, it was evident that Beatrice and Crono both probably had places to be.
Besides, they couldn't just stand here thinking forever, as he doubted it would accomplish much more than stall for time. So at last, he finally spoke up.
"Fine. It's a deal..."
He said, nodding firmly.
It was certainly more of a choice than he had back at home... Even if they could very well be doublecrossed, at least they weren't quite forced into doing something.
For the better or the worse, it looks like they'll be here for a while.
He stole a glance at Kiyo, looking at the symbol that had appeared on his hand. The area still ached a little, but nonetheless, it reminded him that he wasn't just making a decision for himself... But for someone else as well.
"To tell you the truth... I don't know how all of this will turn out... Or if this is the right thing to do..."
He said, lowering his voice so only Kiyo would hear him, or so he hoped.
"But... For now... Let's play along. I believe we'll know what's true and what's not soon enough."
He added, putting a reassuring hand on her shoulder as he smiled a little.
Old habbits die hard as they say; despite how uncertain things were right now... He still couldn't help but try and look at the brighter side of things.
Perhaps his role as a soldier... Hadn't all been a lie...
Judging from Kiyohime's looks, she didn't object to the decision at hand, going with what Reiner answered with.
❝ Then it's settled. From now on, you can call this realm a place to stay! Well... we should show you your living quarters. C'mon now~ ❞
Beatrice sounded delighted by the decision, and waited for when they were both ready to move on. Surely they couldn't stand around in the garden of the Golden Land for too long. It was somewhat like a private hideaway for Beatrice after all.
❝ I understand, Reiner. Only time can tell what we'll see further down the line. Regardless, I will remain at your side, as long as you won't tell a single lie. ❞
Despite how attached to the truth Kiyo sounded to be, she remained focused to the fact that she was putting her trust into Reiner's decision and the Golden Witch's act to stay true to her word. If a lie came to be, she would only burn it down. That was her natural response. But for now, it was time to rest. They needed it.
♢
♢
♢
♢
♢
For the time being... Both Reiner and Kiyo finally had some time to unwind.
Though this place wasn't quite the destination either of them had expected... A home was a home, and it was fortunate for them that Beatrice had decided to make things a little more homely for them before she and Crono left to do their own thing for now...
While the sky was still a strange, purple hue, it was filled with stars.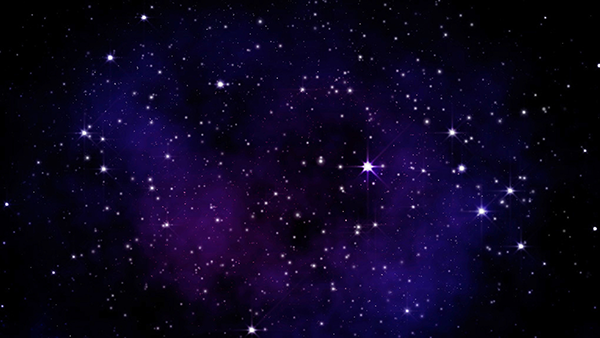 "They're beautifull... Aren't they?"
Reiner asked, smiling a little.
❝ Yes... it's quite beautiful. ❞
The Heroic Spirit was able to freely say so with a smile. For once, out of the good in her heart. Never was she granted this type of peace in so long, even in times where she was a human and times as a Servant. Lingering doubts about this new realm scratched the insides of her mind, but for now, this was a peaceful time.
Though one had to wonder... How long such a thing could last.​
Last edited: