Well-Known Member
The Convergence Series GM
"Yes,"
Shuri replied.
"They have not been very picky about who they give these gifts, and while it has brought with it some good...it's a very turbulent time."
Was the only thing she added as they continued the final leg of the journey in silence.
Soon enough they came upon Anakaris' kingdom and landed on the head pyramid where they were met by his delegates. "Welcome, the mutant delegates are already waiting in one of our chambers. Lord Anakaris will sadly not be able to join you but he wishes you have a pleasant and lucrative stay."
The servants lead the two women through the pyramid into a private chamber where they found four people waiting. One of them a large blue fellow with a friendly smile was the first to greet them.
"By my stars and garters, Princess Shuri!" The man came up to give Shuri a friendly handshake. "It's been quite some time since we've seen each other!"
"It has been indeed Dr McCoy,"
Shuri smiled before motioning towards Menat.
"This is Menat. the one we mentioned."
The blue man turned towards her with the same friendly smile. "The fortuneteller, of course! You even dress the part! I'm Doctor Henry McCoy, I also go by the superhero moniker of the Beast. I'll give you two guesses as to why I use that. The others gathered with me today." He motioned towards a black-haired Asian woman. "Xi'an Coy Manh, or her current alias, Karma."
"Karma will do just fine. It's nice to meet you."
"And I don't need someone to introduce me. Because only I can do it justice. Bobby Drake, and when I'm on the clock you can call me Iceman. It's very...nIce to meet you."
Beast groaned "Of all the puns to break the ice...No pun intended. Anyway, last but certainly not least we have Mystique."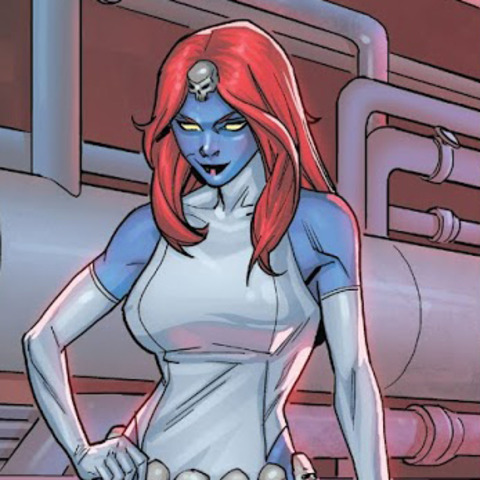 "Charmed." The blue mutant gave both women a sly smirk. Menat would realize that Shuri gave the woman a tense look before she replied to them.
"Thank you all for coming, I realize you had no reason to heed my brothers call."
Beast nodded. "Indeed, it's not like the destruction of our home isn't something we get to hear on what certainly feels like a daily basis but...a certain someone on the council got the rest to see the light, as it were. Perhaps then," He turned towards Menat. "You could give us a first-hand explanation as to what you saw and how you saw it."​
@Yun Lee