Copied and pasted from the Discord channel
Katie-Today at 6:01 PM



It had been sometime since Hikari could spend time with her little sister, Ori. She still wore the Anbu Uniform. Gray flak-vest with a few armor plates on her arms and shin. She carried a red and black Katana over her shoulder as she observed the young Hyuga Princess standing at the center of a forest meadow. Hikari gave out an imposing figure when she was wearing her Anbu attire, the black panther mask adorned her face, and hid all expression. Arms crossed, she waited for Ori to activate her Byakugan. "Ori, we'll practice your Kaiten. Tell me when you are ready."

AerShiana-Today at 6:12 PM



Ori was barely able to contain her excitement. She was finally able to spend time with her loving big sister, and she was fired up for the training session awaiting her. Even despite the fact that Hikari was in her ANBU fear, Ori only saw her sister, albeit 'wearing a cute mask', as the young girl put it. "Okay!" Chakra flowed through Ori's body, veins expanding out on the sides of her face. Her Byakugan was activated, and her sight expanded to great lengths. There was a passionate wide smile on her face. "I'm ready, Hikari."

Katie-Today at 6:19 PM



Hikari nods once, hiding a smile underneath her mask before she reached towards a HUGE scroll she had been hiding behind her back. As she folded it out before herself in a smooth manner, Ori, if she did her homework, could see that it was a Fūinjutsu. A scroll where objects were sealed within. She swiftly performed a series of hand-seals before eventually slamming her right palm into the center of the scroll. Her chakra releasing all the weapons sealed within. A large mass of shurikens and kurenais were thrown into the air. Hikari swiftly performed three handseals in what seemed like an instant. Monkey, Tiger, Bird. "Weapon Control: Tensasai" She whispered before she extended her arms. Each Shuriken and Kunai seemed to carry an invisible string that reacted to Chakra, allowing Hikari to better guide them. She sent them all flying towards Ori, striking her from all directions. Both low and above.

AerShiana-Today at 6:31 PM



After Hikari pulled out the scroll, Ori's eyes lit up and she instantly dropped into a low stance. Bent forward with her left hand nearly touching her foot, and her other hand flipped up and reaching above her head. Her face showed a great deal of concentration. She knew that this training was about to get intense. And she liked that. First the weapons were released, then the hand seals. Ori tensed up, waiting for the incoming attack. Countless numbers of ninja weapons flew out, several of them curving around her until she was completely surrounded. The only way to avoid damage was to use the Heavenly Spin. A couple seconds before they would have struck her, Ori pivoted in place, exerting chakra from her tenketsu in every direction. "Kaiten!" A dome of chakra and wind formed around Ori. The weapons bounced off her protective bubble, but it would be noticable that the technique wasn't perfect. The kunai and shuriken should have gone flying away from her, but they just simply stopped and went back outwards a foot or two. Once she stopped, Ori looked rather proud of herself. Clearly, this was the most successful she's been with the technique.

Katie-Today at 6:35 PM



Hikari smiled once, her sister was only thirteen years old, and she already knew a couple of the main-branch's Jutsus. All around Ori, the weapons started to explode into white puffs of smoke as Hikari recalled them back into the scroll. At least it saves them the otherwise major clean-up. "Still rough around the edges, Ori. Remember, Kaiten can be used offensively as well as defensively."

AerShiana-Today at 6:39 PM



As the weapons were sealed back up into the scroll, Ori was able to see each of them disappear thanks to the Byakugan, despite her gaze not leaving Hikari. Ori tilted her head, taking in Hikari's words. A few moments passed as she tried to think of how to use it offensively before she finally just asked. "..How?"

Katie-Today at 6:43 PM



"Mmm... do you want to see it?" Hikari slowly pushed up the Anbu mask. Revealing her own face as she gazed down towards Ori with her own pale lilac eyes. She had a loving expression whenever she looked down towards her little sister.

AerShiana-Today at 6:46 PM



Ori quickly and vigorously nodded at Hikari. "Yes, please!" Pure excitment lit up her face, and she looked ready to do anything she could to assist with the demonstration.

Katie-Today at 6:48 PM



"Alright alright... say. Have they taught you how to make multiple clones yet?" She smiled towards Ori. She was obviously not talking about the Kage Bushin, but just general clones meant for distraction. "Place them in spread distances. Five meters away from me, and then onwards."

AerShiana-Today at 6:55 PM



Ori nodded and performed the hand seals. Ram, snake, tiger. "Clone Jutsu." In puffs of smoke, 5 copies of Ori appeared in several areas as directed by Hikari. Thanks to the Byakugan, it would be very easy to tell the real one from the fakes. One by one, the clones positioned themselves spread out around Hikari as Ori was instructed. "Is that good, sis?"

Katie-Today at 7:03 PM



"Mhm! Okay Ori! Stay back alright?" She shouted towards her little sister before she got into position. Her foot slowly drawing a half-circle before her as she lowered her stance. 'Byakugan!' She spoke within her own mind before she opened her eyes. Revealing the blank eyes with intense blood-veins popping out all over her temples and forehead. Hikari visualized the 8 Trigrams formation within her Byakugan. Green circular ying and yang patterns appeared all over in a background of complete black. Within each outline, stood Ori's clones. She gagued the distance, and calculated exactly how much Chakra she would need.
"Hakkeshou Kaiten!" She shouted before she began to spin on the spot. She secreted Chakra from all of her tenketsu points before the rotation caused the blue sphere of Chakra to emerge. However, compared to Ori's, Hikari's movements were more refined, stronger, and faster. She was like a tempest, where she herself was the eye of the storm. The Kaiten only grew bigger, more violent. The first clone was now caught in it, sending the little Ori clone flying high into the air before popping. Such was the same fate of all the remaining clones. Once Hikari stopped, she was standing with her gentle-fist position. All around her was a crater that went about 30cm into the ground. She had held herself back on purpose to not damage the environment too much.

AerShiana-Today at 7:19 PM



Ori had seen Hikari used the Kaiten more than a few times before, and it was always impressive to watch. As her clones were sent flying through the air, then disappearing into poofs of smoke, this time Ori would watch very closely with the Byakugan. While the torrent of chakra was hard to follow, she was still able to see the the way that her sister manipulated it into a destructive sphere. The speed and size of it was far superior to Ori's, which only served to fuel her desire to improve. Once Hikari was finished, Ori was fired up and ready to try again. "Okay, I think I've got it!"

Katie-Today at 7:24 PM



"Let's see what you got!" She smiled towards her sister, always admiring the fire in her eyes. Hikari looked around and fortunately, there had been some raining last night. A couple of water poodles were around the meadow. At least that would spare Ori from seeing her sister vomit a large torrent of water for her water-release. Hikari held her hands into a single seal, Tiger. "Mizu Bunshin no Jutsu!" She spoke, and from the surrounding water pools, she created five clones of herself using the waters. Each of the clones seems to be wearing her Anbu mask, where Hikari herself had casually slipped it over her scalp. Each of these clones had 1/10 of her strenght, if Ori was strong enough, she could cause them to "pop" by turning into water with a solid hit. "Alright Ori, I'll place them spread out within 15 meters! Do your best!" She called out.

AerShiana-Today at 7:44 PM



Ori nodded at Hikari again. Once all the water clones were in place, she dropped into the eight trigrams stance again."Okay, here I go!" Her excited expression turned back into one of pure concentration. She looked to each clone, took a deep breath, and let out a long exhale. "Okay." Her eyes closed, and she envisioned very clone around her. Her eyes opened, and she envisioned the 8 Trigrams formation beneath the clones' feet. "Keiten!" Once more, Ori spun in place, chakra blasting from each of her tenketsu. Her spinning sphere formed around her, expanded and took out the closest clone immediately. More chakra and effort was exerted, and the sphere extended out more, reaching 10 meters. 2 more clones went flying through the air, exploding into raining water. The Keiten went further, edging to 13 meters. 14 meters. Finally, it just barely reach 15 meters and took out the rest of the clones. Once the technique was released, and the storm of chakra gone, Ori collapses to the ground. Both from the effort she exerted, and feeling dizzy from the constant spinning. "How.. How was that?"

Katie-Today at 7:49 PM



Hikari watched astonished at her sister's control of their Clan's technique. She noticed that Ori had pushed herself far too much in the process to replicate a technique this advanced. She teleported almost instantly behind Ori, or rather, that was just how fast she moved. She caught her sister in arms, but couldn't help but laugh at her swirly eyes from doing the intense rotations. "You did good Ori! You'll get used to the rotations soon enough." She smirked towards her little sister before suddenly pulling her in closely into her chest, just embracing little Ori. "I'll teach you another Jutsu when I return from my next mission okay?" She smiled deeply towards Ori.

AerShiana-Today at 7:55 PM



Hearing Hikari's praising filled Ori with such pride. A wide smile formed on her face, and just sat there in her sister's arms. It had been too long since she felt this, and wanted it to last as long as possible. "Yeah.. one day I'll be as good as you are, Hikari. And that's a promise." She nearly lept out of Hikari's arms out of excitement. "Yes! I can't wait!" Then she nearly tackled her big sis in another tight hug.

Katie-Today at 8:12 PM



Hikari laughed ever so faintly at Ori, even when she almost knocked the Anbu down to her back. Ori could only feel her sister's warm embrace as she cutely rubbed the tip of their noses together, before pressing a kiss upon her sister's forehead. "You don't have to think about that Ori... you'll make a fine kunoichi when you find your Nindo! (Ninja way)" She smiled warmly towards Ori.

AerShiana-Today at 8:50 PM



As they parted from the hug, Ori was still as energetic as ever. "You motivate me to keep getting better, Hikari. Every day I'm working hard." Using her byakugan, she scanned around the area without needing to actually look. She picked out a lone tree that stuck out from the rest of the forest surrounding them, and performed a series of hand seals. "Watch this." Tiger, Ox, Dog, Rabbit, Snake. She wasn't very fast with her seals, as though she was trying to remember them on the fly. Pursing her lips into a small O, Ori unleashed a blast of wind from her lungs. "Wind Release: Great Breakthrough!" The gust of wind stripped bark and branches off the tree, and seemed to threaten to rip its roots from the ground. However, it didn't seem to quite manage that. Ori groaned in frustration at not being able to knock the tree down.

Katie-Today at 9:00 PM



Hikari could only watch astonished. She was already this young, and could perform several levels of Jutsu, including the Hyuga Arts. As an older sister, she couldn't be more proud. At Ori frustrations, Hikari would only move in to flick her index finger against Ori's forehead to help her focus a little more. "Idiot... this is already impressive Ori!" She smiled happily. "But don't forget your obligations as part of the Hyuga Clan. We carry the title as the best Taijutsu Clan in Konoha, that goes for close-combat as well." She reminded Ori, but if she could perform medium-long ranged jutsu like that, her little sister would be an interesting Shinobi in the future.

AerShiana-Today at 9:08 PM



Ori let out a high pitched "Ack!" when she got flicked. Rubbing the spot of impact, she looked rather sheepish as Hikari scolded her self-frustration. She nodded quietly in acknowledgement, gazed off into the distance for a moment, then softly asked. "Hey sis, since you're here.. and I'm a ninja now.." She took a breath then exhaled. "I know you're really strong, but do you think we can spar?"

Katie-Today at 9:12 PM



She looked towards Ori with a smile on her lips. She did train Taijutsu with her sister for a long time when they were young as well. But never had they done a proper spar with their Byakugan. She slowly paced with her back against Ori for a moment. But she could only nod ever so gently. "Just Taijutsu then?" She smiled. It was a well-known fact that Hikari's true strenght lied in Kenjutsu. How she transcended the Hyuga Clan's Chakra control and taijutsu into a swordstyle. Yet, that was far too dangerous to be used in a hand-to-hand combat. As a practioner of the Gentle-Fist, Hikari was one of the best of the Hyuga Clan as well.

AerShiana-Today at 9:22 PM



Ori nodded in confirmation. "Mhm. Just Taijutsu." She took off her dark gray robe and tossed it aside, leaving just her light gray outfit under it on, and shifted into a combat-ready stance. With her Byakugan still active, she was able to see all the strong chakra flows within Hikari's body. It was no secret how talented Hikari was, even in relation to just the other Hyugas. But Ori still needed to get a solid idea of the distance in skill between the two. As the clan's heiress, it was her duty to master all of the clan's techniques and become a powerful taijutsu master. "Ready when you are, sis."

Katie-Today at 9:27 PM



"Hai hai.." She chuckled ever so faintly. Hikari closed her eyes, and as she gentle re-opened them, her Byakugan was active. Deep ravines of veins appeared all over her face. She still had a smile on her lips, the Anbu mask was gently resting at the side of her scalp. She saw all her sister in a x-ray like entity. Streams of blue chakra flowed between her Tenketsu points. Even for a small child, her sister stood above the average students. And unlike most prodigy who had taken things too easy, Ori had reached this level with hard dedication and work. Hikari suddenly closed the distance between them. The two Hyuga sisters would enter a gentle-fist spar. Which just, for the naked-eye, looks like they were merely hitting and blocking one another's blows. But each time their limbs made contact, a burst of chakra was released upon contact. Each strike, was both of them trying to close one another's tenketsu point with a precision strike of the tips of their fingers. Hikari was focused primarily on protecting her own Tenketsu point, than out-right trying to close all of her sisters. She was waiting for Ori to figure a way on how to break the stale-mate. Thinking of a strategy to win over your opponent while defending and attacking at the same time was a grueling task. But one every Shinobi had to learn.

AerShiana-Today at 9:43 PM



Hikari's defenses were strong, as were to be expected. Ori had to think like a ninja, as a direct fight would get her nowhere but a quick trip to getting her tiny butt handed to her by the far superior opponent she was facing. Think, Ori, think. Oh! It finally came to her. The Hyuga clan may be famous for their taijutsu, but that didn't mean all of their techniques were close range. It was rather fitting what her style of fighting was like, given her affinity to the Wind element. She continued the trading of blows, then appeared to overextend one of her strikes. Falling forward, Ori then dropped into the low Keiten stance and spun in place. At the very least, this should create distance between the sisters. If Hikari did indeed withdraw to avoid getting hit, Ori would immediately stop, then thrust a palm forward, exerting out a blast of chakra at one of the older sister's abdomen area. This was the Air Palm technique. If this one was successful and caused Hikari to hesitate, she would repeat this technique two more times, each aimed at different areas.
Katie-Today at 9:56 PM



Hikari regarded Ori in an almost slow-motion, but in a more analytical aspect. 'She fell?... No, something is coming. Kaiten.' She thought in her head, as her eyes picked up the miniscule movements of Ori's pattern as she spun in place to create the sharp diagonal Kaiten. Hikari swiftly disengaged to avoid collission with the Kaiten. She widens her eyes when Ori suddenly unleashed the Eight Divination Signs Air Palm technique. She made several backflips with her palms as she avoided the first one. When she landed on her feet, she noticed two consecutive air palms flying her way. A soft grin on her lips. She recoiled her right fist, making a firm palm strike before she unleashed her own Hakke Kuushou. She unleashed a strong wave of Chakra that became visible to the naked eye. As she sent it flying towards Ori, her two Air Palms were eaten by the force of Hikari's Palm Strike. The ground left visible cracks as well as this large force was heading towards Ori. She then suddenly realized that it was her sister she was fighting. She suddenly yelled out. "Ori! Get out of the way!"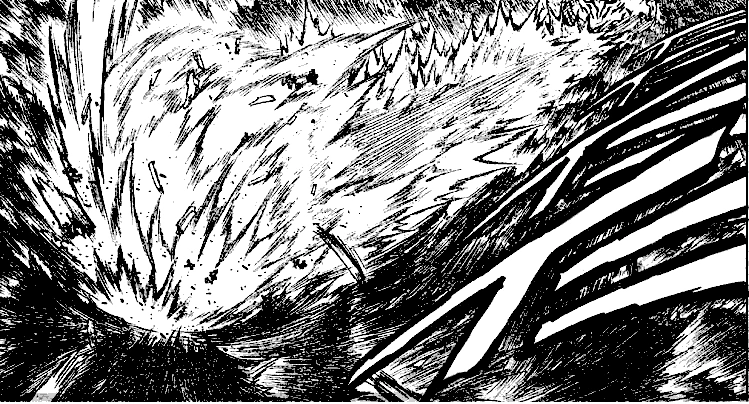 AerShiana-Today at 10:04 PM



Ori wasn't expecting such a.. impressive response to her attack. The amount of chakra put into Hikari's own Air Palm was nearly blinding to Ori's Byakugan, which meant that she definitely needed to get out of the way. Hikari's warning merely confirmed her fears. "AH!" Utilizing her wind style technique, Ori managed to get clear by placing both her palms towards the ground and using her Propelling Winds jutsu, practically launching her high into the air. Landing on a tree branch behind Hikari, Ori was momentarily distracted by the destruction that Air Palm created. Several trees behind Ori's original position were blasted apart, the ground with several cracks along the path. "That's a little excessive, isn't it..?" Ori was clearly unsettled by this, and was suddenly having second thoughts.

Katie-Today at 10:06 PM



"Ah... ah... haha...ha..." She tried to nervously chuckle before she looked at all the destruction caused by her Air Palm. She drops to her knees, looking all defeated. Ever since she became Anbu, she didn't have access to the Hyuga Clan's wealth, she had made her living by working as a ninja for the village instead. "The Hokage is going to kill me..." A soft image of a chibi Hikari could be seen shaking an empty coin purse.

AerShiana-Today at 10:13 PM



Ori stared blankly at Hikari for a moment as the latter was having a supposed momentary financial crisis. "Uh..?" Her sister didn't seem to notice or respond, which caused a lightbulb to light up in her mind. This looked like a prime opportunity for... A SNEAK ATTACK. Ori leaped from her perch, and lunged at Hikari, aiming to strike at a tenketsu in her upper arm. This impact should not only close off her chakra flow, but also numb the entire arm and leave it inert.

Katie-Today at 10:16 PM



"Ori, let's call it a da- ACK!" Hikari was in her financial depression situation and turned around to face Ori. The palm-strike hit her right in her solar plexus, the centre of everything. She felt her chakra connection cut off in an instant and was thrown back to the ground with her eyes going all swirly. White foam seems to form across her mouth as well. Completely K.O'd. This just proves that one perfect strike from the Gentle-Fist could disarm even the most powerful shinobi.

AerShiana-Today at 10:24 PM



This wasn't quite how Ori expected the spar to play out. Her Jyuuken strike hit in a far more chakra-dense point than she intended, and since she was midair and everything happened so fast, there was nothing she could do to alter her course of action. Now she was standing over the body of her unconscious older sister. Then she realized.. she was standing over the body of her unconscious older sister. After a few minutes of panicking and trying to wake Hikari up, Ori had to carry her older sister all the way back to the village, to the Hyuga estate. Several minutes of hysterical explaining took place. Hikari was placed in a bed to recover, after their father was finished laughing.