identity unknown...
Benefactor
The Convergence Series GM
[ Note #1 ]
reset

: (v) 1. to set again or anew; 2. to change the reading of often to zero.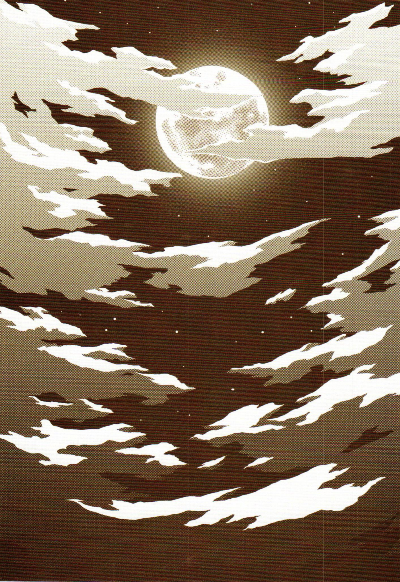 Hurry. Hurry. Hurry. You can't stop this now.

Run. Run. Run. Just a little farther than this.

Faster. Faster. Faster. There's no telling when they'll caught up and you'll be caught.

Focus. Focus. Focus. You mustn't mess this up.

You know better than to give up now after you've done the unthinkable. You know that this was going to upset the balance, yet you did this anyways. You know now that you have to commit to your decisions to the very end, then you can rest and forget about it all.
That's what I kept repeating to myself in my head. I had to keep this mental mantra going to keep myself going. If I didn't, then how was I ever to achieve this feat on my own? A feat that only meant a punishment worse than death if I were to be caught. Right, what I'm essentially doing was committing the highest kind of treason there ever was, I was beyond saving if I faltered in this now. That's right. I have to get rid of the evidence then hightail it to some remote location so they'll lose track of me for hopefully good.
Keeping up my pace, I stare straight above me to see the radiant moon that luminated this fateful night of mine. It is practically beckoning me to finish the job at a specific spot, the moon's bright rays giving way for a location's spotlight. That's right. I need to do this in a place where no one would ever find my traces. It had to be here.
Get rid of it. I have to get rid of this evidence now.
I finally arrive this destined destination, standing before an untainted stone slab with a quaint lake behind it. In my hands, I bring out the very evidence that I was going to dispose of here. A broken fragment from an ancient artifact that fell apart due to my actions, my heinous crime that I have done upon my once acquainted companions. No, they weren't companions, they were my enemies now. I rather be off doing whatever I wished to do, and not being their tool that didn't know any better.
I've already decided that a long time ago.
Stepping forward, I place the last artifact fragment against the stone slab in front of me, taking a deep breath. Once I do this, I can finally take it easy, and put this mess behind me. They'll never figure it out. None of them can do feats of magic like me. So all I have to do... is to get rid of this fragment.
Starting the process, I felt an overwhelming amount of mana rushing out to my fingertips, transferring into the artifact fragment's existence. As expected, a sharp clash of existing energies occurred, a defense mechanism was tipped off by my actions. I knew that already, of course, as I've done so with the previous artifact fragments I've gotten rid of. Unless they have someone that was deliberately going out of their way to find these last notes of these fragments, I doubt I'd have to worry about it in the long run. I'll probably forget about ever doing this anyways, and there will be no connection to me left. My magic allows me to remain undetected once it is done, especially without their reliable observatory anymore.
A surging conflict threatened to harm me for my deeds, but this had to work. It had to, or else I would be toast. So I only upped my magical output beyond my own limits once more, my existence wailing at me to not do this as it seared a painful pain in my chest. No, ignore the risks and keep at it, or else the reset will never happen!
My sight began to blur, my breathing became ragged, my ears only hearing a constant buzz. On top of that, my sensation of touch on the artifact began to numb, along with my chest feeling like it was going to burst from beating so fast. Any second from now, I could just keel over and die. Yet, I could also...
Any suffering that I felt that could warrant my own end in a matter of seconds, it simply stopped. A single chime of a bell marked the end of my deed. The deed to get rid of the evidence. All I saw was that unremarkable stone slab in front of this plain lake. As if none of that really happened.
But it did happen. No one won't find that out, of course.
I can rest assured that the artifact's existence was overtaken by the target of my magic: the stone slab. My magic's traces already disappeared from the slab itself, so there really was no evidence left at the scene. I've done it.
The observatory was finally no more.
---

❝ Getting rid of the evidence by having the fragment get absorbed into this slab... That's one way of doing it, that's for sure. ❞
Blake remarked once he was released by this vision of what he assumed to be the observer's memories. There was a lot of evidence to back the claim that this was the observer's memories before they somehow reset themselves. There wasn't much, however, to figure out what they meant by "resetting" in the first place. That would mean that he would have to go track down the rest of the artifact fragments to track down the observer before the Metaworld does.
❝ Sorry, but I need to undo your work here to get to you first, observer. I can't exactly help protect you from the Metaworld if I don't know where you've gone. ❞
He apologized out loud as he placed his hand against the stone slab's surface. He wasn't sure if it'll work, but even if this was sealed by the observer's unique magic, he would make use of the lingering strands of his sister's Miracle magic placed into him to undo the existence seal. In a similar manner that he saw in the imposed vision, he began to focus his magic into the slab, essentially attempting to force the artifact fragment out of there to reinstate its existence. There, the terrible pain that the observer went through to seal the fragment began to occur to Blake, almost causing him to stumble over. Even with the new batch of nanomachines in his bloodstream to reduce the pain, it was simply too much. Almost like his own existence was being denied for doing such a thing in the first place.
As the pain only grew worse upon starting this process, his eyes locked onto the sight of a peculiar stone object emerging from the slab's surface, and it was no doubt another stone fragment from the observer's artifact. If it weren't for that being visible, Blake highly considered just halting the process altogether, but now he was determined to follow through with this procedure.
Then, it simply popped out of the slab without any other issue, subverting his expectations on this being an agonizing magical process. Blake ceased his act of magic right then and there, reaching over to pick up the artifact fragment from the ground. That was when it crossed his mind that this seemed... too easy. Something wasn't right. Almost like it was...
SHHNK!!!
❝ ... a trap?! ❞
He gasped out in disbelief as an invisible force tore right through his chest. He should've known that there would be some defense mechanisms in place if it were discovered. Gritting his teeth, he was grateful for his reflexes in this moment, only narrowly avoiding instant death as the invisible force barely missed his heart. Falling to the ground with a loud thud, Blake cursed under his ragged breath. This was a bad time to get hurt like this, especially when he didn't know any magic that could heal him. Obviously he couldn't get a hold of those Witches like Lambdadelta or Kalu to heal him, he didn't know how to do most of the stuff that his sister did.
The ravenette only closed his eyes in resignation, groaning out his frustrations.
❝ ... gh, just my... goddamn luck... ❞
Expecting to lose his consciousness in this moment, he didn't bother to pay attention to the footsteps approaching him.
❝ Uh... how long are you going to lay down like that? ❞
An unfamiliar voice questions him, causing Blake to open his eyes in response. He was going to point out the obvious with his chest having a gaping hole and bleeding out, but... he didn't feel that pain anymore. Heck, there was no sign that he was torn through and injured at all. It felt too damn real to be an illusion either, he was definitely fatally injured earlier. So what was the catch here?
Instantly standing up, he takes a good look at the other individual present at this lakeside, already flooding his own head with questions that needed to be answered.
❝ Are you going to answer me or? ❞
The young man questioned him further, appearing to be around Blake's age from the looks of it. So far, it felt like the other was simply suspicious of him, and didn't have any connections to the rampant anomalies of the multiverse. So far.
❝ So... did you see anything else besides me? ❞
❝ Don't answer my question with another question. ❞
Blake was taken back by the other's bluntness, who sounded like they meant business for some reason.
❝ Well, obviously I'm not laying down anymore, am I? ❞
❝ Then let me rephrase my question. What are you here for? You don't look like anyone from town. ❞
The other narrowed his eyes at him, growing ever more suspicious.
❝ Right, I'm not a local here, just touring the sights I guess. And you? ❞
It was a poor attempt on hiding what he was actually here for, but he didn't add more info than that. The other stayed silent to marinate on that, but then sighing as if something annoyed him about this encounter.
❝ Okay, tourist. This lakeside is my hangout spot. That's why I'm here. ❞
The man stated like it were an obvious fact, then looking to the two artifact fragments on the ground near Blake.
❝ What's with those, by the way? ❞
Blake gulped in surprise once the other asked about the artifact fragments. He couldn't tell him about what they were really for, considering that the other really appear to be a normal person.
❝ Those? Er, I actually don't know myself. I just know that these stone fragments are related to each other, and I want to solve the mystery engraving by putting them together. ❞
The ravenette bullshitted another bogus story up to throw the other man a bone, considering their nature with shooting questions at him.
❝ Huh, a mystery? Meh, doesn't do much for me, but I reckon there was something that looks similar to those stone... fragments. In the forest park on the other side of town. I passed it a few times recently. ❞
The other nonchalantly chimes in with info that hinted at another possible fragment. While Blake doubted it, he rose an eyebrow as the man pointed his thumb in the general direction of that forest, and from touching the new artifact fragment, the magical resonance drew Blake's attention toward that same direction. So... maybe it'll be a good thing to get guidance there, but he had to try and not get this other person deeply involved in his search for the observer.
❝ Uh huh... alrighty then, show the way if you're offering. That'll help me out tons. ❞
As Blake took up the offer, the other was already headed in the general direction of the assumed next fragment. Whatever suspicions that Blake held for the current situation as it was, it lingered around in his head. However, it could be just nothing at all. Nothing but paranoia.​