The Sculptor
Administrator
The Convergence Series GM
(This event was hosted by
@Atomic Knight
and can also be found
here
.)
PROLOGUE:
"Welcome to Despair"
Your dreams are vivid and confusing.
You hurtle through space, strange images and colours swiftly passing you by. Like a kaleidoscope is being directly broadcasted into your brain, these visions are rapid and mystifying, overlapping over each other to strike at your every sense. A vision you could only describe as
rotting meat
is combined with the sweet smell of fresh roses. Children giggling can be heard off in the distance, but on your tongue is the metallic taste of blood, as if you'd bitten your own tongue. Your hands feel
hot
, as if they are near an open flame, and yet your entire body feels
cold
, as if you've been encased in ice.
These visions are so sudden, that you can't quite keep up with them all. It soon becomes overwhelming, your body beginning to experience sensory overload. Some of you call out at this point; Some of you attempt to move. No matter what, you find your body frozen in place, unable speak, unable to move, unable to even
think
. It feels like your drowning, and you begin to feel yourself choking on air--
Then, you finally awaken.
The fluorescent lighting from above stabs at your eyes, disorienting you. It takes a moment, but you finally sit up to find that you've woken up in a rather nondescript room. It's a bedroom (Or a bathroom, for some of you), and it's not long before you discover that others are with you.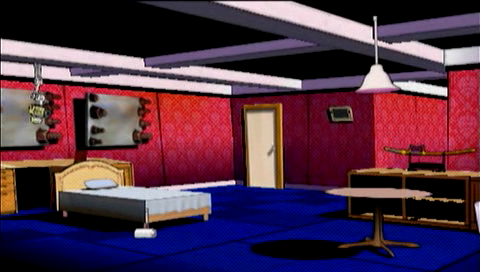 Some of you had already begun to notice that you feel weaker. How or why is beyond you, but those of you who had powers will find that they've been weakened to near mortal levels. A search of your own body will find that you're in the outfit you wear most often, or one that means a lot to you. You will find that any weapons or belongings that you may have had on you have mysteriously vanished.
(This includes your items of importance! If you chose an outfit as your item, you may not wake up in that outfit!)
A search of the room will find nothing of real significance or anything in the drawers. The room does contain what appears to be a Japanese styled sword, but unfortunately for you it's just a model sword (You can take it, but you're sure it'll break after just a few uses). For those of you familiar with technology, you'll notice both a camera and a monitor affixed to the wall. Neither seems to be working. There also appears to be large metal grates bolted to the wall. You're not sure what they're purpose is, but it's likely they are covering the room's windows. As for the two doors in the room, one leads to a bathroom containing a shower, toilet, and a sink. The other door
must
lead outside, but you'll find that it is locked and no amount of force put upon it will open it.
Guess you're trapped, for now anyway.
GROUPS:
Room a: River Song and Bayonetta awake on the bed. Sting Eucliffe, Lector and Elizabeth Swann-Turner awake on the floor. William Borden awakes inside the bathroom.

Room b: Zer0, Oz and Willow Rosenburgawake on the bed. Kirei Kotomine and Loki Laufeyson awake on the floor. Lyle Dylandyawakes inside the bathroom.

Room c: Arya Stark, Erika Furudo and Dlanor A. Knox awake on the bed. Revya, Gig and Korra awake on the floor. Ruby Rose and Cosmo awake inside the bathroom.

Room d: Hanzou Urushihara and Yang Xiao Long awake on the bed. Desmond Miles awakes on the floor. Lilia Kjaernestejd awakes inside the bathroom.

Room e: Zane Bowerstone awakes on the bed. Don Collier and Jennifer awake on the floor. Robin awakes inside the bathroom.

Room f: Natsu Dragneel and Edward Kenway awake on the bed. Chung Seiker, Ley von Crimson River and Rufus Wildeawake on the floor. Funny Valentineawakes inside the bathroom.

Room g: The Noob, The Engineer and Sandor Clegane awake on the bed. Axel, Wuya and Jack Spicer awake on the floor. Anastasia Saunders awakes inside the bathroom.

Room h: Pretty Boy and Adain Lee awake on the bed. Both Yuno Gasai and Annabeth Chase awake on the floor. Risa Megan Ward and Connor Lassiter awake inside the bathroom.

Cast List:

@Akibahara as The Noob and The Engineer (Battlefield Friends)
@Zireael as Edward Kenway (Assassin's Creed)
@Archmage Jeremiah as Risa Megan Ward and Connor Lassiter (Unwind)
@TheColourlessRainbow as Ley von Crimson River and Rufus Wilde (Grand Chase)
@Ziogen as Revya and Gig (Soul Nomad)
@Dallas as Don "Wardaddy" Collier (Fury)
@Ver as Kirei Kotomine (Fate/stay night)
@York as Ruby Rose (RWBY)
@Zadok shadows as Zane Bowerstone (Fable)
@Krieg as Arya Stark (A Song of Ice and Fire)
@Neko Shogun as River Song (Doctor Who)
@MrDubWubs as Natsu Dragneel (Fairy Tail)
@Raven as Wuya and Jack Spicer (Xiaolin Showdown)
@DapperDogman as Intersection's Pretty Boy (Undying Love)
@Chello as Loki Laufeyson (Thor)
@Nassione as Korra (The Legend of Korra)
@Conrad Norwood as Robin (Fire Emblem)
@Xibilation as Elizabeth Swann-Turner (Pirates of the Caribbean)
@Reaper Jack as Lilia Kjaernestejd (Innocentius Luna)
@Gummi Bunnies as Erika Furudo and Dlanor A. Knox (Umineko No Naku Koro Ni Chiru)
@ChemicalLove as Adain Lee (Original Character)
@KayThePilotChapter as Hanzou Urushihara (The Devil Is A Part-Timer!)
@SirDerpingtonIV as Sandor Clegane (A Song Of Ice And Fire)
@penguin055 as Lyle Dylandy (Gundam 00)
@Nim as Yuno Gasai (Mirai Nikki)
@ShadowPrime as Sting Eucliffe and Lector (Fairy Tale)
@Kirah as William "Billy" Borden (Dresden Files)
@Thuro Pendragon as Desmond Miles (Assassin's Creed)
@SuperChocoMilk as Zer0 (Borderlands)
@MarMar as Yang Xiao Long (RWBY)
@Jeremi as Funny Valentine (Jojo's Bizarre Adventure)
@HelloBeautifulChild as Oz and Willow Rosenburg (Buffy the Vampire Slayer)
@Ryu Keiko as Axel (Kingdom Hearts)
@Mari as Bayonetta (Bayonetta)
@ElBell as Anastasia Saunders (Original Character)
@kittyluna45 as Annabeth Chase (Percy Jackson)
@ShiroKiyoshi as Chung Seiker (Elsword)
@Josh as Cosmo (Guardians of the Galaxy)
@Atomic Knight as Jennifer (Rule of Rose)

---

Chapter One - DEAD END

Chapter Two - DEAD END

Chapter Three - DEAD END

Chapter Four - DEAD END

Chapter Five - DEAD END

Chapter Six - DEAD END

Chapter Seven - DEAD END

Chapter Eight - DEAD END

Epilogue
​