MC MasterMind
Administrator
The Convergence Series GM
Sign-up thread is
here
.
Prologue
"Setting Out"
The Melding. It was a time of crisis, a time of chaos. One moment, you were going about your normal life, then the next thing you knew, you were either thrust somewhere completely different, or found complete strangers and unfamiliar worlds surrounding you. And before you could fully comprehend this, robots attacked, capturing anyone they could get their hands on. Some fought, but none reigned victorious; in fact, the only real hope for survival was escape.
And escape you did. In the conpletely random displacement, you found yourself within a frozen tundra, surrounded by snowy mountains amd thick forests. It was easy to flee the robots from where you were, the machines unequipped to handle the climate. Into the forests or into the mountain pass...you had a split-second decision to make, and in the end, you found sanctuary.
---
Snowdin
Those of you who fled into the forest came out the other side in a small community of monsters. Despite their fearsome appearances, however, the locals proved to be incredibly kind and friendly, offering you refuge in the Snowed Inn and treating you as if you had always been a part of the community. Their hospitality, and the cozy little wooden houses strung up with festive lights and wreaths, made this little wonderland the perfect home away from home while this Melding situation played out. In time, travellers and wandering merchants made their way here, giving information about the outside world, from the latest treachery from the Doctors behind all this, to whispered rumors of a Resistance underground, to even what lay our beyond Snowdin. And then they would be off, on their way to the mountain pass to do business in Snowpoint.
But as the days went by, you started to notice something...off. The number of merchants and travellers started decreasing, and rather than trade stories and gossip, they did their business and fled off without another word, avoiding even speaking of Snowpoint. What was going on?
Finally, it seemed someone had an answer. A rather unusual duo showed up just yesterday: a young woman in all red and elegant blonde ringlets in her hair, and a tall portly fellow with an equally yellow mohawk and clothes very unfitting the weather. They said nothing, but hung up flyers around town:
HELP WANTED

Strong and brave mercenaries needed to escort a caravan to Snowpoint City!

Handsome reward upon completion!

Experience preferred but not required!

Arrive at Grillby's at 2 pm tomorrow for more information!
Well, it was now 1:45, and there was no doubt something interesting going down in Grillby's soon. You might want to make your way over there, no?
---
Snowpoint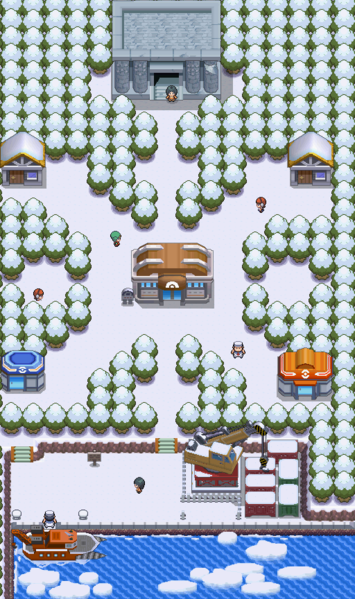 Those of you who escaped into the mountain pass found yet another forest on the other end, but fortunately immediately after your long excursion you arrived in a tiny city nestled deep within the snow. Snowpoint City welcomed you with confused yet open arms, primarily due to a young woman named Candice. As you quickly learned, she was a Gym Leader here, which in her homeworld is considered quite the honor, and she and her family were more than happy to give lodging within her very own Gym. Despite the chill, the people here were kind, and life was peaceful.
Unfortunately, things took a problematic turn very quickly. The local harbor reported fierce storms and sea monsters making travel by sea all but impossible. With the city's primary source of trade eliminated, they had to turn to merchants coming in through the mountains...but despite Candice personally getting into contact with some elite businesswoman, nothing has arrived in days. With food starting to run low, Candice, determined to keep her city free of starvation, set out into the forests with her Pokemon companion Abomasnow in order to figure out what was going on.
Three days later...she has yet to be heard from.
It's a worrying situation, and for the most part it is quite easy to fall into a feeling of despair over it all. But there seems to be someone who will not take this turn of events sitting down. One of your fellow refugees, a lovely young woman by the name of Iroha, has requested a meeting of you all in Candice's Gym. It may be best not to keep her waiting. After all, this could spell life or death.
Cast List
@Gummi Bunnies
as Claude von Riegan (Snowdin) and Morgana (Snowpoint)
@Jeremi
as Hilda Valentine Goneril (Snowdin) and Angel (Snowpoint)
@Lucky
as Ness (Snowdin) and Paula (Snowpoint)
@Sark
as Kaze (Snowdin) and Crasher 'Maxi' Wake (Snowpoint)
@Takumi
as Annette Fantine Dominic (Snowdin) and Hoku the Lucario (Snowpoint)
​
Last edited: