A floofy kitteh
The Convergence Series GM
A 1x1 with
@Takumi
Taking place after the end of Trouble In Paradise, Yusuke finds himself lost in another universe and reunites with his friend Yato for yet another adventure.

Yusuke Kitagawa had no qualms about leaving his dorm late at night after a long session of painting. He needed to stretch his legs, intake some cool, night air, and most importantly: wander to a convince store to buy a bite to eat. He hadn't stopped his painting marathon all day, not even to grab himself some sustenance. By the time night had fallen and he realized the emptiness of his stomach, he also realized that there was not a single speck of food to be found in his dorm room. Since it was typical of him to be so forgetful when it came to nourishment, the young artist wasn't surprised in the slightest. He simply gathered what little money he had and left without cleaning a splatter of paint from his hands. While he found the need for food bothersome at times like this, it would be negligent of him to remain peckish when he needed to keep focused on his inspiration.
It was strangely quiet that night. He saw no other students from his academy roaming the streets and could only hear a faint jingle from the keys that hung on the right side of his pants. He was rather fatigued, however, from a lack of food and sleep. So perhaps there was more going on than he was aware of. In fact, there was a lot more going on than he realized. For the second time in his life, Yusuke was about to have contact with a world outside of his own. It hadn't been long ago that he had ended up lost on Isle Delfino with a group of strangers from other universes. He thought about it a lot, but didn't expect something so wondrous would ever happen to him again. But, just as he had gotten used to being at home and the excitement of that adventure had settled down, he would find himself in another unique circumstance.
The sleepy male rubbed his eyes as he was walking along, failing to realized that the world around him suddenly looked... different. His environment still looked Japanese and with the streets dark, it was hard to recognize much of a change immediately. The first change he noticed, however, startled him enough to invoke a gasp from his lips.
"Huh--? What the--"
The artist's eyes grew wide at the sight of a large, moth-like creature that appeared to be hostile. It was unlike anything he had ever seen before.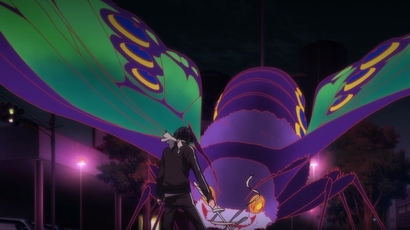 "A...shadow?"
he mumbled, uncertain. It certainly reminded him of creatures he had battled in his own world, but something about it felt... different. And that's because it wasn't a shadow and he wasn't in his own world anymore. The creature before him was a phantom and he had landed in the world of Yato, a friend he knew from his adventure on Isle Delfino. Phantoms couldn't ordinarily be seen by people, but for some reason Yusuke could see them. Maybe it was because he wasn't ordinary, he was a persona user. Maybe it was because he had made contact with Yato in the past and something within him had changed. Either way, Yusuke wouldn't be contemplating these things at the moment. Instead, he turn and ran.
"Something is very wrong here!"
he called out, scrambling to pull his phone from his pocket as he ran. He did the first thing he knew to do whenever he encountered a problem in his own world: he called Joker. His leader always knew what to do!
But in his haste, however, Yusuke's phone slipped from his hands and dropped to the ground, lost as the creature pursued him. He cursed and continued to run, wondering how it was that he got himself into this situation.​