Illusion Game: Battle Dimensions!
Plot
Team Rainbow Rocket has returned to the Indigo Plaza, and have installed their own Elite Four. They've put out the call- a challenge- for trainers from across the world to participate in their New World Pokémon League. Travelling from far and wide, you and your fellow trainers have enrolled yourselves this tournament. Maybe you've come in search of glory, or a chance to strengthen the bond between you and your Pokémon. Regardless, the chance to face off against the best of the best has drawn you to Kanto and into the heart of a conspiracy that branches across all 7 regions.

Mechanics
Illusion Mechanics
As the result of a cosmic shift, a canon character of your choosing has been transported to the Pokémon world and trapped in the body of a regular Pokémon trainer.
Your canon character has overwritten by a lifetime's worth of fake memories; they believe that they their whole lives as a member of Pokémon society and, through reasons yet unknown, so do the people they surround themselves with.
In other words, they are living their lives in the heart of the illusion. As your canon character slowly unravels the mystery of the Legendary Pokémon, the will also slowly uncover the memories of the people they were before coming to Kanto.
Every round, a Rainbow Rocket plant will act against your team. They will look just like your every day Pokémon trainer, however, the plant and their Pokémon will be subliminally conditioned to covertly defeat and steal a Pokémon from a player at the end of each round. If you are the Rocket spy, I'll DM you during the prologue. If one of your Pokémon is stolen, do not worry! There will be a chance to reclaim your missing Pokémon before the game is over,.
Pokémon Mechanics
On your journey across the Pokémon world, you will, of course, have a troop of Pokémon companions at your side! For the game's prologue, you will be playing as a mid-tier Pokémon trainer, so don't expect to have a full team of Titans right away. Excluding Legendary Pokémon, you can have your pick of any of 800+ Pokémon on the National Pokedex, a list of which can be found here:
https://pokemondb.net/pokedex/national

Battle Point Mechanics
In order to keep teams balanced, we will use a Battle Point (BP) system. When building your team, you will have 9 battle points to spend on any Pokémon you wish. How do battle points work, you may ask? Well, every Pokémon is assigned a value between 1 and 3.
Pokémon in their first evolutionary stage will cost 1 BP
Pokémon in their second evolutionary stage will cost 2 BP
Pokémon that do not evolve will cost 3 BP
Pokémon in their third evolutionary stage will cost 3 BP
At the end of every chapter, your trainer will earn an additional 2 Battle Points. You can either use one of these battle points to evolve one of your existing Pokémon or have the chance to capture a new Pokémon.
More about Evolving Pokémon will revealed in the IC.
Here's and example of a tea, you can make within the 9 BP limit:

Species Name: Rapidash



Nickname: Joey
Battle Point Cost: 2
Pokémon Type(s): Fire
Pokémon Ability: Flame Body
Pokémon Moves:
Move 1: Bounce
Move 2: Stomp
Move 3: Flare Blitz
Move 4: Megahorn
Species Name: Eelektross



Nickname: Trick
Battle Point Cost: 3
Pokémon Type(s): Electric
Pokémon Ability: Levitate
Pokémon Moves:
Move 1: Thunderbolt
Move 2: Acid Spray
Move 3: Acrobatics
Move 4: Volt Switch
Species Name: Haunter


Nickname: Boo
Battle Point Cost: 1
Pokémon Type(s): Ghost
Pokémon Ability: Levitate
Pokémon Moves:
Move 1: Lick
Move 2: Will-O-Wisp
Move 3: Poison Gas
Move 4: Hypnosis
Species Name: Aloan Grimmer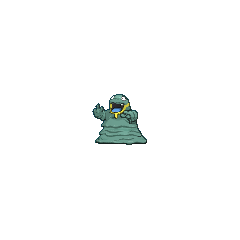 Battle Point Cost: 1
Pokémon Type(s): Poison/Dark
Pokémon Ability: Power of Alchemy
Pokémon Moves:
Move 1: Bite
Move 2: Poison Gas
Move 3: Sludge Wave
Move 4: Acid Armour
BP Remaining: 2/9

Character Sheets
Important
Before posting your character sheet, it is integral that you DM your full 3 sheets to me, either via STC DMs or Discord, so that I can remove the parts of your CS that relate to your canon character and approve it. Your canon character is supposed to be kept secret from other players prior to the big reveal.
Canon Character CS
True Name:
True Appearance:
Canon:
True Biography:
True Abilities:
Illusion Character Sheet
Illusion Name:

(self explanatory)


Illusion Appearance: (A small paragraph is fine)
Illusion Age:

(self explanatory)


Illusion Biography:

(What life did your illusion character lead prior to entering the World Pokémon League? How did they meet their first Pokémon? What kind of trainer were they? Why did they come to the League?)


Trainer Class: (Optional. What class does your trainer fall under? A complete list of trainer classes can be found here:

Pokémon Character Sheet
Copy this CS as often as you need. Remember, you cannot have more than 6 Pokémon in your team at any give time, and your total BP cost cannot exceed 9BP.
Species Name:
Appearance:

(optional)


Nickname:
Battle Point Cost:
Pokémon Ability:
Pokémon Moves:
Move 1:
Move 2:
Move 3:
Move 4:
Remaining BP: /9

Rules to Remember
1. Legendary and Mythical Pokémon will be banned from your initial teams.
2. In the event of any disputes, the GM's word is final.
3. Your Pokémon Team cannot exceed 6 Pokémon. You can switch out Pokémon as you catch more.
4. Your initial Pokémon team cannot exceed the 9BP limit
5. Your Illusion Trainer cannot be a Gym Leader, Region Champion, Elite Four Member or Island Kahuna.
5. If you have any questions or wish to submit a character sheet, please DM me on STC or Discord!
This game is set to start on July 25th. See you there!

Cast List
@Yun Lee as Biker Bernie
@Lucky as Magician Johnny Nimbles
@Takumi as Pokémon Trainer Mei Song
@Jackythejack as Rancher Alphonse Starr
@Crow as Pokémon Trainer Micha
@Jeremi as Biker Grant Wilson
@Minerva as Ranger Martha Fee
​
Last edited: