Endearing Misanthrope
Forum Moderator: Convergence Series
The Convergence Series GM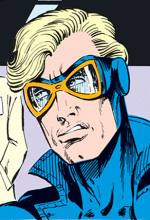 "I'm the Animal Man, but right here, it seems like you're the only savage around,"
Buddy said through gritted teeth as he glowered at Fellbottom, giving a gaze akin to every natural predator at once to him. The man's words didn't do him any favors, but Buddy knew he shouldn't let his anger make him say or do something he'd regret, not when this could be their only chance to get a further lead on something.
Now Buddy was starting to see how Batman always seemed so pissed when dealing with lowlifes.
Putting his goggles back on now that things had become dicey, Buddy shifted his hold on Fellbottom until the man's collar was firmly in the hero's two hands, and the two of them were face to face together.
"Let's try this again. We can settle this like men, or like animals. And I'll come out on top either way,"
the blonde man went on, looking Fellbottom in the eye.
"What did you mean about a fog?! Did you do this?! Did someone, something, make you do this?!"
@Jeremi
@Minerva
@Takumi
@College
​