Well-Known Member
No Man's Land GM
I have two plots, both of which involve Jill Valentine whom I will be acting as. If neither of these plots interests you, but you would be interested in roleplaying in the Resident Evil universe please let me know in replies to this thread. That way we can come up with something together that will satisfy/intrigue us both !! If there are other characters in the RE universe you've been looking to play, or even an OC you have wanted to interact with a character I'm more than willing to try that too!
If you're someone who likes to play multiple characters let me know, and we can figure out how to tie other characters into these stories. If you are interested in learning more about my roleplay style please check out my intro post!! That'll also help you see if we seem compatible.
​
Jill Valentine x Carlos Oliveira
Jill made her way up to street level, Carlos trailing close behind. They both paused before splitting ways. "Keep in touch," Jill nodded. "Sure thing supercop," Carlos replied with a wink. Jill rolled her eyes as she jogged off onto the chaotic streets of Racoon City. She fought through zombies in order to make her way closer to the substation, and she made sure to look for survivors in all the shops she came across. Meanwhile, Carlos was also making his way through the town, trying to find any stray members of his team. He and Jill discussed the Nemesis briefly, both trying to figure out how to take him down for good. After another encounter, Jill radioed, "Carlos, I lost him. What now?"
​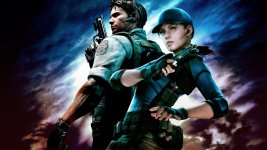 Jill Valentine x Chris Redfield
After the Arklay Mansion incident, none of the S.T.A.R.S agents were the same. Who would be after losing so many people they considered family, minus Wesker -- Jill didn't really miss him.
​
Her usual joking demeanor had been lost along with the loves of her friends, and returning to the S.T.A.R.S office to fill out incident reports let everyone feel the difference. The survivors sat in silence as they filled out their reports, until Rebecca began to cry. Upon hearing her broken sobs, Jill decided to leave the room and Chris followed.
​
After that day Jill and Chris became close friends and relied on each other to heal from what they had experienced. Months after the incident and disbanding of the S.T.A.R.S team Jill woke up to a call from Chris saying he wanted to grab breakfast so they could talk which worried Jill. She didn't want to lose anyone else, especially not Chris whom she'd developed feelings for.
​
Last edited: