The Sculptor
Administrator
The Convergence Series GM
The Multiverse had been saved, but save for a select few, no one truly knew it had even been in danger. Once Revan's machinations had been undone, hundreds of thousands of worlds kept right on spinning, blissfully unaware of the war for their very lives that had been building up for years and had finally unfolded. History is written by the victors, and the victors in this instance had written history so that this was possible. The Revanchist were unable to reset the world into what they desired, and while those involved began to return to a new multiversal order, for everyone else life went on.

And in one world in particular...a show was about to start.

This is...
Rot and Rule
---
Prologue
"The Memory Remains"

Fortune, fame, mirror vain, gone insane,
But the memory remains!
In the lounge of a certain mansion, a man sat on the sofa, face shrouded in shadows. The man sipped his wine, watching the holographic projection before him. A concert from three years ago, where the performer was none other than himself.
Heavy rings on fingers wave
Another star denies the grave
See the nowhere crowd, cry the nowhere tears of honor
Like twisted vines that grow
That hide and swallow mansions whole
And dim the light of an already faded prima donna
Fortune, fame, mirror vain, gone insane
Fortune, fame, mirror vain, gone insane
But the memory remains
Though the recording only captured his own movements, the audience could still be heard over the recording. Cheering, screaming his name, singing along. He took another sip of wine. Ah, yes. He remembered this performance, his first stop on his last tour.
That was the first time he hadn't sold out a single venue.
Heavy rings hold cigarettes
Up to lips that time forgets
While the Hollywood sun sets behind your back
And can't the band play on?
Just listen, they play my song
Ash to ash, dust to dust, fade to black
Fortune, fame, mirror vain, gone insane
Fortune, fame, mirror vain, gone insane
Dance little tin goddess
La, da, da, da, la, da, da, da, la, da, da, da…
"Computer."
As the song played on, to his left from a small portable keyboard another, smaller hologram appeared.
"Show me the lifetime chart of my album sales."
The graph appeared, looking the same as it had for the past six months. Steadily decreasing over the past decade. This last album was the worst selling yet. His lips became a thin red line at the sight, and he gripped at his chest as he felt his blood turn to ice with each new heartbeat. Yes...this was why. This was why this had to be done. There was no going back. Not that he would go back, anyway. He was too far gone.
Drift away, fade away, little tin goddess
Ash to ash, dust to dust, fade to black
Fortune, fame, mirror vain, gone insane
Fortune, fame, mirror vain, gone insane
But the memory remains
Ash to ash, dust to dust, fades to black
But the memory remains, yeah
Faded prima donna, yeah, yeah, yeah, yeah
The computer flashed back to life, as it always did when there was some new notification.
"Mok."
He was mid sip.
"What is it?"
"They're here."
"Mm--"
He almost spat out his wine, but composed himself and swallowed it down.
"They...they've all arrived?"
"Yes. All candidates are within this universe."
"And…"
His voice contained a hint of excitement.
"And one of them…"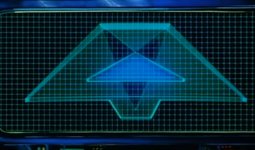 "One of them shall be The Voice."
Dance little tin goddess, dance...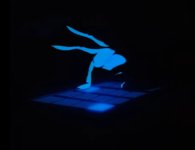 His hands flew to the keyboard, and he opened up the file. Faces of all kinds smiled back at him. Men, women, children, machines, supernatural beings… Such different beings, and from all walks of life. And to think, one of them would be his second chance. His fresh start. His tomorrow. His face contorted into a wicked, wonderful grin.
He couldn't
wait
to meet them.
---
You wake up to the sound of music. A mellow little tune, coming from some old boombox. Its upbeat melody didn't do much to put you at ease as you come to a few realizations. First of all, you're not in your own room, or any room you recognize for that matter. As the fogginess clears from your mind and you regain control of your senses, you come to realize you're in some sort of...
Well, it seems to be more of a glorified closet than anything, stock full of storage boxes and dusty old clothes. But there are a few personal vanities lit up with cheap lights lining one wall, as well as a table set up with energy drinks from the brand OBLIVION and a large plastic bowl of some sort of trail mix. The smell of smoke and dried makeup make the room feel even stuffier than it already is.
Second of all, save for a lucky few of you, you are completely surrounded by strangers. It's a room full of different people...and a few nonhumans, as well. No, something is definitely off here. You could try to pinch yourself, but it won't do any good. Seems this may be the real deal.
Which leads to the third detail: you have no idea how you got here, or why you're here. Your day was proceeding as normal, and you were minding your own business, when all of a sudden you either completely wiped out or had a sudden shutdown if you happen to be robotic in nature. You can't think of any possible reason for you to be here right now.
Neither can a young woman in this place, either. "Ugh...come on!!" Dressed in Gothic Lolita fashion, she tries the doorknob, turning it, even getting a foot on the wall as she tries yanking the door open. But it's all in vain.
"Shit!"
She lets go and turns to you all, with hands on her hips.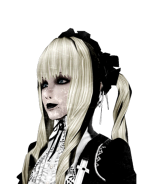 "Looks like we're all locked in here...Normally I'd try to materialize on the other side of the door, but it looks like I can't use my powers. And my weapons are gone, too...great. Just great!"
As a matter of fact, it seems the same is true for all of you: your weapons, powers, and abilities are all gone. It seems you're all stick in this shoddy little dressing room together. May as well get comfortable. Who knows how long you may have to wait?
---
Cast List
@Gummi Bunnies
as
Calliope Mori
[Hololive] and
Neko Asakura
[Cytus II]
@MaxIrvaron
as
Camille Ignacia Irvaron
[Original Character]
@Space_Candy
as
Cassidy Embers
[Original Character] and
Kuko Harai
[Hypnosis Mic]
@Lucky
as
Cooper Reid
[Original Character] and
Evan Hansen
[Dear Evan Hansen]
@Sark
as
Dante
[Devil May Cry] and
Jyushi Aimono
[Hypnosis Mic]
@Takumi
as
Gris
[GRIS] and
Meiji Gahata
[Vocaloid]
@Yun Lee
as
Hitoya Amaguni
[Hypnosis Mic] and
Margaret Moonlight
[No More Heroes]
@Crow
as
Inugami Korone
[Hololive] and
Uruha Rushia
[Hololive]
@Crunch
as
Lord Raptor
[Darkstalkers]
@Ver
as
Maria Cadenzavna Eve
[Symphogear] and
Tsubasa Kazanari
[Symphogear]
@Farewell
as
Mima Kirigoe
[Perfect Blue] and
Rin Kagamine
[Vocaloid]
@Minerva
as
Rise Kujikawa
[Persona 4]
@Atomic Knight
as
Sarah Lynn
[Bojack Horseman]
@Capri
as
Snufkin
[Moomin] and
Sweet Ann
[Vocaloid]
@Jeremi
as
The Doctor
[Doctor Who]​