This Side Story takes place in the midst of the City of Avalon Sandbox and shortly after the end of
Shadow Over Gotham
involving the Devil May Cry Protagonist,
Dante
. I hope you enjoy!
Act 1 - The Investigation of a... Teleporting Hell Gate?
​
In the City of Avalon, Dante was in the midst of a relaxation time after being pulled into another Universe to defeat Bane. However he discovered that his Partner found his shop and insisted on finishing off their mission to close a demonic hell gate that was incredibly different from the normal ones in that it was teleporting around and opening randomly, unleashing many variants of dangerous demons onto those unfortunate enough to be within it's teleportation range. They were investigating this Portal and aiming to shut it down when Dante was pulled.
Now reunited with his Partner, they set out away from the City of Avalon to begin hunting down the teleporting Gate, starting with navigating the City's alleyways to the outskirts
Mission 1 - A Demonic Reunion​
Starting out on their journey, they began walking through Avalon's many alleyways to navigate their way out the city. Some citizens looked at them as they walked past, scratching their heads and wondering just who they were, and why they looked so armed. While they were walking, they began to discuss their mission. "So. What exactly makes this gate teleport? I've never seen anything like this before." "
I'm not entirely sure. All I know is that people kept reporting this gate appearing randomly in a town and then swarms of Demons came out attacking people left right and center, killing and rampaging as usual.
" "Hmm. Looks like I might need more than just my styles if we're to take out this threat." "
Quit being such a show-off.
" "You know I can't help myself. Besides, my styles were what helped defeat that Almighty Statue and stopped it from destroying the world." "
That was different. This mission could possibly involve an old friend of yours. And no, this does not mean you get to take a extra slice of the Pizza after we finish.
" "Right..." Dante exclaimed as he rolled his eyes at that remark, as they continued walking. However their walk began to come to a halt as they discovered a group of three Cutlasses in the distance:
​
"
Cutlasses
... I hate those things." "
Wait, weren't they made by that Agnus Guy?
" "Yeah. I think Nero mentioned that when we were discussing his adventures up to the point where we met again. If these things are back, Agnus might not be too far behind. Looks like we're got some old friends to take care of again, huh?" Dante then readied his Rebellion Sword while Trish readied her pistols and prepared themselves for combat as the Cutlasses charged towards them, initiating a fight.
Each Cutlass launched themselves towards Dante and Trish from the floors all at once, which was a different tactic displayed to be sure as usually they'd jump the party one by one. Dante slashed towards the closest one to him while Trish pulled out her pistols and fired at the ones further away. His sword knocked one way while the other two continued to fly towards him when they caught the fire of Trish, forcing themselves to burrow into nearby buildings. "
These things just don't give up, do they?
" "Nope. They'll keep burrowing into things and jumping out at us until we kill them or they somehow kill us." Dante commented as he continued battling the one Cutlass that he slashed. "Also, don't remember them being this tough..." "
Not used to just murdering minor-class demons, eh hotshot?
" "Come on. That's just how I roll." "
Sure.
" Dante then finally cut down the Cutlass that he was engaging, right as the other two were about to jump him. Trish however stepped into the scene and stood behind Dante and unleashed a volley of bullets towards them, successfully slowing them down and back to the ground where their metallic fins were still visible. "I had them." "
Sure you did, I didn't see you raise your weapon to respond.
" "Yeah yeah." He exclaimed as he rolled his eyes towards the two fins approaching the party. Deciding to pull out his own pistols; Ebony and Ivory, he fired at the tops of the fins and successfully made them separate. Trish saw this and went for the one that was closest to her while Dante re-brandished his Rebellion Sword and slashed at the one attacking him, both of them succeeding in knocking them out. Stabbing each one in the center, Dante and Trish successfully eliminated the pack of Cutlasses.
"That was pretty tough there for that encounter. I'll rate that one as a
Atomic!
styled mission for a job well done." "
Dante?
" Trish walked up to Dante and slapped him across the face for that one. "Hey! What was that about? We handled that pretty well." "
Quit being such a show-off and let's actually do this already...
" Dante stared at Trish for a moment, mouth open as he then walked off past her.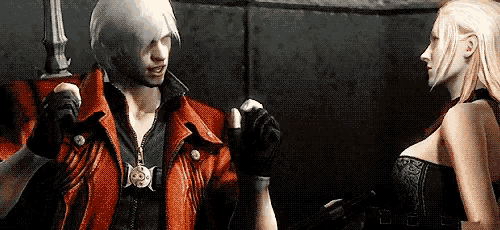 "Alright. Let's go then. Jeez, you are not in a good mood today, are you?" "
Oh I am in a "Good Mood." Just not around you.
" "Ouch. That actually hurt a little." They then continued on their quest and began to exit the outskirts of the city.
What happens next? Will they find more clues as to where this mysterious teleporting Hell Gate is? And will they encounter more familiar enemies in their path? Find out in Mission 2 - Deja Vu coming soon!
​