Well-Known Member
No Man's Land GM
Background:
The world as we once knew it was long gone. It had been 8 years since the outbreak had become global, and no one knew how many living people there were left. Most people stopped looking for friends and family, and in the last year or so people had stopped looking even for strangers. You were lucky if you were in a group, that was you weren't stranded alone in this hell. Those who had been alone either wilted under the pressure to live or they became hard to the world around them. The ones who became hard seemed to only care for their own survival and were willing to do anything they needed to survive.
Now that the numbers of zombies had become consistent, maybe even dropped a little, everyone knew that those who were going to die, have. Those who were living were now even more estranged from their past. If anyone had memories of the old world they were fuzzy, and a majority of them had become tainted by the people in them.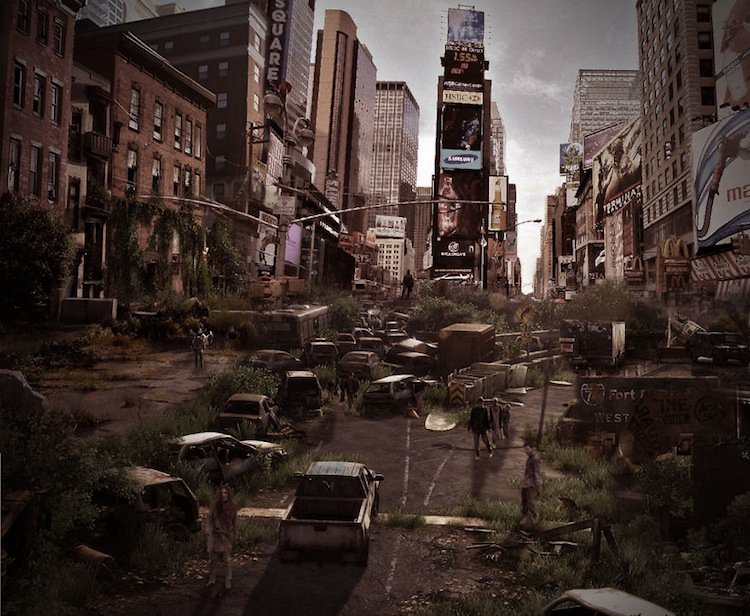 The way these prompts are written will set characters to be in a certain place or situation upon starting the rp.
Prompts:
1
"A little help here would be nice," Charlotte rolled her eyes and look to the man across from her, "I'm on empty." Her gun clicked as she pulled the trigger, no bullet available to come out which left her with the dull pocket knife she hadn't needed to use in who-knows how long. As she stood on the caved-in car roof, she couldn't help but think about how she had gotten here. This situation is how her and the man she was calling out met, except he was the one in trouble and she had saved him. There were others too, but he was the first. Before meeting him she had been alone and reluctant to be friendly with anyone, but his warm personality drew her in. He always teased her about the way things started, how closed off she had been, pretending like she was forced to stick with him.
She heard glass shatter and turned, empty gun raised, to look in the direction the sound came from. A majority of the undead surrounding her wandered towards the notice, but a couple stayed with her by the car. Luckily, he had half a clip and took them out quickly, allowing both of them to escape before the zombies came shuffling back to the echoing sound of the guns shots. "A little familiar huh?" he laughed softly as they ran to cover, ducking into a desolate store just to recollect themselves.
2
It wasn't often that he had to leave the base, but every-so-often someone would ask him to come with which he struggled to refuse. He was more of a house manager, at least that's what he considered himself. The building on base was left to him because he had the most skill and experience in that field. Today though, he would not be building or reinforcing anything. Instead, he and his pal from the base would be out, looking for anything and everything. His pal was a large man, ex-military. He was a very capable gunman and survivor by nature, so when he was introduced to the rest of them everyone was thrilled. The ex-military man was the most recent to join the group. The last person to join everyone thought.
The two made their way back down the hill towards the small town; it was less picked over than the main city's buildings. If they hadn't thought to explore the farming town, they wouldn't have the few animals and crops they had. No one dared go into the houses because the chances were that any living person would shoot before they even checked to see if you were among the living, and part of the rules was no unnecessary heroism.
3
She rolled over, the sun beaming on her eyelids, begging her to join the world that day. It was quieter than usual outside which she knew meant some of the group had gone out that day. Personally, she thought it was pointless. If there was anything to be found it would have been found by now, but the others said it never hurt to look anyways. To her, that meant they just wanted a distraction, something to do other than sitting around caring for animals or plants or fixing up the base they'd established for themselves.
"I'm serious," a women's voice from outside spoke softly, "I worry to check on her. She sleeps like the dead." Two cadences of laughter followed. These two continued their friendly conversation, knocking on other doors before entering to collect clothes or weapons. Wash day, well sort of, this was done more out of habit than necessity, but nobody complained. The weapons were cleaned as well, knives sharpened, guns reloaded if possible. Of course, not everyone wanted their things touched or had some items only they were to touch which was respected. It was one of the rules to not snoop or purposely invade someone's personal space and/or belongings. There were few rules, but everyone agreed on them. Hell, they even came up with them together to make sure nobody felt they were being forced into something.
"Get up," a man's voice grumbled at her door (the girl from the 1st paragraph), "I need your help outside." His demeanor was relaxed despite how harsh his tone came across. "I just have to fix the livestock fence, and the others who are still on base are already busy. Please, I'll work as quickly as possible so you can return to your nap." He now accompanied his speech with a couple of hard knocks on the door to make sure he was getting her attention.
I'll be making and linking the OOC for character sheets, this thread will be for questions yall may have and seeing who is interested.
The character named is who I will be playing. The characters available are 4 men, 3 women, and one person I didn't place a gender on. Think about which position you want to put your character in because that will be on the character sheet, and we can start once there are at least 4 people, including myself if everyone's okay with that. If you're interested and capable of playing multiple roles pm me so we can work that out before you post your character sheet(s). I'll make an IC thread for that when the time comes
If more people than mentioned in these prompts end up interested in joining I will be willing to work with you and those who are already in the roleplay on finding a way to write you into the group. Additionally, if you and someone(s) you know on here are interested in starting as your own group and eventually ending up with the group established in these prompts, that is also something I'm more than willing to work out a way to do that.
That being said, people who are looking to join please be open to more people joining. If more people join and it overwhelms you just let me know, and we can figure out how to end your characters part of the story. Similarly, if you end up hitting a creative dead-end with your character reach out to me, and we can figure out something to inspire you, or we can work on writing your current character out. If you choose to continue as a new character you will have to go through a process of finding and joining the group, so please keep that in mind. Also, please don't join as a character in the prompts now just to kill them off once all prompt characters are spoken for !!

Link to the character sheet depository.
​
Last edited: