The Goddess
"It has started. Just as if it was prophesized."
"The Goddess has awoken. In her wake, we're seeing miracles!"
"Dying stars have been reborn!"
"The Sick have been cured!"
"The Dead are working!"
"The Laws of Nature have been turned on their heads!"
The Apex Predator has called for a Fellowship of Faiths to gather and discuss the arrival of a new deity. Some see the coming of the Goddess as a sign of the end of Days. Some call her a demon, a false idol. Others have accepted her as their messiah. The Council has crumbled into chaos.
The Fellowship has reached a hung verdict. With new religions factions adding their voices to the roaring discussion each day, its only a matter of time before the balance tips.
Is the Goddess worthy of your love and adoration? Or is she a false Idol in need of erasure?
Character Conditions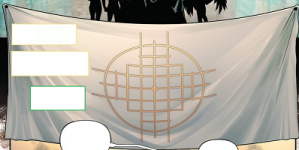 To join the Fellowship, your character must be associated with a Fictional God or Goddess or pantheon. However, the odds are I'm going to be pretty Lax with this rule. If you are unsure if your character fits this condition, feel free to DM me.

Rules:

1. General STC Rules apply

2. When choosing your character, remember that your character must follow a

fictional

or

historical

religion. Real world relgions won't be allowed

3. No God-modding or Meta-Gaming etc.​
Character Sheet


Appearance:
(A picture is fine)
Name:
Age:
Canon:
Powers/Weapons/Abilities:
(A wiki link is fine)
Religion/Deity:
(What fictional Deity does your character worship or work for? What fictional religion do they follow? A wiki link and a small description will be fine)
Additional Info:
(Anything else you think I might need to know)
Cast List:
@Raynar Saassin as CFW Magic and CFW Brave
@amwexia as Roman Halliday and Madison Palmer
@Yun Lee as Kolin
@Crunch as Eliphas the Inheritor
@Lucky as Jester Lavorre and Beauregard Lionette
@Nightwisher as Dinasadhaka "Din" Vipatti
@Crow as Omnimon and Dukemon
@Jeremi as Big Mother
@Minerva as Rory Mercury
@Takumi as Ashe and Silque

Important Info:

Deities from real world religions wont be appearing in this game. Referencing Norse, Roman, Greek Gods etc. will be fine, but referencing Christianity, Hinduism etc. won't be allowed
​
Last edited: