Bearly In Charge
Administrator
Nexus GM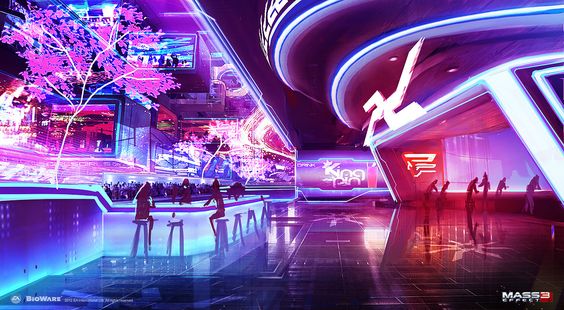 The Leaky Servo
"Welcome, traveler, to the Leaky Servo. For a story or a truth, refreshment can be yours," – Xilunexus, propietor.
​
Nestled somewhere in the upper reaches of wayfarer's point—or perhaps somewhere in it's bowels, no one stumbling out drunk is quite sure—lies
The Leaky Servo
.
At the end of an unassuming hallway much like every other hallway in Wayfarer's Point, awaits a set of grand double doors. These doors are imposingly tall, made of pure white metal alloys with golden veins crisscrossing beneath the surface. To their side, forever placid, lies the calm holographic visage of the blue haired human-seeming woman who owns the establishment. Merely walk on up, tell her something you know, and those magnificent doors will simply silently evaporate to grant you entry.
The Leaky Servo is a singular kind of bar, for a singular kind of locale. Wayfarer's point most popular, and perhaps best stocked, entertaintment venue; Within the Leaky Servo all manner of refreshment fine and pedestrian can be found.
Owned by Xilunexus, the core AI of the resident Va'nyrian contigent, the bar caters to all tastes for the low price of information. Be it a joke, a sad story, a common statement of fact from wherever you're from; Simply sharing a small token bit of knowledge gets you in the door. The bar is equipped with both the best accoutrements Va'nyrian civilization has to offer in the arena of getting intoxicated, and also features all of the necessary diversion instruments to keep a varied multiversal clientele occupied. Holographic displays, heated chairs, massage chairs, anything and everything can be found here.
Whether your fancy is a game of pool from Earth, or Fltaztergan like they do in Oniva IX, The Leaky Servo can accommodate you. Once you've been allowed in the door, all you need to do is voice your needs in a way that the proprietor can understand is directed at her, and they'll be met. Whether you're looking for private seating within it's mind-boggingly large interior, or need a boxing ring to settle a bet; Your needs are a whisper away from fulfillment. For reasons no one is quite sure of, this particular venue within Wayfarer's Point seems to shift and rearrange itself with the same ease as the rest of Nexus City.
​
Last edited: