"Besides, with all that power you have -- to be able to pull random people from across different worlds -- at your whim, what could we possibly do for you that you couldn't do yourself?"
"You didn't hear him?"
Fragile said to the boy next to her,
"That dragon. The dragon said 'your wish has been granted'"
She had just put two and two together. She was too caught up in the confusion to truly see what the dragon meant.
"I think our arrival in this place has something to do with a wish, I think that this creature wished us here."

Fragile was still confused, why did he wish this group of people? She didn't see the purpose of bringing herself there. Maybe Dende needed a package to be delivered?
All these questions were bothering Fragile a bit. So she set down her bag in frustration. Upon contact with the ground, several strange worm creatures floated out of the bag, or cryptobiotes. She grabs one and looks at it for a little while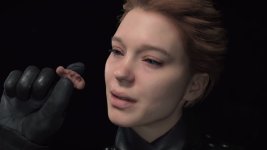 Fragile held the cryptobiote out to the boy in the crop top.

"Want one?"
she asks
"They're tasty,"

@Ver @Sark @Raynar Saassin
​