Well-Known Member
The Convergence Series GM
Chapter 1 - Encounter in Space
Captain's log stardate 50953.5
It has been a few days since our journey to the Opperline system. A recent archeological excavation in the system has sent the Enterprise on a survey mission to pick up the workers and whatever they have uncovered. Mysteriously communication was lost in the middle of our last communication. As we came closer we would be met by an ion storm, no doubt a cause of our communication woes.
"Keep it steady, Data."
On the bridge Captain Jean-Luc Picard was flanked by first officer William Riker and counselor Deanna Troi. The entire ship had been caught by surprise by the ion storm and were doing their best in traversing it to their location. A Class M planet in the Opperline system. A system that had once thought to have been uninhabited but during a former survey of the system an ancient settlement of some sort had been found on the planet and the Federation had been eager to send a group to unearth it. The mission was now at its end and the Enterprise-D was there to pick the crew and whatever they had recovered.
"Of course, Captain." Data was his usual calm self but the crew of the Enterprise had been on edge ever since the storm. It had emerged suddenly enveloping the ship and engineering were doing their best for it to not cause permanent harm on the ship.
"Bridge to Engineering, report,"
Picard called over the coms.
"La Forge here,"
Lieutenant Commander Geordi La Forge's word could be heard.
"Captain we are doing our best, but this storm is unpredictable and I can't guarantee that we won't come out of this unscathed."
"I trust your judgment. Picard out."
As the transmission ended it was Data's turn to speak up.
"Captain, I am detecting a massive energy spike forming in front of us. With our current course, we will hit it right. Now." A sudden and violent shock rocked the entire Enterprise sending those not sitting at their positions flying and sparks shooting out from some of the consoles.
But as soon as it had hit it subsided and the ion storm itself seemed to just vanish into thin air. Everyone looked around and helped those needed it when the coms woke again.
"Engineering to the bridge!"
It was from La Forge.
"Bridge here,
" Picard replied.
"What's the status of the ship?"
"Bad, but fixable. The storm busted our plasma coils as well as our impulse drive. We can't risk moving on until we fixed the problem."
"Make it so, bridge out."
As he quit the coms Picard got up from the captain's chair and walked up to Data's position.
"What was that?"
"It was as I said. A massive spike in the middle of the storm that has now subsided. As has the storm itself," Data repeated.
"An ion storm does not just disappear Data."
Picard was uneasy about the situation.
"Do you have any idea of what just happened?"
"I don't care to speculate Captain. Suffice to say- Captain," Data looked down at his console.
"What is it Data?"
"Scanners are detecting something in front of us. According to the readings, it is some sort of ship."
"On screen,"
As the bridge screen focused on the object they could see what it was though the surprise on the crew's faces was as clear as day. Floating in space was a blue police box of 20th-century design.
Picard had ordered the box transported into the cargo bay on deck 4. The Captain, counselor Troi, and Security Officer Worf, and a few of the security team headed to inspect the device. Doctor Beverly Crusher joined them on the way.
"Jean-Luc, do you have any idea what it is?" She asked the captain that shook his head.
"No, all that Data could tell us that it was exhibiting similar characteristics to that of a spaceship."
"Which means there could be someone inside,"
"And possibly hurt, yes. Considering the situation and the time of its emergence we won't take any chances."
As they spoke the Captain's combadge came to life.
"Cargo bay to the captain."
"This is the captain, go ahead ensign."
"A woman just burst through the doors of that blue box and is rambling on like a madman."
"We're on our way,"
They quickened their pace to the cargo bay and when they entered there was in fact a woman in weird clothing rambling like a lunatic.
"I keep telling you I'm fine, I'm trying to find the fam! We were traveling and suddenly a storm hit and. Oh, hey!"
As she spotted Picard entering she made her way towards him.
"'Scuse me I need some answers and you seemed to be the one in charge here."
Picard kept his cool with the woman coming right up to his face and stopped Worf from doing anything drastic.
"I am Captain Jean-Luc Picard of the Federation starship Enterprise. We found your…vessel after a freak ion storm left us stranded in space."
"Oh yeah, that sounds bad doesn't it?"
The woman remarked.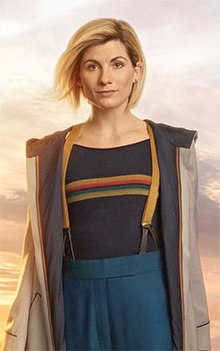 "Well Jean-Luc I am the Doctor and I've lost a few friends of mine. I don't suppose you don't know where they could've gone."
Friends? That vessel had to be might cramp for more than one person. Then Dr. Crusher spoke up. "I'm detecting multiple life signals inside of the box."
"Ey?"
As she heard that the Doctor quickly turned around and opened the door to the box.
"Oi! Jaz! Ryan! Graham! What?!"
Not waiting for an invitation Picard and his entourage followed after and found to their amazement that the door entered into a large room of some sort. Inside they found a bunch of people in different levels of unconsciousness. The Doctor looked as confused as the Enterprise crew at the sight.
"I swear these ain't mine!"
The Doctor exclaimed raising her hands defensively.
"How did you guys get in here???"
No answers and very confused faces as Dr Crusher looker over them. How will this day turn out?
Cast list
@Minerva
as Aloy
@Yun Lee
as Byleth
@Space_Candy
as Cloud Strife
@Crunch
as Commander Farsight
@Lucky
as Connor RK-800
@Jeremi
as Death's Head
@Crow
as The Doctor
@Gummi Bunnies
as Ivy
@Atomic Knight
as Jesse Faden
@Takumi
as Kiba
@MaxIrvaron
as Mackenzie Victorio Irvaron
@Capri
as Number 5
@Ver
as Spider-man 2099
@Sark
as Victor von Doom
@Chaos Sphere
as Yamato Hotsuin
​
Last edited: