Endearing Misanthrope
Forum Moderator: Convergence Series
The Convergence Series GM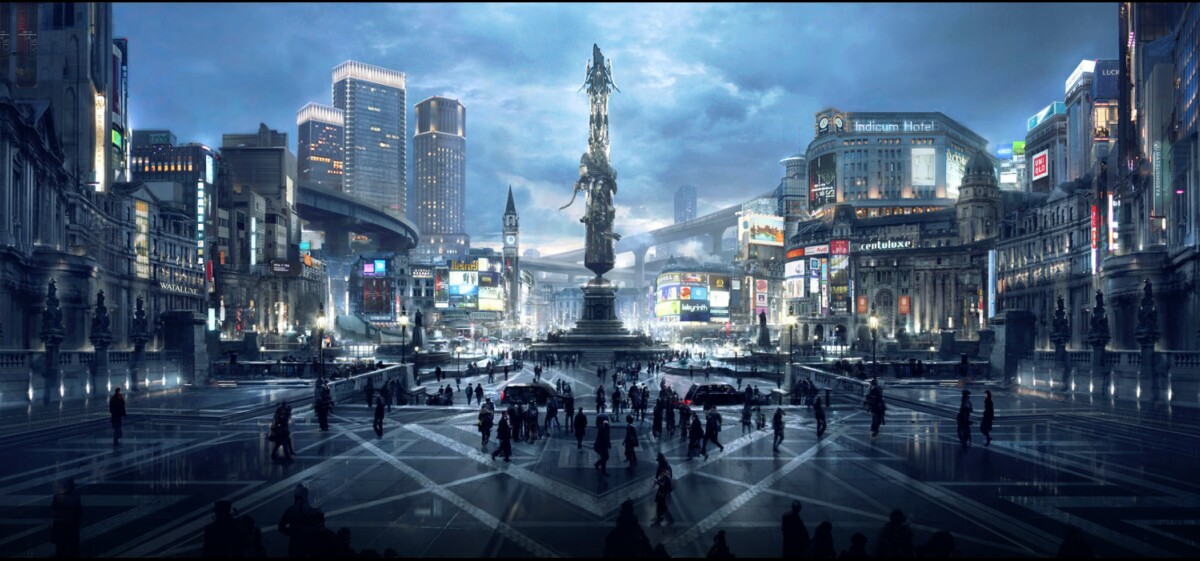 The world of the Secretariat, as it was informally called, was hectic as always.
The plaza was filled to the brim with people with somewhere to go. A worker bee going here, a civilian going there. The place bustled with the sounds of vehicles and chattering, and it was easy to bump into someone if one didn't watch where they were going. It would have been easy to suffer from some sort of brief, sensory overload if they were more sensitive, to say the least. And among the many people moving about to wherever they would rather be, Deputy Secretary-General Akane Tsunemori (relatively recently promoted) braved to traverse back to the main headquarters, binders full of important documents hugged tightly against her chest, trying her best to maneuver through the crowd like a mouse. This was how a normal day looked to Akane, but even she knew, not everything was always as it looked. Everything may have looked the same here as it was most days, but certainly, there was a different feel to the people around her, and she couldn't really fathom why.
... Well, actually, that was something of a lie. She
did
know why this mysterious different feeling existed, and she
did
know why this feeling was directed toward her like a malicious beam, but it was something that depressed her. For her to be associated with this stigma... It was fitting, but frustrating. Understandable, but unfair.
After their relationship with the private organization known as the Coalition was fractured in the infamous incident known as the Coalition Civil War, an incident which had ramifications that were still fresh in the minds of the general populace of the world of the Secretariat, everything had been put into a state of disarray. Along with the Coalition's own internal shake-up, the United Nations, or rather United Universes, had its own fair of internal problems, with the former Deputy Secretary-General, Ritsuko Akagi, being fired from her position (the woman insists that it was a mutual leave), not only for her actions during the Civil War, but also what she had done behind the scenes. What specific charges she was taken with were classified, and perhaps that was the
only
detail that remained clandestine from the general public.
The Coalition Civil War revolved around a conflict over a certain young woman named Ilona, whose being was connected to the dark origins of the "Murder Games," and as such, was imbued with dark, unstable power that she could not control. The Coalition, along with the United Universes and others, were embroiled into a grand conflict with each other, debating on whether Ilona's unstable power should be put into check and regulation, or whether that might have violated her freedom and liberty to live as a normal human. In the heat of the moment, the latter option had gained the most traction from those involved. Whether it was because of malevolence generated in the air, a possible malevolent aura generated by the girl, or a genuine conflict of interest, even Robin Aquilus openly opposed the notion of regulating and securing the girl's unchecked power. Commentators around had seen this to be a duplicitous and inconsistent move, considering that the Secretary-General founded and managed the United Universe's very own SCP Branch which specialized in its own namesake tasks; securing and containing potential mysterious and anomalous entities that could pose as potential threats.
Of course, such "commentators" would not even exist, considering the entire incident happened behind closed doors, if not for a recently up and rising news outlet called "Tomorrow" exposing such secrets to the general public, not only to the world of the Secretariat, but also other worlds connected to each other such as Wolfgorge, Ash, Avalon, and Columbia. In the few months that had passed since the incident, Tomorrow's founder, Elliot Carver, had become a somewhat influential public figure in recent times. Some had questioned the legitimacy of his claims, especially as he claims that his sources are "anonymous tips," but the evidence was in Akagi's resignation and the United Universe's refusal to substantially comment on Carver's claims of the organization's so-called "dishonest practices." As the saying went, it wasn't libel or slander if it was true. And with no move to deny the allegations of the truth, it was then that the public came to turn against them.
And that was the chronicle of then to now.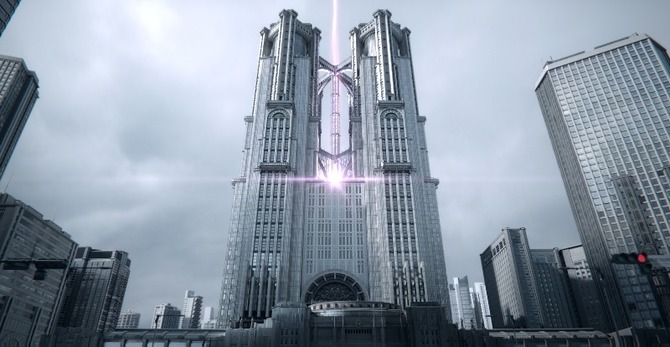 In the present, Akane continued to shuffle through the crowd to the main headquarters. She tried her best to sneak through, but the closer she got, the harder it became, as she started bumping into people more often. Or rather, they were bumping into
her
. Akane wasn't oblivious to the tense atmosphere that she seemed to radiate just because of her high standing; she knew exactly what this all meant.
She could feel the eyes of judging passerbys pierce into her soul, but she tried to shrug it all off and keep forward, hugging her binders tighter as she kept moving. This was all troubling to say the least.
Akane thought back to the influence that Carver and his Tomorrow outlet had been reaching. It wasn't enough that they were reporting the happenings of the Civil War, classified accounts obtained under questionable circumstances, but more than that, their opinion pieces had been littered with the belief that the United Universes ought to make a public statement concerning the Coalition Civil War, calls for impeachment or overthrowing of the management, and so on, most of which were written by Carver himself. Evidently, the contents of such pieces struck a chord with the public and the man had practically managed to gather the crowd behind his corner, and though Akane never bothered to read such pieces, she could only imagine the magnitude of the aggression headed her way...
Finally, in any case, after her long walk, Akane managed to reach the top of the steps leading up to the doors of the headquarters. The closer the young woman grew, the more relaxed she got as she slowly began to break free of the suffocating crowd that seemed hell-bent on giving her a hard time. She pulled her binders and documents away from her chest and held them under her arm now, but almost like karma, just as she did so, she ended up bumping into another passerby, far rougher than the others, and before she knew it, she dropped her binders onto the stone ground below, papers falling out of their pockets and sprawling across.



"Ouu..."
Akane could only sigh in defeat as she looked down at the papers, the culmination of her morning's work, shoved into the ground. Story of her life.
If only she had a Good Samaritan around these parts; at this rate, she was almost afraid that if she were to try to pick her papers up again, she'd risk getting deliberately smacked in the face by someone's stray bag, deliberately or not.
---

"... Hmph. What a load of rubbish. How do people actually buy this schlock?"
Nobuchika Ginoza, prominent member of the organization's Security Council, mumbled to himself as he held an eBook in his hand.
While Akane was busy with her own trials outside, Ginoza, an old associate of Akane's who was already sitting in the building itself, sat by himself at a desk, reading up on whatever the Tomorrow paper had written about them this time. It was honestly staggering to think about how quickly the outlet had gained momentum, Ginoza thought, especially with flawed prose like this, and with half-baked ideas like calling for impeachment or something of the sort. The only thing more troubling about the thought that someone was out there making his voice heard about these things... was that other people were eating this up, nodding at his words like he was some grand prophet.
People like Elliot Carver used this platform that he invented out of thin air in order to call for rebellion. To take down those in power. And to establish a new power all over again. It was that last part that people failed to think ahead toward. But Ginoza was not so keen on being a part of some grand cycle, to be shuffled out into nothingness. If this kept on going, he would have to do something like this.
"Well, you certainly look engrossed in it,"
Carth Onasi, senior Peacekeeper of the UN, spoke up, approaching Ginoza with a mug of coffee. Leaning against the side of the other man's desk, the bearded man tilted his head slightly,
"Having fun there?"

"Hardly..."
Ginoza tiredly said to Carth, tossing aside the eBook onto his desk and crossing his arms,
"... But I'll admit, it has plenty of crazy ideas. And I think it's inspired me to make up my own crazy idea,"
he said, just as quickly uncrossing his arms and resting his chin on his arm, gloved hand rubbing against his chin.

"Oh, yeah? What kind of idea?"
"The kind where I go up to Tomorrow where they printed this paper, and give them a stern word,"
Ginoza spoke,
"Honestly... If the public keeps eating up this garbage, then they'll end up vomiting it back up in the form of acting out, and we'll have to be the ones to clean up the mess. He's dangerous, Mr. Onasi, and I don't know what makes him more disconcerting; the thought that he doesn't realize how dangerous he is, or the thought that he does."
"A stern word, huh? Guess you'd be well within your right to talk things out with him,"
Carth said with a shrug, as though it wasn't exactly his business,
"Might look bad if you're not careful though. The big bad bureaucrat rears his head and toward the little guy wanting to make a difference? Won't end well if you're not careful."
"Noted,"
Ginoza curtly responded. He could have said something more cocky if he so desired, something along the lines of demonstrating how he was, remembering his past activities in his home world with Akane, but frankly, he wasn't in the mood at the moment. It was an idle thought, but now that he said it aloud, Ginoza found himself wondering... Why
didn't
he mount such an investigation? Still musing on it, the idea growing more and more solid as he did, the short-haired man pursed his lips,
"I'd need backup if I were to go through with it, though. On one hand, if I were to go in by myself, I'd be defenseless just in case some people would want to jump me, and I can only imagine that bringing along a weapon would only give people all the more incentive to feel the need. But... on the other, going up to someone and claiming that I want to just talk, all the while my so-called "bodyguards" are staring from behind? It's practically a lose-lose situation in at least one manner of thinking. Tell me, Mr. Onasi, would you be willing to accompany me? You are a respected Peacekeeper, after all."
"Aha. I don't know about "respected," but while that may be, I'll have to pass. I'm a bit tied up at the moment as it is, and besides..."
Carth began to trail off.
"... Besides, what?"
"I don't think it's a very good idea to begin with, but you've already made up your mind about it, haven't you?"

"I wouldn't worry about it. I used to be a detective, after all."
But now, the question remained. Who
would
accompany him?
---
@Minerva
@Yun Lee
@Siege
@Donder172
@Neko Shogun
@Lucky
@Raptor Jesus
@Takumi
​
Last edited: