Prologue
Brand New Days
Home.
It may have taken awhile, but Aigis was finally home. The chaos that drew people from across the multiverse had ended for now. If Aigis tried, she might have been able to push the memories aside and convince herself it was nothing but a dream. The nearest clock showed both its hands pointing towards the sky, and the windows showed a pitch black night outside. Any reasonable person would be fast asleep. Perhaps it was all just a dream...
Except a souvenir from her time spent across the lines between worlds had followed her home. This wasn't just a cheap snow globe or bobble-head that one could throw away and forget, either. With orange hair, green eyes, and a red and white coat, he was hard to ignore. He had followed her through the portal that led to her home, willfully ignoring the fact that a portal waited to carry him back to where he belonged. He reached a hand out to grab her attention, yet apprehensively pulled it away, giving her another moment in peace to enjoy being back in a familiar place.
"Aigis..."
Mason spoke softly,
"I don't mean to startle you. I really shouldn't have come, I know. I'm gonna have so much paperwork when I get home, and I definitely made doing that much harder, but I had to come. I know we only just met, and it's foolish to call us friends, but... I... I need fa- AUGH!"
Mason cried out as a small ball of white fluff zoomed down the dormitory's stairs and began circling his feet. The surprise put Mason off balance, and he leaned against one of the first floor's chairs to avoid tumbling completely to the ground. In response to his yelp, the ball of fluff began barking. To Aigis's ears, or whatever allowed her to hear, the barks of an animal were almost as clear as human speech. If the furball could speak, he would have said,
(Aigis! You were gone for so long! You brought back a friend! Is he a good person? Or a bad person?)
The noise was sure to wake anyone else who was asleep in the dorm. Even if they weren't in bed, their attention surely would have been grabbed. The sound of feet pounding against the floorboards could be heard from the first floor. Soon after came the creaking of stair steps as the young Ken Amada followed the ball of fluff.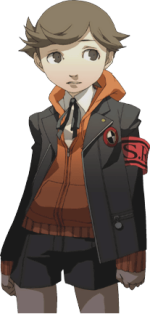 "Koromaru, what has you so worked up? Oh! Aigis! You're back! Mitsuru and some of the others went out looking for you. We've been worried sick. Where have you been?"

"And who is that?"
Ken added, noticing Mason struggling back to his feet.
It seemed that the world was eager to have Aigis back. How would she respond?
@Minerva
​