Hell on Earth.
The Most Random of Powers GM
Name - Diana Vess.
Appearance -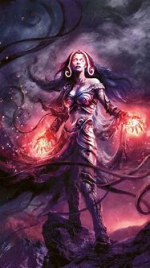 Passive Ability(s) -
Super Strength. (Self-Explanatory.)
Super Mobility (Also self explanatory.)
Nigh Immortality, Think of SDS's Ban.
Healing factor
Active Ability(s) -
Magic Manipulation. (Fancy word for magic
)
Necromancy.
(Onto the more powerful abilities
)
Watered down version of Celestial Manipulation. (As i am scared of TMITM's omnipotent character ;( )
Exotic Force Manipulation.
Transformation: (Pretty much when she -cough- 'dies.' she goes into a second phase of sorts where all of her abilities and pretty much everything about her is enhanced to the max.
Cheeseburger - Yes
Equipment - Not much, Just uh.. A little rifle that fires shadows.. Able to kill Nigh-Immortal characters. Has a hidden symbol on it that you have to press to use it, heh.. Just a little weapon...…. She relies on her abilitys most of the time.
Personality - Uh, Mostly kind despite her, uh, threatening appearance. She despises other races that aren't human and loves to destroy things.. Cause who doesn't? Very temperamental.
Favorite color - Purple and Black.
Bio - W.I.P
Second.. Phase? I dunno what to call it.
Name: Diana Vess.
Appearance: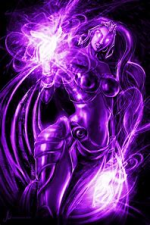 Passive abilities: Same as normal, Just boosted.
Active abilities: Same as normal, Just boosted with one extra ability.
Plantetary Decimation. She expands space and time, forcing it apart and creating a large black hole in which she is not affected by.
Equipment: A small Staff that appears to be inhaling the darkness around it. Able to kill Immortal characters, borderline gods.
Everything else be the same.
A little bit of her Bio: Diana doesn't remember much about her past, sometimes it comes to her in little memories in the form of dreams. Sadly, She has a little habit of forgetting her dreams. Dianas full power was sealed away at a young age due to her aura often suffocating those who weren't on her, 'level' so to speak. It was sealed in a large black orb that has been lost to time and space. God knows where it is now but she has a sneaking suspicion somewhere on Earth has it. Diana is determined to find it, whatever it takes.
Last edited: