V
The Great Crusade
Crusaders of the Arena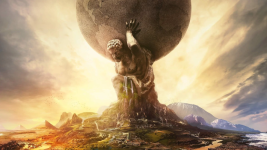 I found the Crown of France lying in the Gutter... and I picked it up- Napoleon Bonaparte , 1804
The Sun sets upon all Empires.
Egypt. Rome. Mongolia. France. Britain.
Where are they now?
Their dreams of conquest are as dead as their Great Kings.
All their wealth and weaponry... what good did it do them?
They all fell to mankind's greatest foe: Time.
Your worlds suffered the same fate. Your homes are gone. Friends. Families.
Everyone outside of your Great City is dead and gone.
If it wasn't for the grace of the Matati Sarru, you would be dead too.
By his loving hand, you have been saved.
You city has been plucked from oblivion and placed upon his Patchwork planet.
You have been appointed as your people's Lesser king. Within your territory, your word is law.
You answer to no man but Matati himself.
It is your job to keep you Nation alive, no matter the cost.
But the world outside your walls is a dangerous place.
Alliances are formed. Empires are born.
Soon, these Dangerous Unions will set their sights on your land and resources.
Some Nations seek to conquer the Patchworld for themselves. Others wish to wage war on the Matati himself.
If you wish to see the year's end, you must prepare for war.
PREMISE
In Champions of the Arena, you were placed in charge of children. In Champions of the Arena II, you were placed in charge of adults.
Crusaders of the Arena will place you in charge of your own Arena--- Your own
Nation
.
A chunk of Europe will be carved out for you do whatever you want to.
Akin to Grand Strategy games like Crusader Kings, Sid Meier's Civilization, Europa Universalis and Victoria II, CotA 3 is all about managing your Nation and its armies. How will this work? Let me explain:
CHARACTERS
In Crusaders of the Arena, you'll be placed in charge of 1 main character- the King or your Realm- and 2 side characters- your realm's two generals.
Your
King/Regent
will be responsible for forming alliances and arguing on your people's behalf at the United Nations. If it comes down to it, your Regent will be responsible for declaring Wars on other nations.
Your
Two generals
will be playable will playable in the game's combat sequences and wars. Your generals will lead your forces into battle. If your army's two generals fall in battle, your city state will be conquered. More on this later.
NATIONS
Your Regent's main goal is to ensure that their nation prospers. Each chapter, you will be notified of the issues threatening your kingdom. It's your Regent's job to work with other players to solve these issues.
For example:
The Regent of the Fire Nation, Zuko,
is notified at the start of the chapter that his country is
running out of food.
At the next
United Nations meeting,
he will have to
negotiate with his fellow leaders
in order to receive a shipment of food to keep his nation running smoothly. Another nation, however, might promise Zuko the food he needs
in exchange for an alliance
. Zuko must decided whether he wants to risk being dragged into another ruler's war, or risk going hungry.
Additionally, each nation will have several stats will increase or decrease as the game progresses. These scores are:
NAVAL:
Representing their Naval Might
LAND:
Representing the strength of their land forces.
AIR:
Representing the strength of their air forces.
MORALE:
Representing how long their forces can last under siege.
These will help decide the outcomes of wars. They'll be addressed IC.
ALLIANCES
When wars break out, a nation will have the chance to call their allies to assist them. Allies are honor bound to assist each other if one of their own is attacked. Breaking alliances will greatly damage a nation's reputation in the United Nations. At the start of a war, an ally can choose how many troops they want to commit to the conflict. The more troops an ally commits to the conflict, the higher their warring Nation's stats will grow following a victorious battle. However, if your ally is defeated, the points they pledged to the conflict will be lost, and your stats will decrease.
This will be explained more, IC, don't worry.
In order to get the most out of a war, an ally might donate a limited number of troops at the start of a conflict. They may try to extort a deal out of their allies in exchange for more support if a war is going poorly.
The exact War Mechanics won't be revealed until the prologue, which will serve as a tutorial. We'll talk about it then.
ADDITIONAL MECHANICS
Here are a few additional mechanics that will be revealed IC:
Inheritance- who will claim your kingdom if you king falls in battle?
Doomsday weapons- what happens when you max out a stat?
The Matati- what's their deal?
Your neighbors- what NPC nations will you be fighting alongside?
CHARACTER SHEETS
RULER CHARACTER SHEET
APPEARANCE:
NAME:
AGE:
CANON:
POWERS/ABILITIES/EQUIPMENT:
SHORT BIO/WIKI LINK:
OTHER INFO:
GENERAL A:
APPEARANCE:
NAME:
CANON:
POWERS/ABILITIES/EQUIPMENT:
WIKI LINK:

GENERAL B:
APPEARANCE:
NAME:
CANON:
POWERS/ABILITIES/EQUIPMENT:
WIKI LINK:
CITY-STATE/NATION:
APPEARANCE:
NAME:
BRIEF DESCRIPTION: (Anything notable about your city. It's structure, culture, anything you think is cool or interesting etc.)
ENVIRONMENT:
STATS:
You have 20 points to divide across these 4 areas. Spend them according to you Nation's Desired Military Strength:
NAVAL:
(How powerful will your forces be at sea?)
LAND:
(How powerful will your forces be on land?)
AIR:
(How powerful will your forces be in the air?)
MORALE:
(How long will your forces last when pressured/besieged?)
If you wish, you can include 'custom units' within your army. I'll allow one custom unit for each STAT:

APPEARANCE:
NAME:
WIKILINK:
POWERS/ABILITIES:
BATTALION: (Is this a LAND, NAVAL or AIR unit?)
NOTES:
Note:
Your Ruler, your Generals and your City
must all be from the same canon
.
Any Questions? Feel free to ask me here, or via discord!


ATLAS OF PATCHWORLD:


Kingdom of Caemlym,
Ruled by the Honorable Queen el'Nynaeve ti al'Meara Mandragoran
Defended by the Mighty Generals Birgitte Silverbow and
Matrim Cauthon (@Jeremi )
Naval: 0
Land: 8
Air: 4
Morale: 8
Kingdom of Colorado, Ruled by the Honorable Steven Armstrong,
Defended by the Mighty Sundowner and Monsoon
Naval: 13
Land: 5
Air: 2
Morale: 0
Fire Nation,
Ruled by the Honorable King Zuko
Defended by the Mighty Suki and Aang (@Takumi)
Naval: 5
Land: 4
Air: 7
Morale: 4
Kingdom of Hiddenville
, Ruled by the Honorable King Maximus Octavius Thunderman
Defended by the Mighty Generals Phoebe Thunderman and
Link Evilman (@Lucky )
Naval: 0
Land: 1
Air: 0
Morale: 19
Kingdom of Library
, Ruled by the Honorable Queen Snow White
Defended by the Mighty Generals Cinderella and
Rapunzel (@Gummi Bunnies )
Naval: 2
Land: 6
Air: 7
Moral: 5
Kingdom of Mainframe, Ruled by the Honorable Dot Matrix
Defended by the Mighty Mouse and Enzo Matrix (@Atomic Knight)
Naval: 2
Land: 4
Air: 8
Morale: 6
Kingdom of Midgar
, Ruled by the Honorable King Tseng
Defended by the Mighty Generals Rude and
Reno (@Space_Candy )
Naval: 1
Land: 10
Air: 5
Morale: 4
Kingdom of Mordor
, Ruled by the Honorable Talion
Defended by the Mighty Ratbag and
Brûz the Chopper
Naval: 0
Land: 6
Air: 14
Morale: 0
Kingdom of Plasma
, Ruled by the Honorable Natural Harmonia Gropius
Defended by the Mighty Ghetsis and
Colress
Naval: 7
Land: 7
Air: 3
Morale: 3
Kingdom of Sakura,
Ruled by the Honorable Commander
Defended by the Mighty Bismarck and
Nagato (@Crow)
Naval: 10
Land: 1
Air: 5
Morale: 4
The Demonic Kingdom of Shinjuku,
Ruled by the Honorable Archer of Shinjuku
Defended by the Mighty Assassin of Shinjuku and the
Berserker of Shinjuku
Naval: 0
Land: 7
Air: 6
Morale: 7
Kingdom of Skavenblight
, Ruled by the Honorable King Thanquol
Defended by the Mighty Generals Ekit Claw and
Queek Headtaker (@Crunch)
Naval: 5
Land: 13
Air: 0
Morale: 2
'Holy' Kingdom of Sparda, Ruled by the Honorable Supreme General Credo
Defended by the Might Nero and Gloria
Naval: 3
Land: 3
Air: 11
Morale: 3
Kingdom of Vesuvia
, Ruled by the Honorable Queen Nadia Satrinava
Defended by the Mighty Generals Asra Alnazar and
Vulgora (@Capri )
Naval: 8
Land: 5
Air: 0
Morale: 7
​
Last edited: