Theo Raeken
Theo would nod with a sigh. "
Yeah, they really do like to experiment on people. Can't say that I am the biggest fan of them for that reason. Yeah, the only other choice is to wait for this traffic to pass and I don't see that happening anytime soon. It seems to be going on forever."
He had to wonder how the place had so much traffic, but they are the only ones waiting to enter the park. God, he wished that he wasn't alone right now. Theo would take being here with Scott or even Liam.... even if the two annoyed him. Things hadn't been the same since
he
had disappeared on him. Theo would push the thought away. "
Still not the biggest fan of that, but it is what it is."
He would join them on the line, unsure what to make of it.
Wyatt Lykenson and
????? and
????
"Went to this farm once, they had an electric fence, which had to be run by a generator. Especially if it kept the Walkers out as long as it did. If it's inside the park, it might be running the electricity in the whole place. Other than the fence, the traffic will be a problem." Clementine groaned in frustration, before adjusting her cap with a huff.
Wyatt raise an eyebrow. "
What is exactly a Walker?"
He asked, deciding that was the better question. He would take a look around and groan. Maybe he wouldn't notice him. Sadly, Wyatt's luck ran under the rule of Murphy's Law... in which anything that could go wrong would go wrong and him being here was certainly one of those things.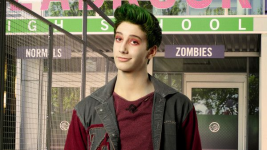 "
Hey, Wyatt, it's crazy to see."
Clem would be able to see that there was one of two options. This was either someone in
really bad zombie makeup
or a really pale kid.
"Well, if we can't do anything about it out here, might as well...take a look inside, I guess." She grumbled as she made her way in line with her ticket. She couldn't help the slight scowl on her face. She missed AJ, and who know how he was doing right now?
"
God, this place is getting weird. The only thing we are missing is some snoopy mystery investigator and we will be complete in odd things and we haven't even entered the park.... which is insane to think about. I can't imagine what we are going to find in there."
The mystery man, the other kid who knew Wyatt and Wyatt would join the line.
Julie Molina and the Phantoms (
Alex,
Reggie, and
Luke) and
???? and
????
Julie would look over at Ben with a raised eyebrow, but decided to not address it.
"
I've never seen a lady with so little clothing. She's kind of hot," Reggie admitted.

"
Reggie! Not the time."

"
I do wonder if we are the only ones going into the park,"
the man commented. He would be assaulted by a camera in his face.
"
And this is Coast to Coast with Daphne Blake, looking into Horrorland, an amusement park that I got personally invited too."
She would swivel the camera over to the Horror.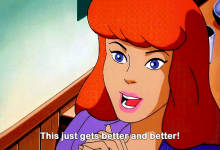 "
You really put a lot of detail into your costume."
The man would roll his eyes.
"
I still don't think it is a costume."

"
And what do you think Mr....???"

"
Darkness. Tyler Darkness."

"
Mr. Darkness, what do you think he is?"
" A real monster."
"
Oh how exciting. I am so tired of men in masks... this would be my second real monster."
"
Guess I spoke too soon about the snoopy reporter."
The other man commented, thankfully too far back for Daphne to hear.
@Gummi Bunnies
@Minerva
@Jeremi
@Capri
@Takumi
@Space_Candy
@Everyone
"