identity unknown...
Benefactor
The Convergence Series GM
Hinamizawa villege, huh? Of course. Before he could even ponder it more, a fee in their group was quickly being attacked, which included the Magician himself.

Saki didn't move immediately, mostly because Sunny was still behind him. Instead he sighed in annoyance and put a protective dome-like barrier around the child with his magic first, then from there he attempted to side step the villager attempting to skewer him and kick them away. If successful, he'd stick close to Sunny in case he needed the assistance.

"How annoying you humans are sometimes." He grumbled. Potentially being fatally stabbed a second time was more trouble than it was worth, and he didn't have the patience to try and heal such a wound in a place with people he barely trusted with his own safety right now.

Skrshhh

Glub

Letting Sunny's barrier cracked and dissolve into the air, the temperature dropped a second almost immediately after, followed by what appeared to be droplets of bubbling water floated in the air above the hostile villagers, quickly followed by it dropping to the ground as Saki attempted to use his magic to the increase gravity around their attackers to immobilize as many as possible for the time being. If at all successful he'd stick close to Sunny, in any case he'd likely still try to stick close to the boy if it wasn't successful.

"I have a guess that their Lady is the Construct. That, or the Bearer." He replied to Add, though given their current situation, these people may be the Bearers themselves.

While he likely didn't expect to use too much magic in this place given how many fighters were in their group, with their group nearly being surrounded there was the possibility that it could end badly. He didn't want to bother with such consequences admittedly, as it was going to give him a headache the more he thought about it. No one ever said most Magicians were the best of people, in all honesty.

@Gummi Bunnies @Capri @Crimson Spartan @Not a Writer @Jeremi

@Everyone
Jackson noticing the multiple pair of eyes watching them thinks to himself that these folks may be lying to wait to see how the group responds to their leader. Jackson begins to form a plan in his mind about how to handle this. Just as he was working out how to handle this Add ends up accidently pissing them off. The leader's reaction was telling and Jackson raised his rifle initially hoping to deter them yet the charging villagers didn't seem to care one of which was charging at him.

* BANG *

A soldier is taught to stop any threat to their lives and Jackson goes to do just that aiming center mass at the villager looking to impale him on a pitchfork. He doesn't hesitate in firing hoping a round from his sniper would be enough to stop the threat on his life. He also was putting trust in his fellow soldiers alien or not to deal with the others as he left hand moves like a well oiled machine to work the bolt in order to eject the spent round and chamber the next. He had no idea what Saki was doing at the time as regardless of if his shot hit the villager or not he started backing up yelling

"WEAPONS ON THE GROUND NOW!"

at said villagers. The casual and even friendly southerner was now replaced by a cold almost emotionless soldier.

@Gummi Bunnies @Capri @Takumi @Not a Writer @Jeremi @Everyone

​
Well...this bastard would quite old by most standards, unless you asked an asari. Liara would probably like this guy.

"Well, you see..."

Before Garrus could actually finish his sentence, they were all transported to the strange village.

"...far enough. I'll explain later."

As the odd cultist approached, Garrus kept quiet, but had his hands on his assault rifle at all times. Shepard usually handled the talking, so he'd let the others do the same. But, talking didn't seem to do much. Hell, it might've been better to just say nothing and walk away. However, any chance of negotiation dropped the minute Jackson fired his weapon, a decision that Garrus supported. Following the shot, Garrus wasted no time taking aim at the villagers.

"For your own safety please, put down your weapons now! My friend here and I won't ask again!"

Garrus didn't want a bloodbath, but if they wouldn't surrender their weapons, he was going to start disarming them himself.

@Crimson Spartan @dark @Gummi Bunnies

@everyone
View attachment 10942

"Huh? ...I suppose that's true, but it's not guaranteed,"

the goddess offered nonchalantly to Saki, only to brighten when a seeming teenage boy popped out of the bushes.

"Aha! See? Nothing to get all trigger-happy over~"

Focusing her attention on the boy, now, she leaned in close to him; probably closer than was comfortable, especially considering the scare Death had given him.

"Hiiii thereeee~ Say, what's your name, hmmm?"

she wondered, tilting her head like a curious cat. His words did confuse her though, and her eyebrows furrowed in contemplation.

"Huh? Trouble-making woman...?"

Before she could get an answer, the boy had retreated back into the bush. She almost pursued him on pure instinct, but fortunately, the arrival of the townspeople distracted her before she could. Seemingly oblivious to their strange auras, she beamed, waving enthusiastically.

"Ahh, helloooo!"

she greeted, happily. Their question was met with her scratching the top of her head before shaking it slowly.

"We don't know any Cecilia. But... enlightened, huh? Say, is this Cecilia another god, by chance...?"

If so, maybe Kofuku could get some help from her regarding her... special, predicament. But honestly, the likelihood of such a thing was extremely small; even a ditz like the pinkette knew that much.

But, uh. She definitely hadn't anticipated a fight breaking out.

View attachment 10944

"H-huh???"

Frantically, she waved her arms around.

"Hey, Addy-kun didn't mean anything by that!"

she protested, hoping that the villagers would pull themselves together. But of course, in truth, she fully recognized they weren't in the right state of mind. But... that didn't make this any easier. Honestly, their behavior was strikingly similar to individuals possessed by Phantoms, but Kofuku didn't see any indication of those malevolent creatures here. So maybe...-

Shoot. She hadn't gotten to teach Kugane about severing ties yet either. It seemed like a different solution would be required. She thought about trying to reason with them again, but the sound of a gunshot made her fear that neither side was about to back down easily. So, with features steeling with resolve, Kofuku leaped backwards.

"Alright, that's it! Stop..."

she began, landing firmly on her feet before swirling her staff to extend it and slamming it into the ground.

"Fighting!!!"

...

The ground beneath her staff cracked. A small rift began to open, before suddenly swirling to life and erupting with what seemed like malevolence and evil incarnate.

"...Oh, no."

Kofuku fell silent as she glanced down at the first crack that formed before the force exploded outward, carrying her up and swirling her into the air like a tornado, likely doing the same to anyone that happened to be near her at the time. The split in the ground continued to erupt in what looked like pink and purple flames, a stream of negativity swirling high into the sky.

"Th-this is awful! A Vent??? Why now?!?"

the poor airborne god currently being whipped around hollered. Yeah she was gonna be totally useless here. But maybe the fountain of negativity she'd opened would at least carry up some of those crazy villagers too!

@Gummi Bunnies @Takumi @Crimson Spartan @York @Capri @Jeremi @dark @Minerva @Lucky @ShadowCoyote0 @errybody

​
SUNNY

@Gummi Bunnies @Takumi @Crimson Spartan @ShadowCoyote0 @Jeremi @Not a Writer @York @Minerva @Lucky

They were everywhere. The villagers… everyone. They were… everywhere.

He had to get out of here. He had to

escape

.

He immediately bolted off, only to be met by an invisible wall.

View attachment 10946 "BWUH…!"

He fell flat on his rear as he looked at everything, practically paralyzed as everyone yelled at each other and fought.

It wasn't until the pink tornado that things really kicked into high gear for Sunny.

View attachment 10948

He ran. He ran away from everything, hoping to weave in between some cult members like the little slippery snake he is.

If he succeeded, he would aimlessly run through the woods, hoping to find

something

of value.​
It was an understatement to say that the villagers attacking the group were heavily at a disadvantage here. Almost like they've never been in any combat situation in their lives before. Armed with only basic farming tools and the like, it wasn't exactly hard for the group's efforts to defend themselves to succeed. One of the villagers shot by Jackson fell to the ground, expected as much. Others were immobilized by Saki's magic, and others were abruptly launched into the air by the Vent that Kofuku unintentionally spawned. After all, they were only regular villagers that didn't have a grip on reality.
❝ Most likely. And if not, she is still a lead for our real objective. ❞
Add agreed with Saki's assumptions. It was the only weird incidence in this rural village so far. It only made sense. Though, he sighed upon seeing Kofuku's... uh, work in action. For someone who knew him in the past somehow, she wasn't exactly a useful teammate at this very moment.
As Sunny made his attempt to escape the chaos, one of the villagers lingered close by him as if they were awaiting to grab him. Before that could happen...
THUNK!
The loud sound of a metal baseball bat could be heard as the teenager that was hiding in the bushes from earlier came out of hiding, soon followed by the villager collapsing to the ground unconscious. It was clear that the teen boy had swung the metal bat right at the villager's head, right before Sunny would've been grabbed. Without hesitation, the teenager started to slam the metal bat down on the unconscious villager's head with even more force. Again and again, blood oozing out.

❝ Not enough time to explain this, but... ❞
The teenager speaks up before slamming the metal bat down at the already cracked skull of the downed villager.
❝ Basically, go for the head and leave nothing left. ❞
The villager that was shot by Jackson slowly started to get back up, eyes dazed red.
❝ These villagers... they're just not human anymore... ❞
All of a sudden, the villager's head burst apart and came out... something vile...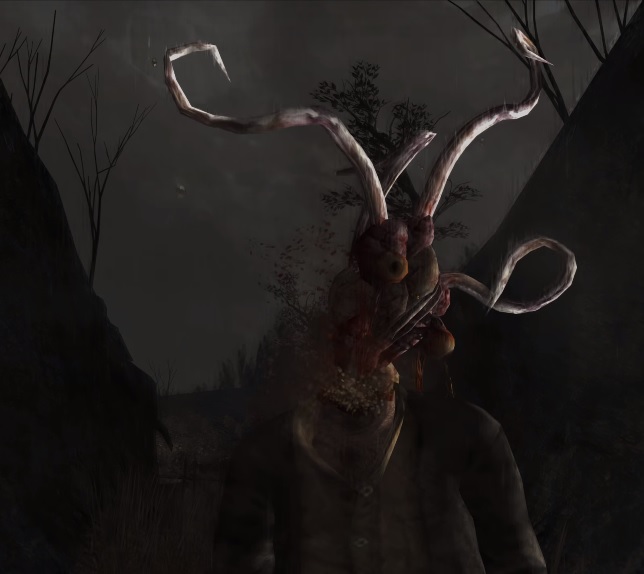 A mess of flesh and tendrils foreign to the host body of the villager flailed around, wildly trying to swipe at anybody near it. Just as one villager seemingly mutated, the other villagers would mutate in the same way soon after, the fleshy parts of some kind of monster bursting out of their heads. For those that were either immobilized by Saki's magic or Kofuku's Vent, it seemed like the tendril-like monster would rip itself out of its human host bodies and force their way towards the group.
❝ C-crap, they already did the freaky transformation thing. You guys can handle this, right? Right?! ❞
The boy seemed to be familiar with this kind of threat, standing back with his metal bat ready to defend himself.
@Not a Writer
@Takumi
@Crimson Spartan
@York
@Capri
@Jeremi
@dark
@Minerva
@Lucky
@ShadowCoyote0
@Everybody
​