❝ Following her? Of course I've been following her. The moment I saw her beeline up the stairs toward the shrine, I couldn't just leave her alone. I already heard of the mess that took place at the schoolyard earlier today, so I'm making sure she doesn't cause anything similar at the shrine. That's all... ❞

Mei answered Saki's amused question, sounding like she was a tad embarrassed about it. She kept a steady pace up the stone stairs, also making sure not to go too far ahead. It didn't take long for her to notice that someone else from the tour group was headed to the shrine as well.

❝ Huh? I don't think we've met yet... ❞

She says to Akira, making small conversation while ascending the stairs all the same.

❝ Is there a reason you're going up to the shrine too? Like... is it because of Nia or- ❞

Before Mei's inquiry was spoken completely, she was abruptly... gone. Or rather, an abnormal shift of time has passed or altered in some way, as the lanterns leading up to the shrine were all unlit. The entire shrine and it's surroundings were in complete darkness. Even the full moon was absent from the sky above them. If they were to look behind them, it appeared as if the festival grounds were never set up to begin with, empty and dark. No signs of other people, not even their fellow tourists could be seen. It was like they stepped into a completely different world in just a few footsteps.

Then, the markings on their wrists seared with a burning pain again, not as intense as the first time. If they took a step back down, the pain would worsen greatly, but if they took a step forward, the pain would begin to ease away slowly. It was safe to say that they didn't have much choice in the matter despite the sudden developments taking place.

At the top of the stairs, a faint figure could be seen entering the shrine house, which looked like it's been abandoned and rundown. As the sliding door closed behind the figure, a single bell toll chimed in the air.

@Takumi @Crimson Spartan @Shrine

​
Kijima lost in thought almost didn't hear Mei initially address him looking up at her and Saki as she started to speak again. He decided that he would let her finish speaking before he answered already preparing a quick response.

However he would not get to use said response as the girl suddenly vanished. Not only this but it seemed the area around himself in Saki had completely changed.

'What the hell...?'

Kijima thought to himself as he looked around slightly startled by the change though this did not show. Oh and the mark on his hand was burning again but even still he managed to keep his neutral look. Well he remained neutral until he reflexively took a step back wincing as he felt the searing pain get even worse forcing him to quickly step back forwards.

'No going back'

he thought to himself as he turned to see a faint figure walk into the shrine house a familiar uneasiness began creeping up within Kijima. For now however he glances at Saki seeing how his fellow tour member is doing while slipping back into a more neutral look.

@Gummi Bunnies @Takumi

@ShrinePeeps​
Well, going back wasn't an option if the pain in his wrist was anything to go by. As disorienting as the shift in time could be, he remained as calm as one could be in such a situation. Given that the world of Magicians was far from what could be considered normal to those not involved in it or aware of it, it wasn't too hard not to let this setback effect him too much.

Continuing forward until they reached the shrine grounds, Saki watched as someone entered the rather rundown looking place, followed by a familiar chiming bell. Feeling Kijima's eyes on him, the white haired Magician glanced back to his fellow tourist.

"I guess we can head inside, unless you want to take a look around outside first?" He suggested. He doubted there'd be much off about the outside of the place, but it may not hurt to look.

@Gummi Bunnies @Crimson Spartan

@Shrine
Kijima quietly considered the options for just a moment. While yes the outside might not reveal much thinking back to the last time he was dealing with a shrine he and Hazuki did find at least something of use in......along with turtles that cried like human babies with faces on their shell's. That brief thought reminding him of how much hell these past few weeks have been before even coming here.

Still he supposed approaching the shrine itself wouldn't hurt especially if they are dealing with a spirit in this case.

".....Guess we should just head inside.... Maybe see if we can listen in through the door before going in though since we don't exactly know what we're dealing with"

Kijima decides to suggest while beginning to slowly step forward towards the door. His eyes scanning all around to see if he could spot anything particularly possible dangers to him or Saki. While he held his own suspicions on what they were dealing with he decided to keep that to himself for now.

@Gummi Bunnies @Takumi @ShrinePeeps

​
Yulia
@Gummi Bunnies
@Takumi
@Crimson Spartan
@ShrinePeeps
Just as Kijima took a step to enter the shrine, an all too familiar girl, cat-ear head band and everything promptly jumped out of the bushes.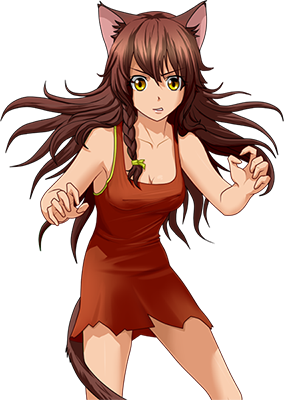 "Don't! I... I mean... What if this was all part of Nia's prank! Maybe she's got some kind of trap waiting for us at the shrine!"
She shouted.
Unintentionally, as she jumped out at the others, her tail struck the shrine door, which ended up sliding open just enough to reveal what was inside. For better or worse, Yulia didn't notice this yet...​