Name:
Mallow Devers
Aliases:
Mad Bear Mallow - While Mallow does not approve of the title, he doesn't deny it or stop people from using it, either.
Title(s):
N/A
Role:
Gladiator
Moral Alignment:
Chaotic Neutral
Affiliations:
Gladiators of Abaddon
Hometown:
Abaddon
Relationships:
Mallow is the sixth of nine brothers, and is very close with all of them. He has no other associates or living relatives.
Race:
Human
Subrace:
N/A
Age:
26
Gender:
Male
Appearance:
Standing at five ten and 165 pounds, Mallow is lean and muscled, with an average build. His black hair is shoulder length, but near always keeps it pulled tight around the back of his head. He doesn't shave often, and usually has a shaggy, unkempt beard. He cuts his hair himself with a knife, hardly adding to his overall appearance. His eyes are cat's eye green. His skin is tanned, and is broken by several ugly scars. His facial features were above average in appearance, but a broken nose, missing tooth, and a few scars detract from his otherwise decent looks. He wears little other than his combat armor, occasionally removing bulkier pieces or wearing a drab cloak.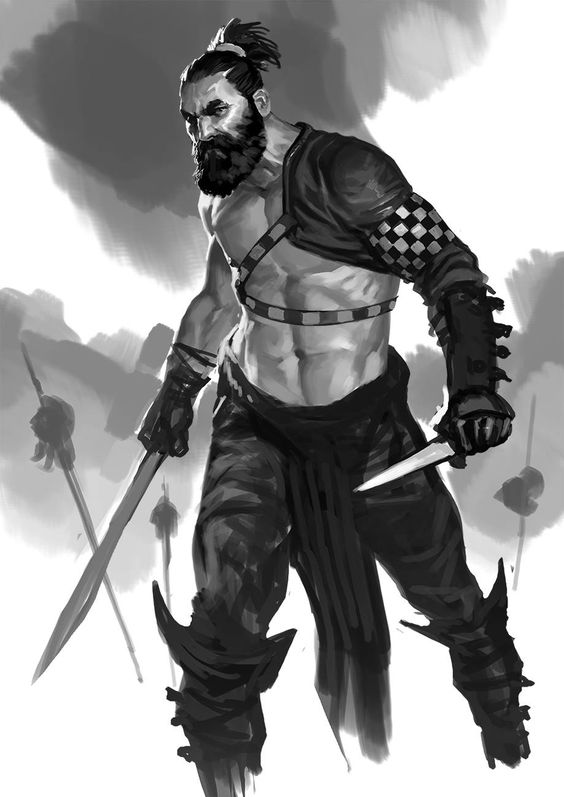 Equipment:
While proficient in a large number of weapons and armors, he has one that he usually sticks to, only changing if it would help against his opponent, given the opportunity.
Helmet: Mallow will wear a helmet during combat. A traditional, rounded helm with an iron facemask for protection, lined with padded cloth. He will forgo it on occasion, if he feels he needs to prove something in combat, or as a challenge.
Left Pauldron: A thick and heavy piece of metal protects his upper arm and shoulder during combat. It is plain and unadorned, save for a bit of rust, scratches and dents.
Left Vambrace: A long leather glove extending past the elbow, with hard leather affixed over, and metal plates sewn on overlapping atop it.
Right Arm and Chest: Straps holding on the other pieces of armor, partially functional, partially decorative. He does have a leather glove on his right hand, however, mostly for the grip.
Greaves: Long greaves, extending just past Mallow's knees protect his legs.
Sword: A gladius, single edged, slightly thinner than its double edged cousins, and slightly longer as well. Expertly crafted, the blade is one of Mallow's treasures, and is often identified with him.
Daggers: Hidden under his armor, and some sheathed in view, these daggers are a cross between stilettos and throwing knives, alloyed from several types of steel to be better balanced. Good for throwing at gaps in armor, or piercing them as a weapon. He generally carries close to ten daggers at a time, more if necessary.
Money: Aside from a pouch on his belt he wears when not in combat, Mallow keeps a few coins sewn into the lining of his armor, just in case.
Ring: A simple iron band, worthless by all accounts. It has a symbol carved into it, of no special significance to most. It has his name carved on the inside of the ring. All of his brothers have identical rings, albeit with their names instead.
Combat Prowess:
Generally considered a master swordsman, Mallow attributes it mostly to his lack of magic, which he finds many use as a crutch. Although skilled in many types of blades, Mallow is able to use most every weapon to some degree of proficiency. His skill in armor is similar, master in lighter armors with greater freedom of movement, although poorer with medium armors such as full lamellar, and worse with heavier plates. He is skilled with throwing weapons, and the use of a shield as well.
Spells/Powers:
Almost unnaturally un-gifted in magic, Mallow, as well as his family, lack a drop of magical blood in them. They do, however, have an almost uncanny sense for sensing it and its users and avoiding them and their magic, though.
Weaknesses:
In relation to combat and powers, what weaknesses does your character have? This section is mandatory. Weaknesses can include both physical drawbacks and personality flaws.
While an expert with throwing weapons, Mallow lacks any skill with bows, crossbows, or any sort of long range weapon for that matter. In addition, he lacks magic whatsoever.
Mallow is bullheaded, holds a grudge, and will do anything to win a fight. He's callous and stubborn, and rarely backs down from a challenge. Conversely, he's overly cautious at times, almost to the point of paranoia. He lacks a strong sense of fear, for better or worse, and can be greatly foolhardy. Worse yet, in times of great desperation, injury, or rage, he becomes bestial and animalistic, practically unable to form coherent sentences. Part of what gained him his nickname.
In addition to his personality, he has his various vices. He enjoys alcohol, and has dabbled in other drugs on occasion. Although he loves them, he is hardly addicted.
Personality:
Mallow wants to be able to say on his deathbed, "I don't want to live again - I'm already satisfied."
Mallow lives for himself, plainly. His greatest fear is having regrets about his choices, about what could have been. He compensates by making the most out of every opportunity given to him. He cares for his brothers, but they all share a grudging competition between them, and to a degree, a similar mindset. He often finds himself scoffing at magic for it being a crutch many rely upon. Magic doesn't help, after all, when you have a knife in your spine you never saw coming. He has a similar distaste for some of the longer lived races, finding their longevity robbing them of their drive, and making them more fearful of death. While he doesn't want to die, he acknowledges his mortality, and has little fear of death.
Skills:
Mallow has a handful of other skills that he's learned over time.
Stealth: While not good enough to stalk wary targets, he can sneak well enough.
Survival: On more than one occassion, Mallow has found himself in Oblitus for one reason or another. He can survive a few days, at least.
Underground: Mallow has his finger to the pulse of the illicit. He knows of drug trade, black markets, and other such activities. He can hardly claim to be an insider, however, and isn't extensively knowledgeable on the subject.
Bio/History:
Mallow never knew his father, and was too young to remember his mother, who died giving birth to triplets, his three younger brothers. The brothers eked out a living in Abbadon, staying alive however they could. With no magic, no money, and no family, they stuck together despite all circumstances. When the eldest brother came of age, he became a servant for a minor, petty gladiator. When the gladiator fled away with his money, the oldest brother was asked if he would fight. He was the first of the nine to do so, the other eight following in his footsteps. They fought on the condition that they would not fight each other. Mallow, the most wild of the bunch, had a natural affinity for the line of work. He became a better fighter than his brothers, and was thrust against fiercer competition, for greater rewards.
Mallow earned the title of the mad bear for several reasons. His appearance was fierce, and many people often compared him to one. The
Mad
Bear, however, came about during one of his more difficult fights. After his opponent had viciously humiliated one of the Devers brothers in battle, Mallow vowed to humiliate him likewise. The fighter, however, was of the same skill as Mallow. In a long, grueling, and fierce battle, the two had reached a point where they had both disarmed the other. Wrestling each other, each keeping the other away from weapons, Mallow grew into madness out of frustration, and bit the throat of his opponent when he left it exposed. He was a seething mess of rage, mostly incoherent and incredibly violent, even after his opponent had bled to death in the arena. He was referred to afterwards as the Mad Bear, or Mad Bear Mallow, by many.
Nevertheless, Mallow moved forward, with a new title, and the Devers family name with new respect, and new fear. He led the family in place of his eldest brother afterwards, and led it cautiously for several years more until the present.
Other:
If someone wants to use one of the brothers as a minor character, (no CS, just an NPC,) they can feel free to do so.
Last edited: