The Big Bad Wolf
Staff Member on Hiatus
]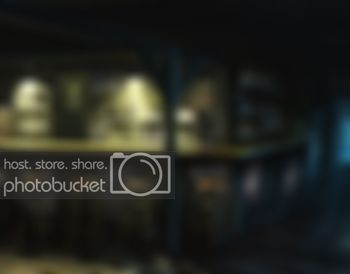 ]
The sight that greets you is rather fitting for the underground demesne of the Undermarket, a match to the flickering sign out front. Dimly lit, well worn tables and chair seem almost haphazardly strewn around the room. The furniture shows signs of being in more than a few brawls; pits, gouges, and scratches mar the aged wood. Light comes from sconces lit with various colored flames, casting their fitful glows over the mismatched decor. Almost seedy, the tavern atmosphere reads, but more, a strangeness fills the air.
A wraith, by name of Molk, serves drinks at the counter, glowing emerald hands appearing to mix drinks, serve, and take payment, while the rest of him remains unseen but for flickering glimpses of a hulking figure. The odd patron gets tossed out without mercy, by nothing more than gleaming crimson hands, courtesy of the wraith bouncer named Tholk. Brothers in employment, they maintain the three rules etched on a rough sign prominent on the back wall. Looking further into the room, bits of graffiti marks the wall, the symbol of an inhuman skull backed by unusual crossbones prominent among them. Above, a balcony office is visible, soot stained glass allowing sight to the wooden shades behind, a few odd knicknacks and weapons mounted to the wall visible. At the back corners of the room are short hallways leading to the restrooms, dim, damp waterclosets completing the picture.
Rules of the Penance
1. No killing.
2. House gets 10% of any betting pot.
3. Failure to render payment for drinks is punishable by
decapitation
kitchen and toilet duties.
Welcome to the
Penance Tavern
.