The Sculptor
Administrator
The Convergence Series GM
(This event was hosted by
@Atomic Knight
and can be found
here
.)
PROLOGUE
"Taken by the Heart-Throbbing School Bus!"
The dreams are vivid and confusing.
Hurtling through space, strange images and colors swiftly pass by. Like a kaleidoscope being directly broadcast into one's brain, these visions are rapid and mystifying, overlapping over each other to strike at every sense. A vision of rain dances across your eyes, accompanied by the pungent smells of musk and mold. Laughing can be heard off in the distance, but on your tongue is the taste of salt water. Your hands feel hot, as if they are holding mugs of hot coffee, and yet your entire body feels cold, as if you've been dumped in water.
Light dances across your vision, flashing new and wild images. The rain gives way to a raging tornado that towers over you, threatening to tear you apart.
The next moment, it's a calm night sky. A lighthouse stands off in the distance, like a sole beacon of hope in the sea of overwhelming darkness.
These visions are so sudden, that you can't quite keep up with them all. It soon becomes overwhelming, your body beginning to experience sensory overload. Speaking, moving, breathing-- no matter what, you find your body frozen in place, unable speak, unable to move, unable to even
think
. It feels like your drowning, and you begin to feel yourself choking on air--
Then, you finally awaken.
Sunlight touches at your eyes. It takes a moment to fully grasp the reality of the situation. Sitting up, you find yourself on a school bus traveling along a rural country road.
Soft rays of sunlight drift in from the windows, bathing the inside of the bus in a morning orange glow. Looking outside, one would see a bleak and dreary forest stretching as far as one could imagine. Even if one was feeling groggy from their nap, they would be able to tell that something felt entirely off about all this, as if a gnawing sense of abnormality has grown in the pit their stomach. You can't remember how you got here or where here even is. The atmosphere plays tricks on your mind, making strange shapes and people appear to pop out of the wooded landscape. It is deadly quiet, and you find that any items you had on you before is not with you now.
On this bus, you are not alone.
People (Not all even entirely human) of all kinds are crammed into the bus, taking up every seat and waking up in various states of confusion. Looking toward the back, you would find it modified with a higher roof to fit a hulking individual made of snow. Those with special powers found themselves suddenly incredibly mundane, while those without such abilities still felt off, almost as if they were in a dreamlike state.
If one was to approach the front, they wouldn't be able to tell who was sitting in the driver's seat until they were standing right beside the driver. An impossible sight awaited whoever would take a glance, for it was a bright pink rabbit sitting in the driver's seat, staring at the blank road stretching out for miles. She was dressed in a frilly outfit with angel wings on the back. The seat was modified and pushed forward so that the rabbit's stubby arms could reach the driving wheel, while sticks attached to her feet touched at the pedals.
From the front seat came a large mass of a boy, pushing through the aisle to get a good look at the rabbit bus driver. He had to shove his large frame against the bus' front dash just to get a look at the creature.
"What are you?"
the boy cried, sounding more angry than anything.
"What is the meaning of this?"
The rabbit giggled before turning to him.
"One second!"
The rabbit then turned, taking her stick feet off the pedal and her hands off the wheel. Somehow, the bus drove on without interruption. The rabbit then shook off the sticks, dropping down from off the driver's seat and taking out a staff of some kind.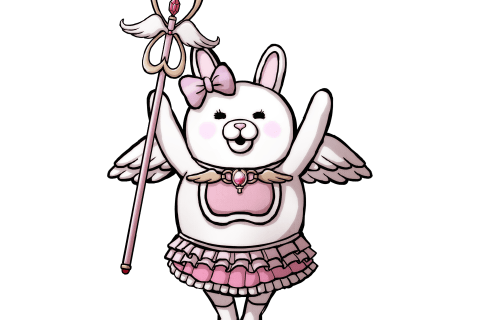 "It's Magical Miracle Girl Usami! ... A.K.A. Usami! As surprising as it may be, I am your teacher chaperone for this school trip!"
The boy staring at her practically shook as he sneered at the rabbit.
"That's-- That's not what I meant!"
The rabbit tilted her head to the side slightly in confusion.
"Then what did you mean...? Do you know what a rabbit is? It is a very lovable animal!"
"No,"
said the boy, sounding as if he'd managed to collect himself somewhat.
"I understand what I am looking at, but it doesn't matter. Why are we here on this school bus? What do you mean, school trip?"
"Oh..."
The rabbit nodded and clasped her hands together.
"Right! It's only the biggest event of the school year! We're on our way to Bright Falls, where soon our hearts will be one with nature while we go camping at a National Park! This is a vacation, everyone, so I just want you all to forget about everything and enjoy yourselves!"
"That doesn't... That wasn't a real answer."
"Oh, well! I can answer more once we get to our destination! Please, keep your hands and feet inside the bus at all times and try not to cause a ruckus!"
The rabbit then climbed back into her seat and took hold of the wheel. She didn't bother to attach the sticks to her feet again.
"Remember, a map of our destination is provided under each of your seats!"
Usami was telling the truth, for a look under the seats would reveal maps of a town called Bright Falls.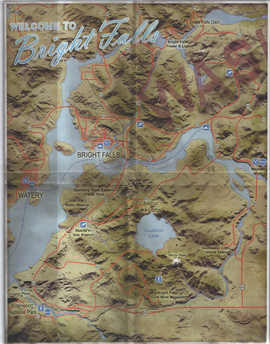 Anyone who tried to leave the bus would find that the doors and windows would not budge, no matter the amount of pressure placed on them. Also, for whatever reason, everyone had name tags attached to the front of their clothing. On the tags were titles, whatever those meant...
Continued
here.
Twilight Update - DEAD END
Chapter One - Twilight Update - DEAD END
Chapter Two - Twilight Update - DEAD END
Chapter Three - Twilight Update - DEAD END
Chapter Four - Twilight Update
Final Chapter
Epilogue
***
CAST LIST
@Blacksmith
as
Ada Bartholdi
"Ultimate Architect" [American Gods/Hidden World]
@C.T.
as
Arya Stark
"Ultimate Killer" [Game of Thrones]
@Yang Lee
as
Bolin
"Ultimate Earthbender" [The Legend Of Korra]
@Atomic Knight
as
Byakuya Togami
"Ultimate Affluent Progeny" [Danganronpa]
@Kaykay
as
Chikage Kushinada
"Ultimate Jujutsuka" [History's Strongest Disciple Kenichi]
@T.O.M.
as
Catbug
"Ultimate Cutie" [Bravest Warriors]
@GlassTrinity
as
Citizen Snow
"Ultimate Snowman" [Original Character]
@Minerva
as
Corrin
"Ultimate Protector" [Fire Emblem]
@DapperDogman
as
Darv
"Ultimate Saltborn" [Salt & Sanctuary]
@Yun Lee
as
Edmond Honda
"Ultimate Sumo Wrestler" [Street Fighter]
@BarrenThin
as
Genji Shimada
"Ultimate Forgiveness" [Overwatch]
@Krieg
as
Isaac "Felix" Gates
"Ultimate Bounty Hunter" [Red VS Blue]
@Khan of the Mardu
as
Jack
"Ultimate Samurai" [Samurai Jack]
@York
as
Jack Frost
"Ultimate Funhouse" [Rise of the Guardians]
@Ver
as
Kyoko Kirigiri
"Ultimate ???" [Danganronpa]
@Gummi Bunnies
as
"Lapis Lazuli"
"Ultimate Crystal" [Original Character]
@Lucky
as
M. "Stiles" Stilinski
"Ultimate Sarcasm" [Teen Wolf]
@Crow
as
Morikubo Nono
"Ultimate Wallflower" [THE
[email protected]
]
@Jeremi
as
Poison
"Ultimate Manager" [Street Fighter]
@Josh
as
Scarlet Witch
"Ultimate Witch" [Marvel Comics]
@Crimson Spartan
as
Seamus "Sledge" Cowden
"Ultimate Breaching Charge" [Rainbow Six: Siege]
@Pretentious Pineapple
as
Tarlotte
"Ultimate Tantrum" [Kyoshiro to Town no Sora]
@CrunchyCHEEZIT
as
Tekhartha Zenyatta
"Ultimate Teacher" [Overwatch]
@DBZ7
as
Tharja
"Ultimate Hextress" [Fire Emblem]
@Nater Taters
as
Tomoko Kuroki
"Ultimate Loser" [WataMote]
@A Tiny Fool
as
Victoria Maribeth Chase
"Ultimate Bitch" [Life is Strange]
@Takumi
as
Yurick
"Ultimate Arcanist" [The Last Story]
@Neko Shogun
as
Zinnia
"Ultimate Lorekeeper" [Pokemon]​
Last edited: