Idea #1 - Mail Order Bride (This RP idea is currently CLOSED. Scroll down to next post for more ideas!)
After an outlaw gang breaks up, Fred Linch ( gambler & gunslinger ) has grown disillusioned with the life he was living. But maybe it's not too late for him to find happiness? He places an advertisement in The Matrimonial News for a mail order bride. What will happen when his past resurfaces to haunt him? What secrets of her own might his new bride be hiding?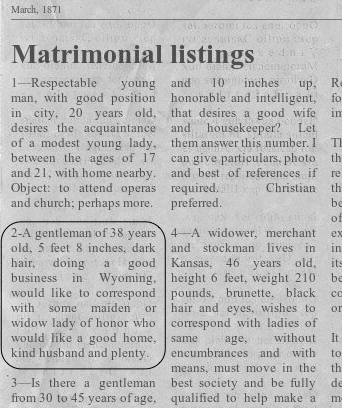 Fred Linch's character sheet
What I
am
looking for:
Someone that might be willing to start the RP with an exchange of IC letters.
A female character with a secret or two of her own
Drama & probably a shootout at some point
Willing to introduce/play side characters
What I'm
not
looking for:
Smut - marriage would certainly come with expectations, but any NSFW scenes will be fade-to-black
Super speedy replies - No need to reply every day. I'm more of a once or twice a week kind of RPer and appreciate patience.
Since I'm relatively new to this forum, I'm more than happy to share examples of my writing to see if we might click well as RP partners!
Last edited: