Before I start this, let me make something clear. If you are a fan of Zelda, you most likely will like this little series. I've had a ton of fun working on it, and while it's not complete yet, it's come a long way and is going to go a lot further. For those that haven't ever heard of or played this game series, the lore is at the beginning of each chapter, with the exception of the Prologue. Hope you all enjoy.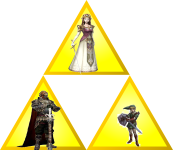 Prologue
A Not so Innocent Beginning​
It was cold, so cold the man wore a cloak and shivered, being unused to the cold night. He was a tall man, and he wore fancy leather armor. His fire red hair was up in a form of braids. Or rather, being unused to being out on such a cold night. He ground his teeth as his feet stopped landing on dirt road and instead landed on soft sand. Only the princess could have kept him so long as to be in the dead of night as he returned home. He hated her so much, it only hurt more to think about it. However, the man was suddenly taken out of his reverie when a weak crying could be heard. He looked around. It was barely audible as though far away. But he couldn't even bring himself to believe it could be that far, for it sounded more weak than far. He looked down and was surprised to find a baby lying on the ground. Who could abandon a child too young to take care of itself like that? He wondered. Then again, it didn't matter. The child would die if left out much longer on a night like this. So he did the only sensible thing he could think of. He picked the child up and took him to his house. There he discovered the child was male.
"What have you there, my lord?" asked a woman's voice.
"A child," the man answered. "He was left on his own in the cold. I couldn't just leave him there."
The woman replied. "I see, but what do you plan on doing with him now you've rescued him."
"I thought I might see if I can't find him an adult to take him in."
"You could do so, my lord."
"I could…I will admit, I'm not sure if I could trust anyone but myself to do this, but I've never been a parent."
"Nothing could be more fulfilling."
"I suppose you're right. Well, it couldn't hurt I suppose."
"No, it couldn't. What will you call him?"
"I think I shall call him Link."
A pause, and then, "A good name, my lord. A good name indeed."
Last edited: