Table of Contents

Introduction

Rules

Character profile outline

Job classes

Locations

__________________________________________________________________________


Introduction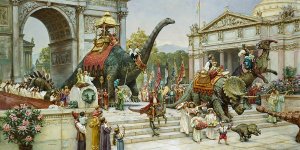 ​
A world where humans live in an ancient-cultured civilization, their cities are nestled in a lush continent of high-treed jungles, vast verdant plains and majestic, snow-capped mountains. This utopian society has a very special gift: dinosaurs walk among them. They are intelligent and are faithful allies of the peaceful cities. They exist alongside humans, helping them and being helped in return. They carry loads, build, even take part in sporting events and games. From the mighty sauropods to the tiniest bird-like reptiles, all are friends and welcome.
The cities have a task force made of humans and their bonded dinosaur companions. Only very special people can bond with very unique dinosaurs and both learn an ancient mind-linked tongue simply called 'Old Speech'. Once one learns old speech one can communicate like this with any other individual who knows it. These special dinosaurs are called 'Elder souls' for they possess souls that have existed since the dawn of time, together, human and dinosaur are given the title Kunpari. These bonded pairs are protectors of the cities and keepers of peace.
But they are not the only ones capable of a special bond. There are more brutal forces also harnessing the power. There are several factions, allying most closely with the carnivorous animals that detest the restrictions placed on them. They believe that the world should be ruled by the strong, and the ban on hunting dinosaurs is an insult to the forces of nature that made them strong.
People and dinosaurs with these ideals were mostly driven out of the utopian societies, however many still exist beyond the civilized borders, confined to an area called 'The Darklands' and want nothing more than to topple the cities and plunge everything back into the simple rules of hunter and hunted. To them, the Kunpari are the greatest obstacle, and they will not rest until the dinosaur knights are destroyed.
​
___________________________________________________________________
​
Last edited: