EVERYTHING IS FINE.
WORDS ONLY SPOKEN WHEN EVERYTHING IS NOT FINE.
This is the life, isn't it? Retirement. Very few get to enjoy it anymore. They're living out their twilight years-- No, 'living' isn't the right word. Scrounging by on a fixed income? That's not living. They're
existing
out their twilight years in some crappy bungalow, knitting or baking their days away. But you? You're spending your 67th birthday at the salon. A masseuses is nursing your aching back to health after that bowls accident last week. The resort life is hard work. Not everyone can appreciate that. Just last week, you were sitting on the peace, reading the latest James Patterson novel, only for disaster to strike! You forgot you glasses! What a bother!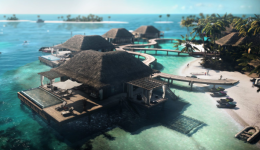 Oh, but nothing's going to go wrong today! Your schedule is packed full of relaxation. A morning at the spa. Lunch at the Compendium Grill. And in the afternoon? Your nephew is coming to visit! Oh! They grow up so fast. It's going to be a
splendid
day. The waves applaud you. A gull sings overhead. The Sun kisses your cheek. Its paradise. Every day is paradis---
***
"GET DOWN! EVERYONE GET DOWN!"


BAANG! BOOOM! AAGGGHHH!


"IN THE DIRT! THEY'RE SHELLING THE CITY! OH GOD! THEY'RE SHELLING THE CITY!"
***
Oh, that was funny
. For a moment you could have
sworn
you were someone far less perfect. You must have nodded off whilst reading again. It happens when you get to your age. You start nodding off here, there and everywhere. They say your memory starts to play tricks on you too. I mean, shelling? Prudence hasn't seen shelling since the Arena Wars of 2425! Goddess, that was a lifetime and a half ago! Nothing like that happens now! Exciting things don't happen on Prudence.
Planet Prudence is a place of Relaxation! It's a place of floral shirts, paper necklaces and inflatable crocodiles. It's a place of cordial invites and non-alcoholic cordial cocktails. One of the resort attendants hands you all of the above when you reach the Compendium Bar and Grill. You pay him with an 'oh, thank you, young man' and a friendly smile. You offer him a mint from your bag, and he politely declines. He offers you his arm, and he guides you to your seat. Goddess, everyone's a gentleman nowadays!!
***
"CONCTRIPT! ON YOUR FEET! GET ON YOUR FUCKING FEET!"


BOOM!! BOOM!! AAAAGHH!! AAAGGHH!! GODDESS!!


"WIPE THE BLOOD OUTTA YOUR EYES! STAY WITH ME! STAY WITH ME!!!"
***
The chef clears his throat, and you snap out of that silly little daydream of yours. You apologize profusely. You don't want to be known as the 'rude patron'. You're here forever, after all. The last thing you want is a bad reputation. You promise the chef a nice, fat tip to make up for your lazy gaze. He laughs it off and points to a large, blurry chalk-board menu. You lift your glasses up off of your chain and fumble them onto your face. You squint at the menu for far too long. When did
seeing things
get so difficult? You'll have the... uhhh.... The Marianne Ribs sound pretty good about now? Maybe a side of Narancia sauce... maybe with an Ouka-Cola?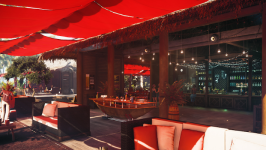 The waiter brings your meal out to the dining area a few minutes later. You follow him out and slowly lower yourself down onto one of the couches. Aghh! Your back! You know its just another old people thing, it feels like---
***
"--MAN DOWN! WE'VE GOT ANOTHER MAN DOWN! THE BLOOD! IT'S NEVER GONNA---THE BLOOD!"


AAGGHHH!! AAGGHH!!


"WE CAN'T HOLD IT! WE'RE CAN'T HOLD THE LOWER CITY! IT'S A MASSACRE! IT'S A---AGHHH!"
***
You adjust one of the cushions. Ah, now you're feeling much better. You thought back pain was a old-old person problem. You weren't
that
old. Not yet anyway. You take a nice long sip of you Ouka-Cola. You feel the ice rattle around your glass. When you're old- but not
old-old-
you learn to appreciate little things like that. Little things like.
***
"YOU'LL NEVER TAKE US ALIVE! YOU'VE CAN'T HAVE US! YOU HEAR ME?"
...
"YOU CAN'T HAVE US! YOU CAN'T HAVE US!!"
***
Your straw makes a strange, gurgling sound. Have you finished your drink already? Oh, that's funny. Well, might as well make a start on your ribs. Before you know it, your nephew will be here, and he'll no doubt want a bite of--
"Uncle,"
A young boy singsongs.
"Aunty. I can't remember which you prefer."
He tugs at your sleeve. Ah. It's him. Your nephew.
"What's my name, Uncle-Aunty?"
Oh, that's an easy question. It's... ah... um... This is awkward. He's called.... Oh... it must be an old people thing...
"It's not an old people thing. The memory loss. The day-dreams. They're real."
No. No they're not. Your a resident of the Prudence Resort. You're--
"What's my name, Uncle-Aunty?"
The boy breathes.
"What's my name?"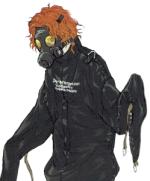 "What's my name?"
A switch is flicked. You squint. It's still so blurry. You slip those horrible glasses from your face. You tear your paper necklace. You tear that hideous church from your chest. Oh, it's all coming back to you now. Or, at least, it's starting to. The pieces are slowly clicking together. This isn't right. This isn't real.
You watch your reflection change in the bottom of your glass. The years wash away. You're you again. At long, fucking last.
You looking around, searching for your 'nephew'. He's gone. The rest of the Compendium Bar and Grill's patrons are standing up now. They're tearing their necklaces too. They're just as dazed as you are. But they're themselves again too. Things are... normalizing. Your weapons. Powers. Clothes. They're back. They're all working.
****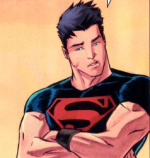 "Are we going to talk about what just happened, or..."
Superboy finished the last of his Ouka-Cola and set it down on your table.
"Because... Because my head is filled with old-people images I'd rather not talk about--"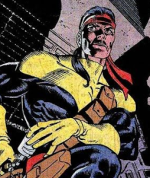 "Shhh..."
Forge hissed in response.
"Just shhh..."
"Dude, 5 minutes ago, I was an sexagenarian bus driver."
Superboy scoffed.
"I think I've earned some freaking-out-time."
"You're freaking, I get it, but shhh..."
Forge's eyes widened.
"You guys hear that?"
"Hear what?"
Skkkkrrrrrrrr Skkrkrrrrr
"That."
Forge muttered grimly.
"That..."
"Sounds like... It sounds like someone rubbing two balloons together? Does this resort have a... a roaming clown, or something?"
Gggggrrrr....
"Do you think I'd be reacting like this if I thought we were dealing with---"
"SSSSSHHHHHHHHHHHRRRRRRRRRAAAAAAAA!!!!"
Two large, green jaws emerged from the pool behind Conner. A flash of white. The squeaking of rubber. An inflatable crocodile with
very real
crocodile teeth tossed the Kryptonian like a rag doll. He passed through a table, a post, the bar and the shack behind it before finally coming to a sudden, scraping stop at the foot of a trash can a city-block away. Forge didn't flinch. He pulled a strange, mechanical weapon from his hip-holster and unleashed a few swift shots into the croc's stomach. They bounced off in all directions.
"Well... This is... interesting."

"SSSHHHHHHRRRRAAAAAA!!!!!"
Two more rubber crocodiles emerged from the pools. The bartender poked his head up from behind the bar. He was a crocodile too. The patrons. The cleaners. More and more crocodiles were shedding their human guises by the second.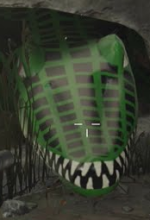 "Listen here, you little shits..."
A life-guard crocodile cracked his knuckles.
"You're gonna sit down. You're going to shut up. You're going to enjoy your drinks. You're going to leave us a great review online... or we're gonna have a problem! The last two arenas might have been all 'whacky-zany-fun times'... but believe me when I say COTA 3 is gonna be dead fucking serious!"
CHAMPIONS OF THE ARENA 3: CURSED COMPANY
PROLOGUE: CROCODILE TEARS
Cast List:
//Aizawa Shota, My Hero Academia, P44,
@Space_Candy
//Alexander Anderson, Hellsing, P7,
@Crunch
//Cirilla Fiona Elen Riannon, The Witcher, P12,
@Minerva
//Eren Jaeger, Attack on Titan, P13,
@Gummi Bunnies
//Hank Henshaw/Cyborg Superman, DC Comics, P466,
@Jeremi
//Josuke Higashikata, Jojo's Bizarre Adventure, P19,
@Capri
//Mato Kuroi, Black Rock Shooter, P337,
@Gummi Bunnies
//Mollymauk Tealeaf, Critical Roll, P26,
@Lucky
//Phi, Zero Escape, P944,
@Atomic Knight
//Saruhiko Fushimi, K, P4,
@Ver
//Shang Tsung, Mortal Kombat, P108,
@Jeremi
//Shion, No.6, P24,
@Takumi
//Suigetsu Hozuki, Naruto, P414,
@Space_Candy
//Zora Salazar, Epithet Erased P6,
@Capri
///
//Chase Davenport, Lab Rats, P3,
@Lucky
//Daniel Diaz, Life is Strange, P137,
@Atomic Knight
//Ouka Namae, When a Magician's Pupil Smiles, P33,
@Takumi
//Marianne von Edmund, Fire Emblem: Three Houses, P22,
@Yun Lee
//Yashamaru Kurama, Samurai Shodown, P8,
@Yun Lee
​
Last edited: