Stomp, stomp, stomp.
Heavy footfalls echoed down the entrance to Exit Tunnel amid the quaking chain-reaction of the collapsing tower outside, leading from the initial chamber that the Returned had been summoned to. A soft red light illuminated the figure in the dark before he emerged in the view.
The Doom Slayer arrived on the scene. His armor was caked in ash, dust, and boiling blood, one hand filled with the stock of his shotgun and the other empty, clenched into a tight fist. Blackened spots smeared the surface of the suit's green plating as if it had been burned somehow, and white scales torn from some reptilian creature spattered his bloodstained gauntlet.
The faceless marine turned his head slowly around the chamber. Without a moment's pause, he cracked open the double-barrel on his knee and slammed in a pair of shells, slowly approaching the only man holding a weapon in the chamber - the one who was pointing a sword at Yuri's throat.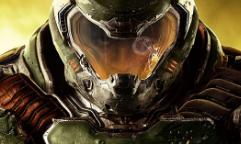 "..."
He continued his approach.
@Sark
@Jeremi
@Lucky
@Capri
@Yun Lee
@Takumi
@Minerva
@Everyone
​